PM Modi sets example, takes first dose of Covaxin at AIIMS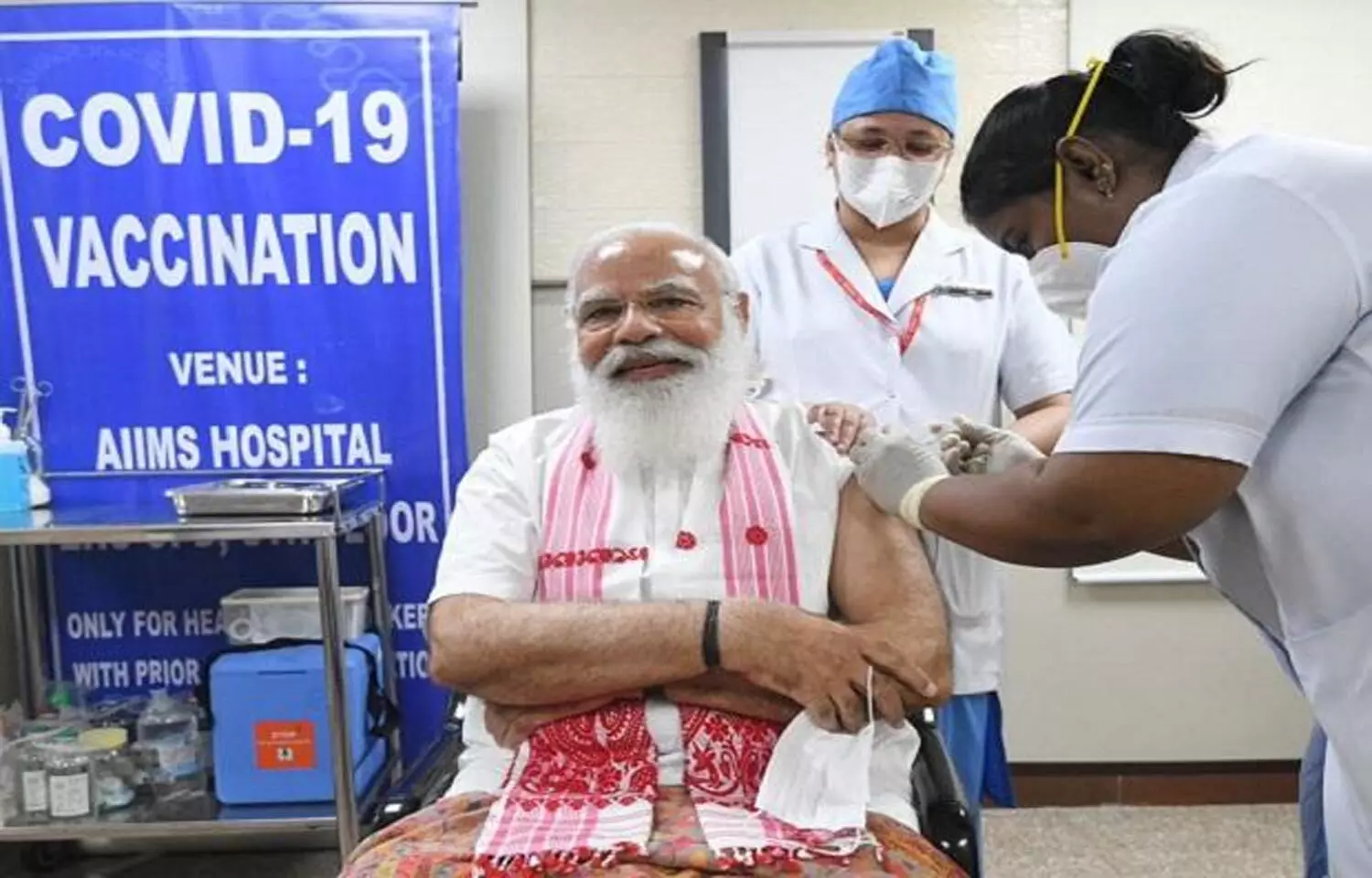 New Delhi: In a move that is going to set an example for others to follow, Prime Minister Narendra Modi took his first dose of the Covid-19 vaccine. He opted for Bharat Biotech and ICMR developed COVAXIN and was inoculated at AIIMS.
After taking the dose, the Prime Minister appealed to all those who are eligible to get inoculated.

Sister P Niveda, from Puducherry, administered Bharat Biotech's COVAXIN to the prime minister, sources informed PTI
"Took my first dose of the Covid-19 vaccine at AIIMS. Remarkable how our doctors and scientists have worked in quick time to strengthen the global fight against Covid-19," Modi tweeted after taking the vaccine shot.

"I appeal to all those who are eligible to take the vaccine. Together, let us make India Covid-19 free!" he said.
The prime minister also posted a picture of himself taking the first dose of the vaccine in which he is seen sporting an Assamese 'gamocha' and getting inoculated with a smile on his face.
Sister Niveda and a second nurse from Kerala can be seen in the picture posted by Modi.

The prime minister went to AIIMS without any arrangement of "route" on the roads, thus choosing early morning to ensure no inconvenience to people, the sources said.
Bharat Biotech International Limited (BBIL), India's leading vaccines and bio-therapeutics manufacturer, welcomed the gesture of Hon'ble Prime Minister Sh. Narendra Modi in taking the first dose of Covid-19 vaccine himself. The company said that the personal example set by the PM will give a huge boost to the immunization campaign against the pandemic and help reduce vaccine hesitancy.
Dr. Krishna Ella, Chairman & Managing Director, Bharat Biotech International Limited stated,"We thank the Hon'ble Prime Minister Sh. Narendra Modi for taking the first dose of COVID-19 vaccine himself and are deeply appreciative of the gesture. This has set a powerful example for all Indians to follow, which will go a long way in reducing vaccine hesitancy and building confidence in immunization against the ongoing pandemic. We express our sincere gratitude to the Hon'ble Prime Minister for reposing his trust in the indigenously developed COVID-19 vaccine, COVAXIN®. We urge all fellow citizens to not hesitate from taking part in the Covid-19 immunization program so that the country can bring an end to this public health crisis."
BBV152 (COVAXIN®) contains a whole virion inactivated SARS-CoV-2 vaccine, which is produced in Vero cells. The vaccine is stable at +2°C to +8°C (refrigerated) and is shipped in a ready-to-use liquid formulation that permits distribution using existing vaccine supply chain channels.
Bharat Biotech has established an excellent track record of innovation with more than 145 global patents, a wide product portfolio of more than 16 vaccines, 4 bio-therapeutics, registrations in more than 123 countries, and World Health Organization (WHO) Pre-qualifications. Located in Genome Valley in Hyderabad, India, a hub for the global biotech industry, Bharat Biotech has built a world-class vaccine & bio-therapeutics, research & product development, Bio-Safety Level 3 manufacturing, and vaccine supply and distribution.
Having delivered more than 4 billion doses of vaccines worldwide, Bharat Biotech continues to lead innovation and has developed vaccines for influenza H1N1, Rotavirus, Japanese Encephalitis, Rabies, Chikungunya, Zika and the world's first tetanus-toxoid conjugated vaccine for Typhoid. Bharat's commitment to global social innovation programs and public private partnerships resulted in the introduction of path breaking WHO pre-qualified vaccines BIOPOLIO®, ROTAVAC® and Typbar TCV® combatting polio, rotavirus, typhoid infections, respectively. The acquisition of the rabies vaccine facility, Chiron Behring, from GlaxoSmithKline (GSK) has positioned Bharat Biotech as the largest rabies vaccine manufacturer in the world.
The government had announced on Wednesday that everyone above 60 years of age and those over 45 years with comorbidities will be able to get Covid-19 vaccine from March 1 for free at government facilities and for a charge at many private hospitals.
Citizens will be able to register and book an appointment for vaccination, anytime and anywhere, using the Co-WIN 2.0 portal or through other IT applications such as Aarogya Setu.
Also Read:Private Hospitals as COVID Vaccination Centres: Here is the process of empanelment, vaccination procedure
Source : with agency inputs