CDSCO Declares 35 Drug Samples Including Paracetamol, Hand Sanitizers As Not Of Standard Quality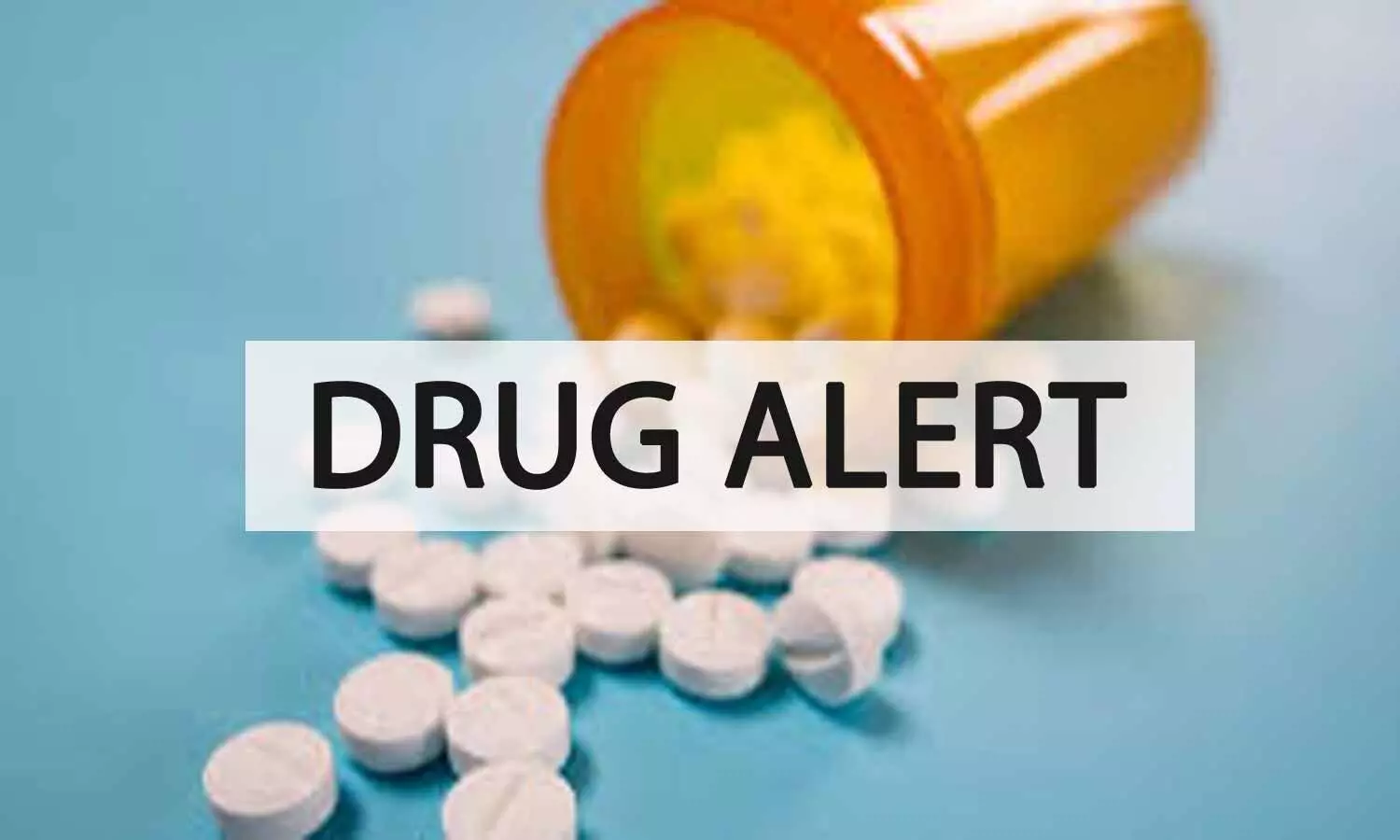 New Delhi: The apex drug regulatory body, Central Drugs Standard Control Organization (CDSCO) has flagged 35 drug samples and sanitizers as 'Not of Standard Quality' after they failed to qualify a random drug sample test for the month of July.

These drug samples including popular formulations and brands like Paracetamol Tablets IP 500 mg, Pantoprazole Tablets I.P. 40 mg, Isopropyl Alcohol 70% Hand Sanitizer, Amgesic Tablets, and others. The list also includes samples of Calcium and Vitamin D3 Tablets IP, Isopropyl Rubbing Alcohol IP, Nefidinol Retard10 Tablets, and so on.

This came after analysis and test conducted by the CDSCO, Drugs Control Departments, on 808 drug samples. Out of this, 773 samples were found of Standard quality while 35 of them were declared as Not of Standard Quality (NSQ).
To mention, the drug samples that were tested failed due to Assay of Ethyl Alcohol, Assay of Isopropyl Alcohol, Organic Impurities, Limit of non-volatile residue, Non-compliance with a physical description of tablets and unfit for human consumption and others.
The samples collected were tested in three laboratories namely CDL Kolkata, RDTL Chandigarh, RDTL Guwahati.
List of Drugs, Medical Devices and Cosmetics declared as Not of Standard Quality/Spurious/Adulterated/Misbranded, for the Month of July 2020 ;
| | |
| --- | --- |
| Total number of samples tested | 808 |
| Total number of samples declared as of Standard Quality | 773 |
| Total number of samples declared as Not of Standard Quality | 035 |
| Total number of samples declared as Spurious | 0 |
| Total number of samples declared as Misbranded | 0 |
S.No

.

Name of Drugs/medical device/cosmetics

Batch No./Date of Manufacture/Date of

Expiry/Manufactured By

Reason for failure

Drawn By

From

1.

PREGINATE

(Doxylamine Succinate & Pyridoxine Hydrochloride Tablets)

B. No.: ZD19107,

Mfg dt: 02/2019, Exp dt: 01/2021,

Mfd by: M/s. Skymap Pharmaceuticals Pvt. Ltd., B

– 3, Dev Bhoomi Industrial Estate, Puhana, Iqbalpur Road, Roorkee – 247 667.

Description & Assay of Doxylamine Succinate

CDSCO, East Zone, Kolkata

CDL,

Kolkata

2.

Zonerab (Rabeprazole Sodium Gastro- Resistant Tablets I.P.)

B. No.: ZRB – 12, Mfg dt: 07/2019, Exp dt: 06/2021,

Mfd by: M/s. VADSP Pharmaceuticals, Plot No. 124, E.P.I.P., Ind. Area,

Phase – 1, Jharmajri, Baddi (H.P.).

Dissolution in Acid Stage & Assay

CDSCO, East Zone, Kolkata

CDL,

Kolkata

3.

Levocetirizine Hydrochloride Tablets I.P. 5 mg

B. No.: SHT8188, Mfg dt: 04/2018, Exp dt: 03/2021,

Mfd by: M/s. Syncom Healthcare Limited, D – 42, IIE, Sidcul, Selaqui, Dehradun – 248 197 (Uttarakhand).

Dissolution

CDSCO, North Zone, Ghaziabad

CDL,

Kolkata

4.

Levocetirizine Tablets I.P. 5 mg

B. No.: 9700719,

Mfg dt: 05/2019, Exp dt: 04/2021,

Mfd by: M/s. Karnataka Antibiotics & Pharmaceuticals Ltd., Plot No. 14, II Phase, Peenya Bangaluru – 560 058.

Dissolution

CDSCO, East Zone, Kolkata

CDL,

Kolkata
5.

Pantoprazole Tablets I.P. 40 mg

B. No.: PNT94087,

Mfg dt: 09/2019, Exp dt: 08/2021,

Mfd by: M/s. Caplet India Private Limited, 284/1, Bangur Avenue, Block B, Kolkata – 700 135, Works : Rekjuani, Kolkata – 700 135.

Dissolution

CDSCO, East Zone, Kolkata

CDL,

Kolkata

6.

Zepara – XT Tablets 650 mg (Paracetamol Tablets 650 mg)

B. No.: 419-412,

Mfg dt: 03/2019, Exp dt: 02/2021, Mfd by: M/s. Zee

Laboratories, 47 Industrial

Area, Paonta Sahib – 173 025 Himachal Pradesh.

Dissolution & Assay

CDSCO, East Zone, Kolkata

CDL,

Kolkata

7.

Paracetamol Tablets IP 500 mg

B. No.: MT - 18258,

Mfg dt: 10/2018, Exp dt: 09/2020,

Mfd by: M/s. Maxchem Pharmaceuticals Pvt. Ltd., Plot No. 22, Sec 03, Sidcul IIE, Rudrapur Distt. U.S. Nagar (Uttarakhand).

Dissolution

CDSCO, North Zone, Ghaziabad

CDL,

Kolkata

8.

Ramigal 5 (Ramipril Tablets

I.P. 5 mg)

B. No.: VG8034,

Mfg dt: 10/2018, Exp dt: 09/2021,

Mfd by: M/s. Visa Drugs & Pharmaceuticals Pvt. Ltd., Village Gullerwala Near Sai Road, Baddi, Distt. Solan – 173 205 (H.P.).

Assay

CDSCO, East Zone, Kolkata

CDL,

Kolkata

9.

Ondansetron Tablets I.P. 4 mg

B. No.: LB19001,

Mfg dt: 12/2019, Exp dt: 11/2022, Mfd by: M/s. Mars

Therapeutics & Chemicals

Ltd., 4-4/1/2, Dommarapochampally Village, Quthubullapur Mandal, Medchel/Malkajigiri Dist., Pin – 500 043,

Telangana .

Dissolution and Assay

CDSCO,

Hyderabad

CDL,

Kolkata
10.

Sterile Inner Cavity Medical Stents and Introducer System (Esophageal Stent)

B. No.: 20190731-09,

Mfg dt: 08/2019, Exp dt: 20/08/2021,

Mfd by: M/s. Changzhou New District Garson Medical Stent Apparatus Co. Ltd., Located at No. 06, Huanbao 8 Road, Huanbao Industry Zone, New Zone, New District Changzhou, Jiangsu

P.R. China – 213 022.

Sterility

CDSCO,

Airport, Mumbai

CDL,

Kolkata

11.

(ULTRA NATURE HANDRUB)

B. No.: 006,

Mfg dt: 06/2020, Exp dt: 05/2023,

Mfd by: M/s. S.M.Herbal Solutions Libaspur, Delhi.

Identification of Isopropyl Alcohol

Govt of N.C.T. of Delhi,

RDTL,

Chandigarh

12.

(MAYGRISS SANITIZER)

B. No.: VES-140, Mfg dt: 05/2020, Exp dt: 04/2023, Mfd by: M/s. VIVE

COSMETICS Plot 773,

Sector 82, JLPL, Industrial Area, Mohali, Punjab.

Assay of Ethyl Alcohol

CDSCO,

Sub-Zone, Baddi,Himachal Pradesh

RDTL,

Chandigarh

13.

Isopropyl Alcohol 70% Hand Sanitizer (SANEZER HAND SANITIZER)

B. No.: NPE003, Mfg dt: 03/2020, Exp dt: 02/2022, Mfd by: M/s. NOEL

PHARMA (INDIA) PVT.

LTD. Khasra No. 66/3 & 67/2, Juddi Kalan, Baddi, Distt. Solan (H.P.) 173205.

Assay of Isopropyl Alcohol

CDSCO, Sub-

Zone, Baddi, Himachal Pradesh

RDTL,

Chandigarh

14.

Diclofenac Potassium and Paracetamol Tablets (AMGESIC TABLETS)

B. No.: MT-19I04,

Mfg dt: 09/2019, Exp dt: 08/2021,

Mfd by: M/s. Martin & Brown Bio-Sciences K.No. 918/419, Malkumajra, Nalagarh Road, Baddi, Distt. Solan, (H.P.).

Uniformity of weight

CDSCO (North Zone), Ghaziabad (UP)

RDTL,

Chandigarh

15.

(MOIST HAND SANITIZER GEL)

B. No.: 16401,

Mfg dt: 04/2020, Exp dt: 03/2023, Mfd by: M/s. gary

Pharmaceuticals P Limited

Off NH-95, VPO Heeran-

Assay of Isopropyl Alcohol

CDSCO, Sub-

Zone, Baddi, Himachal Pradesh

RDTL,

Chandigarh
141112 (Punjab)

16.

70% Alcohol Hand Cleanser (SEVEN SEAS)

B. No.: 140,

Mfg dt: 04/2020, Exp dt: 04/2022,

Mfd by: M/s. Seven Seas Beauty Products G.T. Karnal Road Indl. Area, Delhi-33.

Assay of Isopropyl Alcohol

Govt. of N.C.T of Delhi

RDTL,

Chandigarh

17.

Calcium Carbonate, Methylcobalamin, L-Methyl Folate, Pyridoxal 5 Phosphate and Vitamin D3 Tablets (VERECAL PLUS TABLETS)

B. No.: SPT-2070,

Mfg dt: 07/2019, Exp dt: 12/2020,

Mfd by: M/s. SPECTRUM FORMULATION PVT. LTD.

Khasra No.12, Makhanpur, Bhagwanpur, Roorkee, Haridwar- (U.K.).

Assay of Pyridoxal-5 Phosphate, L- Methylfolate Calcium

CDSCO Sub-

Zone, Baddi, Himachal Pradesh

RDTL,

Chandigarh

18.

(FLUCONAZOLE INJECTION USP 0.2% W/V)

B. No.: A9123,

Mfg dt: 04/2019, Exp dt: 03/2021,

Mfd by: M/s. AISHWARYA HEALTHCARE Vill.Thana, Baddi, Himachal Pradesh- 173205.

Organic Impurities

CDSCO, Sub-

Zone, Jammu

RDTL,

Chandigarh

19.

(ESCITALOPRAM TABLETS I.P. 10 MG)

B. No.: ATT-110, Mfg dt: 05/2019, Exp dt: 04/2021,

Mfd by: M/s. Alliaance Biotech 440/3, Vill. Katha, Baddi, Solan (H.P.)-173205.

Assay & Dissolution

CDSCO (North- Zone), Ghaziabad (UP)

RDTL,

Chandigarh

20.

(CARVEDILOL TABLETS IP 6.25 MG)

B. No.: CADG904001,

Mfg dt: 04/2019, Exp dt: 03/2021,

Mfd by: M/s. Celebrity Biopharma Ltd. Vill. Panga, Jharmajri, Hilltop Estate, Barotiwala, Distt.-Solan H.P. 174103.

Assay

Drug and Food Control Organization, Srinagar, Bemina (J & K)

RDTL,

Chandigarh

21.

(CIPROFLOXACIN TABLETS I.P. 500

mg)

B. No.: DT-042,

Mfg dt: 05/2019, Exp dt: 10/2020,

Mfd by: M/s. Daffodills Pharmaceuticals Ltd. Jawahar Nagar, Rohta Road, Meerut- 250001,

Assay & Dissolution

CDSCO, Sub-

Zone, Jammu

RDTL,

Chandigarh
Uttar Pradesh.

22.

(ALBENDAZOLE TABLETS IP 400 MG)

B. No.: 03285,

Mfg dt: 12/2019, Exp dt: 11/2021,

Mfd by: M/s. Healthy Life Pharma Pvt. Ltd., N-31/1, MIDC, Tarapur, Dist Palghar, Boisar-401506, Maharashtra.

Dissolution

CDSCO Sub-

Zone, Baddi, Himachal Pradesh

RDTL,

Chandigarh

23.

(CALCIUM AND VITAMIN D3 TABLETS IP)

B. No.: CVDT-1371, Mfg dt: 04/2019, Exp dt: 03/2021, Mfd by: M/s. WINGS

BIOTECH 43 & 44 HPSIDC,

Industrial Area, Baddi- 173205 (HP).

Dissolution of Calcium Carbonate

CDSCO Sub-

Zone, Baddi, Himachal Pradesh

RDTL,

Chandigarh

24.

Isopropyl Rubbing Alcohol IP (ADDIISURE INSTANT HAND SANITIZER)

B. No.: 393,

Mfg dt: 03/2020, Exp dt: 02/2022, Mfd by: M/s. ADDII

BIOTECH PVT. LTD Vill.

Kaundi, P.O. Thana, Teh. Baddi, Distt. Solan-173205 (H.P.).

Limit of non volatile residue

CDSCO Sub-

Zone, Baddi, Himachal Pradesh

RDTL,

Chandigarh

25.

70% Alcohol (KAZIMA COSMETICS TEA TREE HAND CLEANSING GEL)

B. No.: BK001, Mfg dt: 05/2020, Exp dt: 04/2022,

Mfd by: M/s. KAZIMA COSMETICS 309, First

Floor, Patparganj, Indl. Area, New Delhi-110092.

Identification of Isopropyl Alcohol

Govt. of N.C.T. of Delhi

RDTL,

Chandigarh

26.

(OLIBLISS HAND CLEANSER GEL)

B. No.: BSAS001, Mfg dt: 06/2020, Exp dt: 05/2023,

Mfd by: M/s. OLICARE COSMOCEUTICALS 2nd

Floor, Property No. 152, Pocket-L, Sector-3, DSIIDC, Bawana Industrial Area, Delhi-110039.

Identification of Isopropyl Alcohol

Govt. of N.C.T. of Delhi

RDTL,

Chandigarh
27.

Methylcobalamin, Folic Acid, Alpha Lipoic Acid, Pyrodoxine HCI, Chromium Picolinate and Selenium Tablets

(M-NEURON PLUS TABLETS)

B. No.: HMP 113, Mfg dt: 08/2019, Exp dt: 01/2021,

Mfd by: M/s. Med Manor Organics Pvt. Ltd. Unit-II, KH-No. 143M/7, Village- Raipur Pargana Bhagwanpur, Tehsil- Roorkee, Distt. Haridwar, Uttarakhand-247661.

Identification of Selenium and Assay of Chromium Picolinate, Selenious Acid calculated as Elemental Selenium

CDSCO (North- Zone), Ghaziabad (UP)

RDTL,

Chandigarh

28.

(PANCHVATI HAND CLEANSER GEL)

B. No.: HCG.106, Mfg dt: 05/2020, Exp dt: 04/2022, Mfd by: M/s. Baldev

Industries 103- DSIDC,

Okhla Ph-1, N.Delhi-20.

Identification of Isopropyl Alcohol

Govt. of N.C.T. of Delhi

RDTL,

Chandigarh

29.

Ethanol and Isopropyl Alcohol (MEDI-PLUS INSTANT HAND

SANITIZER)

B. No.: F512,

Mfg dt: 05/2020, Exp dt: 04/2022,

Mfd by: M/s. Swisskem Healthcare Khasra No. 77/3, Bathri, Tehsil Haroli, Distt.

Una ( H.P.).

Assay of Isopropyl Alcohol

CDSCO Sub-

Zone, Baddi, Himachal Pradesh

RDTL,

Chandigarh

30.

Isopropyl Alcohol Emollients and Moisturizer Hand Rub IP (PURE- HANDRUB PLUS)

B. No.: EHX-281, Mfg dt: 04/2020, Exp dt: 03/2022,

Mfd by: M/s. Dr.Edwin Lab Plot No. 517, Indl. Area, Phase IX, SAS Nagar- 160059 (Pb.).

Identification and Assay of Isopropyl Alcohol

CDSCO Sub-

Zone, Baddi, Himachal Pradesh

RDTL,

Chandigarh

31.

(BEARD HOOD HAND CLEANER)

B. No.: J031,

Mfg dt: 03/2020, Exp dt: 02/2022,

Mfd by: M/s. Ambrosia Herbals 317, FIE Patparganj, Industrial Area, Delhi-110092.

Assay of Isopropyl Alcohol

Govt. of

.N.C.T.of Delhi

RDTL,

Chandigarh

32.

(SEEJAL

+INSTANT HAND SANITIZER)

B. No.: JDL-1719,

Mfg dt: 04/2020, Exp dt: 03/2022,

Mfd by: M/s. JPEE DRUGS Plot No.-53, Sector 6-A, SIDCUL, Haridwar (Uttarakhand).

Assay of Isopropyl Alcohol

CDSCO (North- Zone), Ghaziabad (UP)

RDTL,

Chandigarh
33.

Glimepiride Tablets I.P. 2mg.

B. No.: MT182240,

Mfg dt: 02/2019, Exp dt: 01/2021,

Mfd by: M/s. Mascot Health Series Pvt. Ltd. Plot no. 79, 80, Sector-6A, IIE, SIDCUL,

Haridwar-249403(U.K).

Dissolution

Drugs Control Department, Bihar

RDTL,

Guwahati

34.

Nefidinol Retard- 10 Tablets

B. No.: T8120289,

Mfg dt: 12/2018, Exp dt: 11/2020,

Mfd by: M/s. Rhydburg pharmaceuticals Ltd. C2&3, S.I.E.L, Selaqui, Dehradun (U.K).

Non-compliance with physical description of tablets and unfit for human consumption

Drugs Control Department, Nagaland

RDTL,

Guwahati

35.

Domperidone & Omeprazole Capsules (ROCID D CAPSULES)

B. No.: RC-010,

Mfg dt: 07/2019, Exp dt: 05/2022,

Mfd by: M/s. Ronak Life Care Pvt. Ltd. R.S. No.: 41(Part) At & Post Fajpur, Dist.-Patan-384265, Gujarat.

Dissolution

Drugs Control Department, Mizoram

RDTL,

Guwahati
For more details click on the link below-