Reports on submitting Covaxin phase 3 data to WHO incorrect, lack any evidence: Bharat Biotech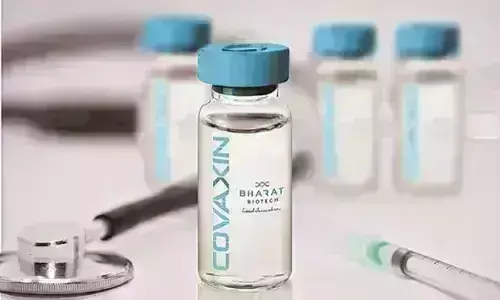 New Delhi: Hyderabad-based Bharat Biotech has clarified on reports about submission of phase 3 trial data of Covaxin to World Health Organization (WHO), claiming that the news stories are incorrect and lack any evidence.

In wake of media reports that Bharat Biotech had submitted the results of its phase 3 clinical research to the WHO for clearance, the company issued a statement rejecting all the claims.
Also Read:Covid-19: Bharat Biotech shares full data of all research studies of Covaxin
The company wrote on Twitter this week, "The news reports on Bharat Biotech submitting Phase-3 data to WHO is incorrect and lacks any evidence."
Bharat Biotech's Covaxin, Oxford University-shot AstraZeneca's locally as Covishield, and Russia's Sputnik V are the three vaccines now in use in India.

As per ANI report, Bharat Biotech's pre-submission meeting has been scheduled on June 23 for evaluation of the World Health Organisation (WHO)'s Emergency Use Listing (EUL) of its indigenous COVID-19 vaccine Covaxin.

Bharat Biotech announced earlier this month that it had submitted 90% of the documentation required for the WHO's EUL. The rest of the documents are to be submitted this month.
COVAXIN, India's indigenous COVID-19 vaccine by Bharat Biotech, was developed in collaboration with the Indian Council of Medical Research (ICMR) - National Institute of Virology (NIV). The indigenous, inactivated vaccine is developed and manufactured in Bharat Biotech's BSL-3 (Bio-Safety Level 3) high containment facility. The vaccine was developed using the Whole-Virion Inactivated Vero Cell derived platform technology. Inactivated vaccines do not replicate and are therefore unlikely to revert and cause pathological effects. They contain dead viruses, incapable of infecting people, but still able to instruct the immune system to mount a defensive reaction against an infection.
Earlier, the Medical Dialogues Team had reported that in a setback to Bharat Biotech's COVID-19 vaccine Covaxin, the US Food and Drug Administration had "recommended" Ocugen Inc, the US partner of the Indian vaccine maker, to go for the Biologics Licence Application (BLA) route with additional data, nixing hopes of an Emergency Use Authorisation.

Further, Ocugen had stated that the development may delay the Covaxin launch in the US. However, Ocugen is in discussions with the FDA to understand the additional information required to support a BLA submission.
Source : with agency inputs