RIP: Founder, Chairman of JB Chemicals Shri JB Mody passes away at 91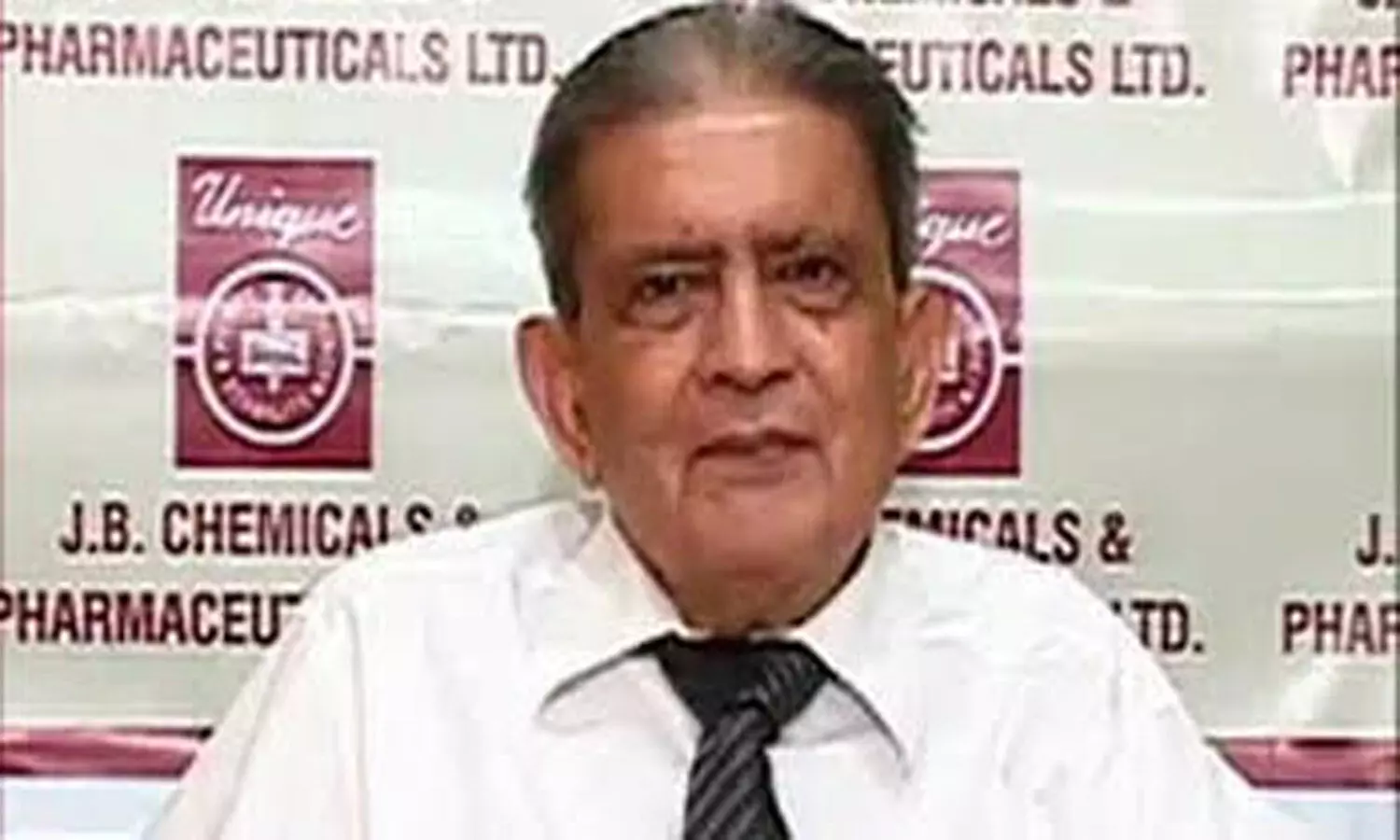 New Delhi: A prominent name in the Indian Pharmaceuticals Industry and the Founder and Chairman of JB Chemicals and Pharmaceuticals, Jyotindra Bhagwanlal Mody (JB Mody) passed away last night at the age of 91 year
Shri JB Mody founded the company JB chemicals and Pharmaceutical limited in 1976, taking it from a small company to a well-known name with a market cap of Rs 5553.88 crore approx. Earlier this month, deciding on the investment rationale, the firm strategically sold its controlling stake to buyout major KKR for Rs 3750 Crore.

Also Read: JB Chemicals Controlling Stake To Be Acquired By KKR For Rs 3750 Crore
"We have to inform the Exchange with profound grief and sadness that Company's founder Chairman and Managing director Shri Jyotindra B. Mody, passed away last night," the company stated in its regulatory filing
The driving force behind creating this huge India pharma giant, Shri JB Mody's roots go back to the humble background, where economic necessities overtook the need for formal education. However, a strong entrepreneurial spirit soon sowed him established a successful pharmaceutical distribution agency in North Gujarat with his siblings. But his vision was much bigger, and soon he thought that if he could sell company products, then why could he not manufacture and sell his own products.

The first step in the realization of this vision was in the form of modest family-run business, the Unique Pharmaceuticals Laboratories. His vision and values of integrity, industry, and innovation soon took a more definite and dynamic shape in the form of JB Chemicals and Pharmaceuticals that was founded on 18th December 1976.
His keen understanding of the market helped him identify the products that changed the company's fortunes and created blockbuster brands including Metrogyl, Rantac (a ranitidine-based formula), as well as Cilacar and Nicardia, a few cardiac care medicines, while his pioneering foray into the daunted Russian market yielded great success with unique brands.
Under his direction, JB Chemicals stood tall with a BSE n NSE listing with a remarkable market cap and a 4000 plus workforce with state of the art manufacturing and R&D facilities in Maharashtra and Gujarat and world-class products that offered affordable healthcare solutions across India and the world including the USA.
His determined commitment to healthcare stemmed firm desire for the betterment of society at large. Apart from nurturing his own company, he had played a significant role in shaping the overall Indian Pharmaceutical Industry in his capacity as the founder member of the Indian Drug Manufacturers' Association (IDMA), President of IDMA as well as Chairman of Chemexil.
As an ardent philanthropist his benevolence had touched many lives for the establishment of a pharmacy college in Rajkot, a school in Bharuch, multiple hospitals in and around Gujarat to name a few, as well as in the rehabilitation of the earthquake-affected Vavaniya village in Gujarat with the reconstruction of over 200 homes and numerous women empowerment initiatives.
Read Also: Dr C Gopalan, Former DG ICMR, Eminent Nutritionist Passes Away At 101