Sunovion Pharmaceuticals gets USFDA nod for KYNMOBI for Parkinson's disease off episodes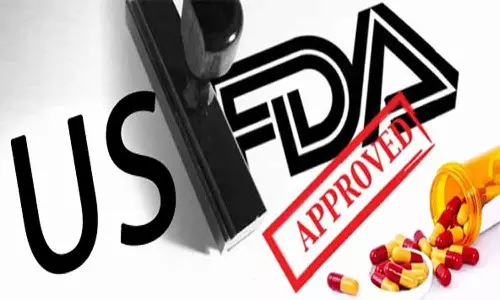 KYNMOBI dissolves under the tongue to help people with PD improve their OFF symptoms as needed
Marlborough: Sunovion Pharmaceuticals Inc. has announced that the U.S. Food and Drug Administration (FDA) has approved KYNMOBI™ (apomorphine HCI) sublingual film (APL-130277) for the acute, intermittent treatment of OFF episodes in patients with Parkinson's disease (PD).
OFF episodes are the re-emergence or worsening of PD symptoms otherwise controlled with oral levodopa/carbidopa. They may be characterized, in part, by tremor, stiffness, slowed movement or other symptoms. These disruptive episodes can occur in the morning upon waking and throughout the day.
KYNMOBI dissolves under the tongue to help people with PD improve their OFF symptoms as needed.
"Today's approval of KYNMOBI advances treatment options for people with Parkinson's disease who experience OFF episodes and the associated disruption of everyday activities," said Antony Loebel, M.D., President and Chief Executive Officer at Sunovion. "We are pleased to offer the Parkinson's disease community a novel treatment option that we believe offers a convenient way for patients to rapidly improve impaired movements and better control their motor symptoms when they need it."
Parkinson's disease is a chronic neurodegenerative disease in which dopamine-producing cells are lost. It is projected that 1.2 million Americans will be living with PD by 2030. Within the first four to six years after diagnosis, regardless of disease severity, up to 60 per cent of people with PD experience OFF episodes.
"Several years after a person is diagnosed with Parkinson's disease they may notice problems such as having trouble getting out of bed in the morning or having difficulty getting out of a chair, or that they feel frozen while trying to walk as the effect of their maintenance medication diminishes," said Stewart Factor, D.O., Professor of Neurology, Director of the Movement Disorders Program and Vance Lanier Chair of Neurology at Emory University School of Medicine. "The approval of KYNMOBI affords health care providers with a needed option that can be added to their patients' medication regimen to adequately address OFF episodes as their Parkinson's disease progresses."
"We know from our research and discussions with the Parkinson's community that OFF episodes can significantly disrupt a patient's daily life," said Todd Sherer, Ph.D., CEO, The Michael J. Fox Foundation for Parkinson's Research. "The Foundation supported early clinical development of sublingual apomorphine, and this approval brings an important new treatment option for people with PD who experience OFF."
Read also: Lupin gets USFDA nod for Trientine Hydrochloride Capsules