NGT directs Delhi govt to contain mosquito breeding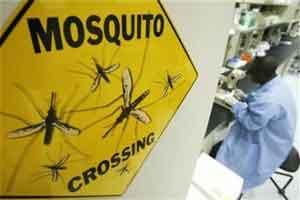 New Delhi: The National Green Tribunal has directed the Delhi government and its civic bodies to clean and maintain waterbodies including fountains in different parts of the city to prevent them from becoming breeding grounds for mosquitoes.
A bench headed by NGT Chairperson Justice Swatanter Kumar asked the authorities to either pour kerosene in the water or release small fish which feed on mosquito larvae.
"Authorities should ensure that fountains should be cleaned and maintained so that they don?t have stagnated water and become breeding grounds for mosquitoes," the bench said.
It also directed the authorities to inspect abandoned flats owned by Delhi Development Authority in the Janakpuri area and probe the issue of mosquito breeding.
The direction came after some commissioners appointed by the green panel informed the bench that several fountains installed in government offices, hospitals and hotels were not maintained properly and have become breeding ground for mosquitoes.
"Authorities should ensure that fountains are cleaned and maintained so that they don?t have stagnated water and become breeding grounds for mosquitoes," it said.
The NGT had earlier said that vector-borne diseases like dengue and chikungunya have started spreading in the city and the steps taken by the authorities to contain the menace were "mere formality".
Unhappy with the situation, the bench had appointed 12 local commissioners to inspect different places in the city under each municipal corporation and report it about the problem persisting on the ground.
The tribunal had earlier hit out at Delhi government, civic bodies and other public authorities for making "unbelievable" claims and "vague statements" regarding steps to tackle diseases like dengue and chikungunya.
It had said the right to clean, decent environment and public health was a fundamental right and financial limitations should not come in the way of providing good health and environment to the people.
While issuing a slew of directions, the bench had constituted a Principal Committee headed by the Chief Secretary of Delhi Government and comprising Commissioners of all corporations, Vice Chairman of DDA, Head of the Cantonment Board, New Delhi Municipal Council, Principal Secretary of Health and Director General of Health Services of Delhi Government as members to deal with the menace of these vector-borne diseases.
The bench was hearing a petition by former scientist of Central Pollution Control Board Mahendra Pandey for issuance of directions and setting up of committees to implement precautionary, preventive and curative actions to ensure that the residents of Delhi are not exposed to Dengue, Chikungunya and other allied diseases.
The plea had also sought direction to authorities not to undertake outdoor thermal fogging to control dengue, alleging it was anti-environment and caused air pollution.