................................ Advertisement ................................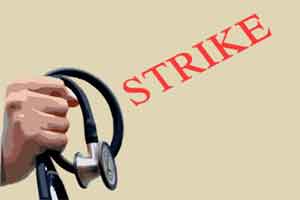 Chandigarh: Haryana Health Minister Anil Vij has directed the imposition of prohibitory orders under section 144 within two km radius of civil hospitals in the state to facilitate the patients and to ensure better treatment atmosphere. The move comes in response to the ongoing strike of National Health Mission workers in the state.
Section 144 of the Criminal Procedure Code (CrPC) of 1973 empowers a magistrate to prohibit an assembly of more than four people in an area. According to sections 141-149 of the Indian Penal Code (IPC), the maximum punishment for engaging in rioting is rigorous imprisonment for 3 years and/or fine. Every member of an unlawful assembly can be held responsible for a crime committed by the group. Obstructing an officer trying to disperse an unlawful i assembly may attract further punishment.
Vij issued these directions to the officers while presiding over a meeting of the health department, an official release said.
On the issue of the strike of National Health Mission (NHM) workers continuing for nearly a week now, Vij said the government is spending Rs 180 crore per annum on the employees of NHM and most of their demands have already been fulfilled.
He said a hike of five percent and another hike of three percent have been made in the honorarium of these employees.
................................ Advertisement ................................
Apart from this, approval to give a hike of 14.29 percent in their honorarium has also been given as per 7th Pay Commission.
The minister said that a notice was issued to NHM employees who were proceeding on strike and as a result, most joined their duties.
"However, the process has been started to terminate the services of those employees who had not yet joined their duties. The new recruitment process is being started to avoid any inconvenience to the patients," he added.
Read also: 7th Pay Commission: Govt ignores demands on NPA, doctors prepare for protest
"Join duty or face termination"
Haryana Health Minister Anil Vij warned contract NHM workers, who are on strike, to join duty by tomorrow morning or face termination of services.
Civil Surgeons have been directed to issue notices in this regard to all such employees in their respective districts, he said here.
The NHM workers have been on strike for the past three days demanding regularisation of services.
This demand relates to the central government, on which the Centre alone can take a decision, the minister said, adding that referral transport and emergency medical services would not be allowed to suffer.
"We have our regular employees too if NHM employees do not return in time, we would consider the alternative arrangement," he said.
Read also: Doctors feel cheated with 7th Pay Commission
Studied at Indraprastha College for Women (Delhi University), completed in year 2014. Currently working with Medical Dialogues, a online Medical news paper dedicated for healthcare Professionals.
................................ Advertisement ................................
1 comment(s) on Strike: Haryana govt imposes section 144 near hospitals