Mysuru : Nine doctors conferred Vaidya Rathna Awards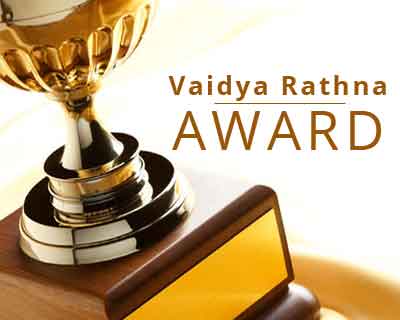 Mysuru: Nine doctors were honoured with the Vaidya Rathna Awards, as a  part of the
World Doctor's Day
celebrations, at Nadabrahma Sangeet Sabha here on Friday.The honour was conferred on all the nine medical practitioners by the Mysuru Clinical Society and Mysuru Elite Round Table.
Former Vice-Chancellor, Kuvempu University, K Chidananda Gowda, inaugurated the event, while  Karnataka State Gangubai Hanagal Music and Performing Arts University, Vice-Chancellor, Sarvamangala Shankar presented the awards.
Sarvamangala praised the efforts and sacrifices made by the doctors saying: "I salute the doctors for their dedicated service in saving precious lives. Organizers have done a good thing by identifying the doctors who have done good service to the people."Gowda also appreciated the doctors' service and dedication heartily.
B Dayananda, the city's commissioner of  Police while lauding the efforts of the doctors towards public health said that in recent years medical and legal issues had taken on different hues. Showing willingness to organise a workshop with the help of the MCS, he called Mysuru a hub of yoga, tradition and culture, which he felt should also emerge as the health sector hub as well.
Speaking on the occasion earlier on , MCS President Dr. C. Sharath Kumar said that though the medical profession was noble and served the public; several doctors, nurses, hospitals and clinics all across were facing several threats, for no fault of theirs.
"Doctors commit mistakes but it's never intentional. Mistakes happen due to work overload," he said to the
TOI
.  According to him relatives of victims or patients by themselves did not  attack hospitals or doctors, but they were provoked by antisocial elements and  organisations who mislead the public to cause harm.
Talking about Doctor's Day celebrations he highlighted July 1 as the day to mark the birth and death anniversary of noted physician, Dr Bidhan Chandra Roy (Dr B C Roy). 'He was a man who served the public even when he was serving as Chief Minister of West Bengal," said Dr Sharath.
The MCS President elaborated that though the state government has drafted Karnataka Doctors Protection Act to protect medicos, many practitioners  did not claim or register complaints when untoward incidents occurred, to avoid risks. He called upon doctors to fight legally against culprits. The government and law are with medical professionals who work for public welfare, he added.
The awardees at this event included names like: Dr K S Sadananda, associate professor of cardiology and unit chief at Sri Jayadeva Institute of Cardiology (Mysuru); Dr H M Virupaksha, professor and HoD of pulmonary medicine, MMC-RI (Mysuru); Dr D G Nagaraj, Mysuru City Corporation Health Officer; Dr Srinivas Deep Urs, Orthopaedic Surgeon at Annapoorna Orthopedic and Speciality Hospital; Dr C Suvarna, District TB officer (DTO) at the Department of Health and Family Welfare (Mysuru); Dr N M Shama Sundar, Member of International Society for Plastination; Dr H V Rama, Member of National Association on Reproductive and Child Health; Dr Gajanana Hegde, HoD of post-graduate studies in Kayachikitsa Government Ayurveda Medical College (Mysuru); and Dr B T Narayana Swamy, Project Manager, Rajiv Arogya Bhagya Scheme of the State government.M G R Urs, Dr C Sharath Kumar, Dr S Ravikumar and Dr M S Vishweshwara were also present.