Nipah Virus Strikes in Puducherry: Suspected Patient turns critical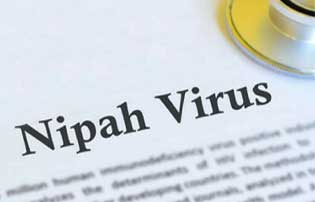 Puducherry: The condition of the patient admitted to Jawaharlal Institute of Postgraduate Medical Education and Research (JIPMER) with suspected Nipah Virus symptoms turned critical.
JIPMER Medical Superintendent Ashok Bhade informed that the patient's condition was deteriorated and is now put on a ventilator.
Read Also:Nipah Virus Update: Health Department holds Emergency meet after suspected patient admitted at JIPMER
Earlier, following the admission of a suspected Nipah virus case at Jipmer Hospital, the Health Department conducted an emergency meeting on preparedness and prevention of Nipah virus
Isolation ward have been identified in both government hospital for chest disease with the support of Indira Gandhi Medical College and Research Institute and Jipmer. The meeting directed all private medical colleges to be prepared to handle Acute Encephalitis syndrome cases and isolation wards with beds dedicated for Nipah kept ready.
Nipah virus (NiV) infection is a newly emerging zoonosis that causes severe disease in both animals and humans. The natural host of the virus are fruit bats of the Pteropodidae Family, Pteropus genus.


Fruit bats of the Pteropodidae family are the natural host of the Nipah virus. Nipah virus can be transmitted to humans from animals (such as bats or pigs), or contaminated foods and can also be transmitted directly from human-to-human.


According to the WHO, Nipah virus is a newly emerging disease that can be transmitted from its reservoir (natural wildlife host), the flying foxes (fruit bats), to both animals and humans. It takes its name from Sungai Nipah, a village in Malaysia where it was first identified.


Symptoms range from asymptomatic infection, acute respiratory infection (mild, severe), and fatal encephalitis. Infected people initially develop influenza-like symptoms of fever, headache, myalgia, vomiting and sore throat.


This can be followed by dizziness, drowsiness, altered consciousness, and neurological signs that indicate acute encephalitis.


Some people can also experience atypical pneumonia and severe respiratory problems, including acute respiratory distress. Encephalitis and seizures occur in severe cases, progressing to coma within 24 to 48 hours.


Read Also:Know Facts about Nipah virus