Wagon Cab-Nitin Gadkari flags off taxi ambulance services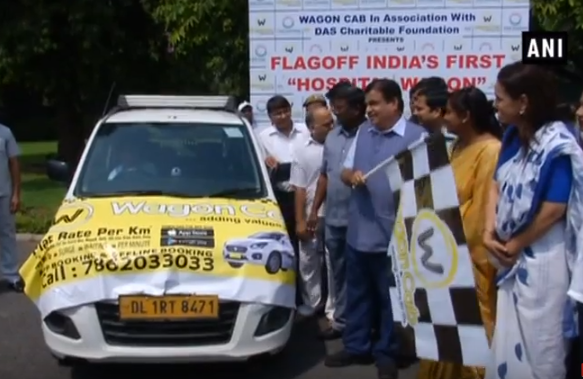 NEW DELHI: Union Minister Nitin Gadkari on Wednesday flagged off Wagon Cab's taxiambulance services here. A startup, Wagon Cab claims to be India's first road emergency cab services provider.
The launch comes in the the backdrop of India accounting for 5 lakh road crashes annually worldwide in which 1.5 lakh people die. Wagon Cab, which provides medically-trained drivers in its ambulance-taxis, said in the initial phase it will launch 200 cabs.
The drivers will be trained to handle critical situations and provide first-aid, for which they will be paid additional Rs 500, Wagon Cab said in a statement. NGO Das Foundation is supporting the initiative.
"I firmly believe that this particular initiative will really help out those in need...Most of the drivers spend maximum time on roads, they are real ambassadors of road safety, and with their help a lot can be achieved," said Yogita Bhayana, founder of Das Foundation. Starting from Delhi NCR, Wagon Cab is planning to launch this initiative pan India.
"Time plays a very important role in all our lives, especially in the context of road accidents, with the launch of Hospital Wagon we are looking forward to make the roads of Delhi NCR, safer," said Uttam Bose, CEO & Co-Founder Wagon Cab.