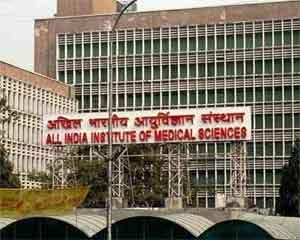 New Delhi: To facilitate fast decision making and smooth functioning at the newly established All India Institute of Medical Sciences (AIIMS), the Union government decided not to appoint the Union Health Minister on the post of chairman of the Board, a norm that has been followed till now. Instead, the post will be taken up by well-known health professionals.
According to the new policy introduced by the government, the decision has been taken to smoothen the decision-making process of the AIIMS.  Presently, the Union Health Minister is the chairman of Delhi AIIMS and six other based in Bhubaneshwar, Bhopal, Rishikesh, Patna, Jodhpur, and Raipur.
Read Also: New AIIMS will be as Good as AIIMS New Delhi: Nadda
A senior health ministry official informed the Indian Express that "There has been a growing feeling that many crucial decisions get delayed or stuck because new hospitals have to reach out to the Centre for major approvals and decisions. Hence, it has now been decided that the upcoming AIIMS hospitals will have senior doctors as chairmen."
"The decision to appoint new chairpersons would enable the Governing Body of the AIIMS to take speedy decisions. The ministry has also appointed the new chairman of 10 new AIIMS, which include AIIMS in Bhopal, Bhubaneswar, Rishikesh, Raipur, Patna, Jodhpur, Rae Bareli, Nagpur, Kalyani and Manglagiri. Their appointment letters are being issued," a senior official informed millenniumpost.
Medical Dialogues team had earlier reported that the Health Ministry, which is struggling to make new AIIMS fully functional due to unavailability of suitable candidates, has now decided to hire retired doctors, who have worked in premier medical institutes of the country, on contract.
The ministry planned to hire retired doctors on contract basis as various faculty positions at the level of additional professors and professors in most of the clinical disciplines lie vacant despite two rounds of vacancy filling exercises. Under this it decided to offer contractual employment of faculty up to 70 years of age and hiring faculty and doctors who have served in reputed institutes like PGI-Chandigarh and AIIMS, New Delhi, the official said.
The other measures taken to bridge the gap are to offer postgraduate students from AIIMS Delhi to join new institutes to campus placement and also asking senior teaching doctors from well established medical colleges to join as visiting faculties.
Read Also:  AIIMS PG Passouts to be hired directly at AIIMS 
1 comment(s) on Not Health Minister, 10 New AIIMS will have Doctors as chairmen