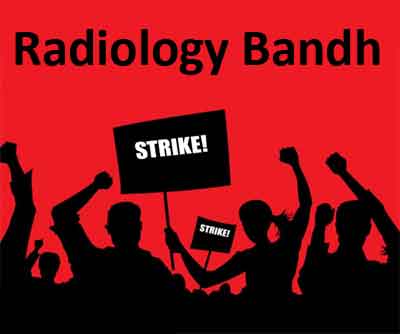 New Delhi: With no response from the government on the long overdue amendments of the PC-PNDT Act,  13,000 radiologists across the country ,under the umbrella of Indian Radiological and Imaging Association are gradually going to cease their radiological facilities from 1st September, 2016.
Speaking at a press conference, Dr OP Bansal, President IRIA said, " All the modalities will be shut down on 1st September, 2016 throughout the country. Subsequently from 2nd September there would be indefinite stoppage of all Ultrasonography throughout the country till solution of our problems and justice is served."
Explaining the core issue to MD team, Dr Jignesh Thakkar, National Coordinator PCPNDT, said " In the past, many a radiologists have been prosecuted under the act for minor mistakes, such as errors in form F or not keeping a copy of the act at the centre. These mistakes are equalized to that of sex determination and then the burden falls upon the radiologist to prove his/her innocence. Till the time, the proceeding are pending with the court, MCI cancels the doctor's registration thus putting a full stop to his bread and butter. Moreover, even when the doctor has proved his/her innocence in the court of law, there would be no compensation to the reputation lost that the doctor would face, for minor mistakes in Form F."
It is reported that while the new amendments call for graded punishments for violation under the act, they are yet to see the light of the day, awaiting approvals from the government.
Clearly clarifying that IRIA is does not support sex determination, Dr OP Bansal said, " In 1994, PC-PNDT Act was inacted to prevent sex-selective abortions and hence female foeticide. However, due to lack of uniform implementation, it has become a tool for extortion and harassment of doctors at the hand of authorities. Moreover, amendments though put on paper for the past one year are yet to see any implementation. We demand urgent full stop to all the harrassments.
The doctors have clearly pointed out that emergency, and in-hospital services will not be affected because of the strike. Speaking to Medical Dialogues team, Dr Bansal said, " N0 striking radiologist will deny any emergency."
Both FOGSI as well as DMA are reported to have extended their support to IRIA in this endeavour.
Demands of IRIA
IRIA has put forward the following demands:-
Clerical errors in Form F/not wearing of apron/non display of notice board/not keeping hand book on PC – PNDT Act should not be equated with Sex Determination and Criminal offence.
2. Punishment should be graded (in line with the offence).
3. There should standardize implementation of PC – PNDT Act throughout the country.
4. Ultrasound machines should not be sealed and medical registration of Radiologists should not be cancelled/suspended on minor clerical errors.
5. The Gazette Notification dated 5 th June, 2012 regarding restriction to Radiologists for visiting more than two Ultrasound Centers in a district/intimation of change of Radiologist and Equipment one month in advance should be de-notified or suitably amended.
6. Renewal of PC- PNDT Registration should not be denied until and unless case is proved in the court of law.
7. Court cases against Radiologists for minor clerical errors should be withdrawn.
18 comment(s) on No more ultrasound services, till government meets out demands: IRIA