No uniformity in pay of resident doctors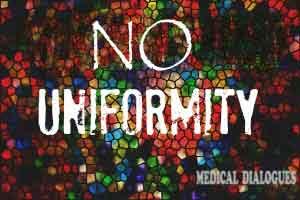 Pay for the PG students in Maharashtra medical college starts from Rs 71,000 and more, while for medical institutions in Bihar it is Rs 1,200. Likewise, the stipend for resident doctors is 72,000 plus per month in Delhi in a stark contrasts to Rs 18,000 in Tamil Nadu.
Then the bond period for PG students in a government medical college in Delhi, Uttar Pradesh, or Bihar may be nil. However, it is 10 years in Assam or 2-5 years in Tamil Nadu.
There is a further disparity noticed in pay for private medical colleges in PG courses, and the government medical colleges which offer a fixed pay. In private colleges, the resident doctors are often forced to work for a pittance or nothing.
There is an all-India combined entrance examination for 50% of PG seats in government medical institutions, while the rest have their own state-level entrance exams. After admission, all the doctors are required to work in same conditions.
A recent report by the
TOI
states about the Supreme Court's decision in 1987, to fix uniformity in residency programmes across the country. In a judgement in September 1987, the apex court said that the court was allowing the current arrangement to continue for a period of five years up to 1992. "The uniform pattern has to be implemented for 1993. It is proper that one uniform system is brought into vogue throughout the country," it observed.
Following the SC directive in 1987, the union health ministry had sent instructions in June 1992 to all states and union territories to implement the Uniform Central Residency Scheme. However, that clearly hasn't happened till date.
"On paper, the private medical colleges are supposed to pay the same amount as is paid in state government medical colleges. But private colleges might show the stipend as Rs 40,000 but actually pay only Rs 12,000. This is worst in the so-called deemed universities," said a resident doctor in Maharashtra.
Another doctor in a Karnataka private college explained how resident doctors are being forced to work for nothing. "They show Rs 25,000 on paper, but pay them nothing. No one dares to protest as they threaten to make us fail in the exam, as it is all within their control," he said, adding that many worked on and off for private hospitals around their colleges to earn some money.
"We want some kind of uniformity. We do the same job, then how can we be paid such wildly varying amounts? We are taught the same things. How can there be so much variation in fees? There has to be some logic and fairness. It cannot be left to whims of each state government. Even when it comes to work hours, other than Delhi, where a 48-hour week is the rule, in most states there is no rule and we often work 70-100 hours a week. In the coming year, we intend to agitate for one post one pay for the whole country," said Dr Sagar Mundada, president of the Maharashtra Association of Resident Doctors (MARD).
Its been 24 years since the Scheme was formed. It has still not been implemented. Resident Doctors across the country have initiated a campaign for implementation of Central Residency Scheme, starting by giving a letter to the Prime Minister regarding the Same. If you feel that resident doctors should get these services, support this move by signing this letter
LETTER TO THE PM FROM DOCTOR