November 18 celebrated as Naturopathy Day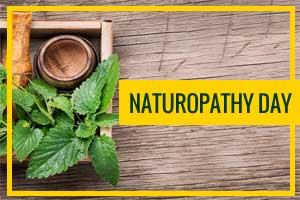 New Delhi: The first Naturopathy Day was organised throughout the country on November 18. On this occasion, AYUSH Minister Shripad Naik said under the able guidance of Prime Minister Narendra Modi, the AYUSH Ministry is introducing many schemes to spread the Naturopathy Treatment in different provinces out of which Pune, Goa, Delhi, Haryana, Karnataka, Kerala and Andhra Pradesh are a few provinces where the work on building Natural Clinics is already in progress, an official statement said here.
''We wish that the common people should easily benefit from the Naturopathy Treatment. I admire the INO Chairman Jai Prakash Agarwal for his many years' relentless efforts to get the first Naturopathy day declared. I congratulate everyone associated with INO for the organization of this first day.'' Surya Foundation & International Naturopathy Organization Chairman Jai Prakash Agarwal said, ''Shripad Naik is a very simple, dignified and hard-working Minister.
During his tenure of 4 years as AYUSH Minister, he did many commendable jobs and is introducing many important schemes. I wish the benefits of NATUROPATHY TREATMENT should reach every household.'' National President of INO Anant Biradar said, ''it is the first time that the Naturopathy has created a world record.
It is imperative that AYUSH Ministry also extends its cooperation and help all the Doctors working for the naturopathy treatment by taking imaginative steps to spread the benefits of naturopathy at a large scale.''
The INO appointed brand ambassador film Actress Isha Koppikar was also present on the occasion. More than 1000-Naturopathy Specialist Doctors from all over the country gathered to attend this programme. Before this, the Naturopathy Day started with a Rally of the Bikers. More than 100 bikers participated in this rally; that started from Gurugram and reached Delhi.
The pillion riders of these bikers held play-cards displaying slogans related to the NATUROPATHY TREATMENT to spread the awareness about this therapy. The INO with the support of Ayush Ministry ran awakening programmes throughout the country from November 11 to November 18 to educate people.
In this series first of all more than 7,000 people took a mud bath in groups at different places throughout the country on November 11 from 1000 hrs to 1300 hrs. In Delhi, this community mud bath took place at Balaji Nirogdham where 700 people took mud bath simultaneously at a time