Negative pressure wound therapy not useful after laparotomy for gynecologic surgery;finds study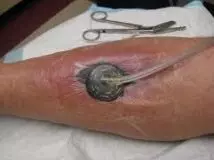 In a recent development, researchers have put forth a very interesting finding stating that Negative pressure wound therapy after laparotomy for gynecologic surgery did not lower the wound complication rate but did increase skin blistering. The findings have been published in Obstetrics & Gynecology.

Surgical site infections are a common source of post-operative morbidity and contribute significantly to healthcare costs. Patients undergoing emergency laparotomy and/or bowel surgery are particularly at risk. Prophylactic negative pressure wound therapy (NPWT) has been shown to reduce wound infection. However, to date, there has been a lack of consensus around its use for closed laparotomy wounds.

The team undertook the recent study to estimate the effectiveness of prophylactic negative pressure wound therapy in patients undergoing laparotomy for gynecologic surgery.
Researchers conducted a randomized controlled trial with Eligible, consenting patients, regardless of body mass index (BMI), who were undergoing laparotomy for presumed gynecologic malignancy were randomly allocated to standard gauze or negative pressure wound therapy. Patients with BMIs of 40 or greater and benign disease also were eligible. Randomization, stratified by BMI, occurred after skin closure. The primary outcome was wound complication within 30 (±5) days of surgery. A sample size of 343 per group (N=686) was planned.
Data analysis revealed the following facts.
From March 1, 2016, to August 20, 2019, we identified 663 potential patients; 289 were randomized to negative pressure wound therapy (254 evaluable participants) and 294 to standard gauze (251 evaluable participants), for a total of 505 evaluable patients.
The median age of the entire cohort was 61 years (range 20–87). Four hundred ninety-five patients (98%) underwent laparotomy for malignancy.
The trial was eventually stopped for futility after an interim analysis of 444 patients.
The rate of wound complications was 17.3% in the negative pressure wound therapy (NPWT) group and 16.3% in the gauze group, absolute risk difference 1% (90% CI −4.5 to 6.5%; P=.77).
Adjusted odds ratio controlling for estimated blood loss and diabetes was 0.99 (90% CI 0.62–1.60).
Skin blistering occurred in 33 patients (13%) in the NPWT group and in three patients (1.2%) in the gauze group (P<.001).
For the full article follow the link: 10.1097/AOG.0000000000004243
Primary source: Obstetrics & Gynecology.
Source : Obstetrics & Gynecology