Over-the-counter MTP pills: Combating the silent menace of Unsafe abortion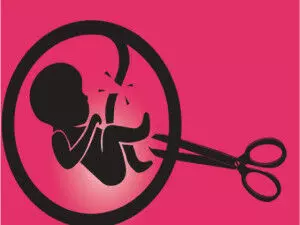 Everyday 13 women die in India due to causes related to unsafe abortion. Each year almost 6.4 million pregnancies are terminated. Unsafe abortion, the country's third leading cause of maternal death, accounts for 8% of all such deaths each year.

Even though unsafe abortion is very dangerous and expensive, for several different reasons, women resort to it. Abortion in women is correlated with unintended pregnancy, economic status, low education and living in deprived neighborhoods.
There is a significant gap in the demand of abortion services and the facilities available. Women who do not have access to safe abortion care subject themselves to unsafe procedures that may even endanger their lives. Incomplete abortion, infection, hemorrhage are some of the complications along with long-term health issues like chronic pain, pelvic inflammatory disease and infertility. The burden of unsafe abortion lies not only with the women and their families, but also with the health system. Blood products, antibiotics, anesthesia, surgical intervention are required for every women admitted for post abortion care. The financial and logistic impact of emergency care can overwhelm a health system.
Clinical studies of medical abortion using mifepristone and misoprostol combinations have typically indicated complete abortion rates of >90%. The key benefits of the procedure are the avoidance of anesthesia and surgical intervention. In order to improve women's health and quality of life, secure and legal abortion is considered vital.
The aim of this study carried out by Shilpa Mishra and Sudhanshu Kumar Rath was to analyze the cases where medical abortion has failed, thereby needing further interventions, the various modes of management used. This study also highlighted the need of refinement of the current MTP services and importance of ultrasonographic evaluation before consumption of these pills to rule out ectopic pregnancy and its consequences.
It was an observational study carried out in 100 women who reported with complaints seeking medical help following consumption of abortion pills to the Department of Obstetrics and Gynecology, Kalinga Institute of Medical Sciences and Pradyumna Bal Memorial Hospital (PBM), Bhubaneswar between September 2018 and June 2020.
In this study, all the 100 women had procured the abortion pills over the counter at local pharmaceutical shops without any prior consultation at any health care facility. Majority of the patients (57%) were in the age group of 21-25 years.
Contrary to the notion that MTP pill consumption without consultation from health care provider might be more prevalent in younger population, these findings suggest that the practice is distributed among all age groups. The reason being easy availability rather than any clandestine consumption.
Most of the women had not used any method of contraception for spacing and therefore they had taken the pills to get rid of unwanted pregnancy.
MTP kit is indicated for the medical termination of intrauterine pregnancy of up to 63 days of gestation. Taking the pills beyond the recommended period increases the chances of incomplete abortion, excessive bleeding thereby leading to anemia and necessitating blood transfusion, infection and sepsis.
It was observed in the present study that the gestational age at consumption of abortion pills in 28% patients was early pregnancy (up to 7 weeks) while 52% and 20% patients had consumed abortion pills at 7-9 weeks and 9-12 weeks of pregnancy respectively.
Unmet need for spacing and unwanted pregnancy was the main reason behind self-administration of these pills. Most frequent presenting complaint was excessive bleeding per vaginum (78%). Twelve (12%) of the women presented with severe anemia and another 12% were diagnosed with ectopic pregnancy. Surgical intervention was needed in a majority (84%) of the cases.
In this study all the 100 women had purchased the medications at local pharmaceutical shops without any consultation or ultrasonography. This idea was mostly instilled by their husbands or other family members. Reinstating the fact that indiscriminate use of these drugs can lead to life-threatening complications like hemorrhage and anemia, 50% of these women had hemoglobin values below 10gm/dl and 22% needed blood transfusion for anemia correction.
Over-the-counter availability, failure to strictly follow the guidelines, unsupervised usage of abortion pills have led to an increase in ectopic pregnancies. Under diagnosis of ectopic pregnancy can lead to potentially serious consequences in patients who have taken these pills without prior confirmation of intrauterine gestation.
Medical methods of abortion are convenient and reliable when carried out under medical supervision. Many concerns, such as greater chances of incomplete abortion, failed abortion, hemorrhage leading to anemia and blood transfusion, septic abortion and missed ectopic pregnancy are associated with unchaperoned use of medical abortion pills. So, it is important to avoid over the counter trading ofthese drugs. In addition, it is necessary to address the need to educate women about the use of these medications. This study shows urgent need for legislation and restriction of drugs used for medical termination of pregnancy. Drugs should be made available via health care facilities to reduce maternal morbidity and mortality which is due to indiscriminate use of these pills. We also emphasize on the need of ultrasonographic evaluation before intake of these pills so that ectopic pregnancy is not missed.
Source: Mishra and Rath; Indian Journal of Obstetrics and Gynecology Research 2021;8(2):146–149
https://doi.org/10.18231/j.ijogr.2021.032
Source : Indian Journal of Obstetrics and Gynecology Research