Viscoelastic haemostatic assay my help stratify blood product transfusion need during PPH: Study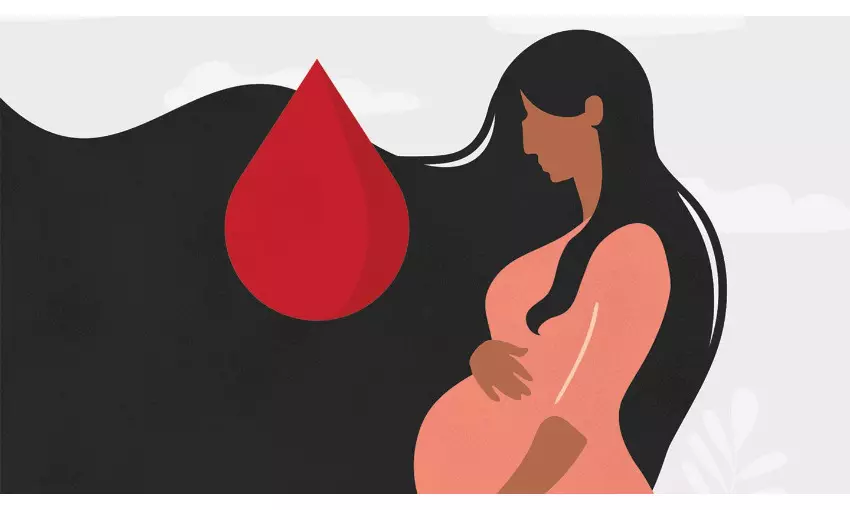 Postpartum haemorrhage (PPH) is the leading cause of maternal death worldwide. In many regions of the world the incidence of PPH is increasing. Massive PPH can be defined as blood loss of ≥2500 mL and/or the transfusion of ≥5 units of packed red blood cells (RBC). In 2012, the Scottish Confidential Audit of Severe Maternal Morbidity observed high rates of both hysterectomy (6%) and intensive care admission (11.8%) in patients experiencing massive PPH, highlighting the contribution of massive PPH to major maternal morbidity. Improvements in PPH management are therefore vital to improve outcomes in these women.

"A limited number of international publications describe massive PPH using entry criteria based on blood transfusion (≥4, 5 or 8 units RBC transfusion), however none of these articles include routine use of bedside viscoelastic haemostatic assays (VHA) such as rotational thromboelastometry (ROTEM) or thromboelastography (TEG) to guide management of coagulopathy. In order to optimise PPH resuscitation strategies, further research is required to understand the use of empirical blood product administration compared with targeted transfusion utilising bedside tests of coagulation."
S.F. Bell et al conducted a two‐year prospective cohort study of maternal outcomes of women experiencing massive postpartum haemorrhage (PPH) >1000 mL in Wales. units RBC transfusion) between 2017 and 2018 in multiple obstetric units in Wales. In this study, cases of massive PPH (≥2500 mL and/or ≥5 units red blood cell (RBC) transfusion) were identified.
Outcome data were collected as part of the Obstetric Bleeding Strategy for Wales (OBS Cymru) quality improvement project and included maternal death, critical care admission, surgical procedures, and transfusion rate. Viscoelastic testing (ROTEM) was introduced as standard care for all women experiencing PPH. Details of laboratory coagulation studies, VHA results and PPH aetiology were also recorded. The purpose of this study was to describe the impact of VHA‐guided blood product transfusion (rather than empirical administration) during all cases of massive PPH, with the aim of improving understanding of coagulation product transfusion and maternal outcomes.
Massive PPH occurred in 349 of 60,914 maternities (rate 5.7 per 1000).
There were no deaths from PPH. Intensive care unit admission and/or hysterectomy occurred in 34/311 (10.9%) and 16/347 (4.6%), respectively.
The leading cause of massive PPH was genital tract trauma (107/349, 30.6%).
Amniotic fluid embolism (AFE) and abnormal placentation (placenta accreta spectrum) had the highest proportions of women requiring RBC transfusion and the largest number of units of RBC administered per transfusion, with placenta increta or accreta leading to the highest median total blood loss. Placenta increta or accreta, AFE and placental abruption were associated with the greatest proportion of women transfused coagulation products.
Two hundred and seventy‐nine (80.6%) required RBC transfusion and 79/345 (22.9%) received at least one blood coagulation product.
Results of VHA were recorded in 245/349 (70.2%), with 44/98 (44.9%) women tested in the first six months vs 63/77 (81.8%) in the final six months.
Hypofibrinogenaemia (Clauss fibrinogen <2 g/L or FIBTEM A5 ><12 mm) was observed in 56/328 (17.1%) of women, thrombocytopaenia (count ><75 × 109 /L) in 17/334 (5.1%) and either PT or aPTT >< 2 g/L or FIBTEM A5 <12 mm) was observed in 56/328 (17.1%) of women, thrombocytopaenia (count ><75 × 109 /L) in 17/334 (5.1%) and either PT or aPTT >< 12 mm) was observed in 56/328 (17.1%) of women, thrombocytopaenia (count < 75 × 109 /L) in 17/334 (5.1%) and either PT or aPTT >1.5×reference range in 10/293 (3.4%).
This report describes the maternal outcomes of all women experiencing massive PPH in Wales between 2017 and 2018. The overall rate was 5.7 per 1000 maternities, with almost 5% of women requiring hysterectomy and 11% being admitted to ICU. Most women received a RBC transfusion whilst the rates of blood coagulation product administration and coagulation abnormalities were approximately 20%. Bedside VHA testing was incorporated into massive PPH management in the majority of cases, and results indicate that this approach, rather than empirical administration, enabled a targeted, patient‐specific approach to blood product transfusion.
Not all women in this cohort were treated using the VHA algorithm, since some cases were managed prior to or during introduction of the device and use of the device increased across the duration of the project. Review of the changes in management in the first and last six months of the project showed the increased use of VHA, a reduction in FFP transfusion and an increase in targeted fibrinogen administration, supporting a phased uptake of the intervention.
Postpartum haemorrhage may be exacerbated by coagulation failure. Clauss fibrinogen of less than 2 g/L is associated with progression of PPH, whilst deficiencies of other clotting factors and platelets are less common. Hypofibrinogenaemia was the most frequently observed coagulation deficit in this cohort, whilst < 3.5% of women had either PT or aPTT of >1.5×the reference range and in all cases the fibrinogen levels were also abnormal.
In conclusion, authors described a cohort of 349 women experiencing massive PPH in Wales. Management of PPH included routine quantification of blood loss from delivery and use of bedside testing of coagulation to guide blood product replacement. This report suggested that this approach has enabled proactive identification and treatment of coagulopathy, whilst minimising empirical coagulation product administration in the majority of cases. To understand the impact of VHA in PPH, standardised reporting of PPH rates incorporating quantification of blood loss and blood product transfusion is needed. Furthermore, randomised controlled trials to evaluate the impact of VHA on maternal outcomes are urgently required.
Source: S.F. Bell et al.; International Journal of Obstetric Anesthesia 47 (2021) 102983
https://doi.org/10.1016/j.ijoa.2021.102983
Source : International Journal of Obstetric Anesthesia