Pelvic Inflammatory Disease and Clinical Utility of Doxycycline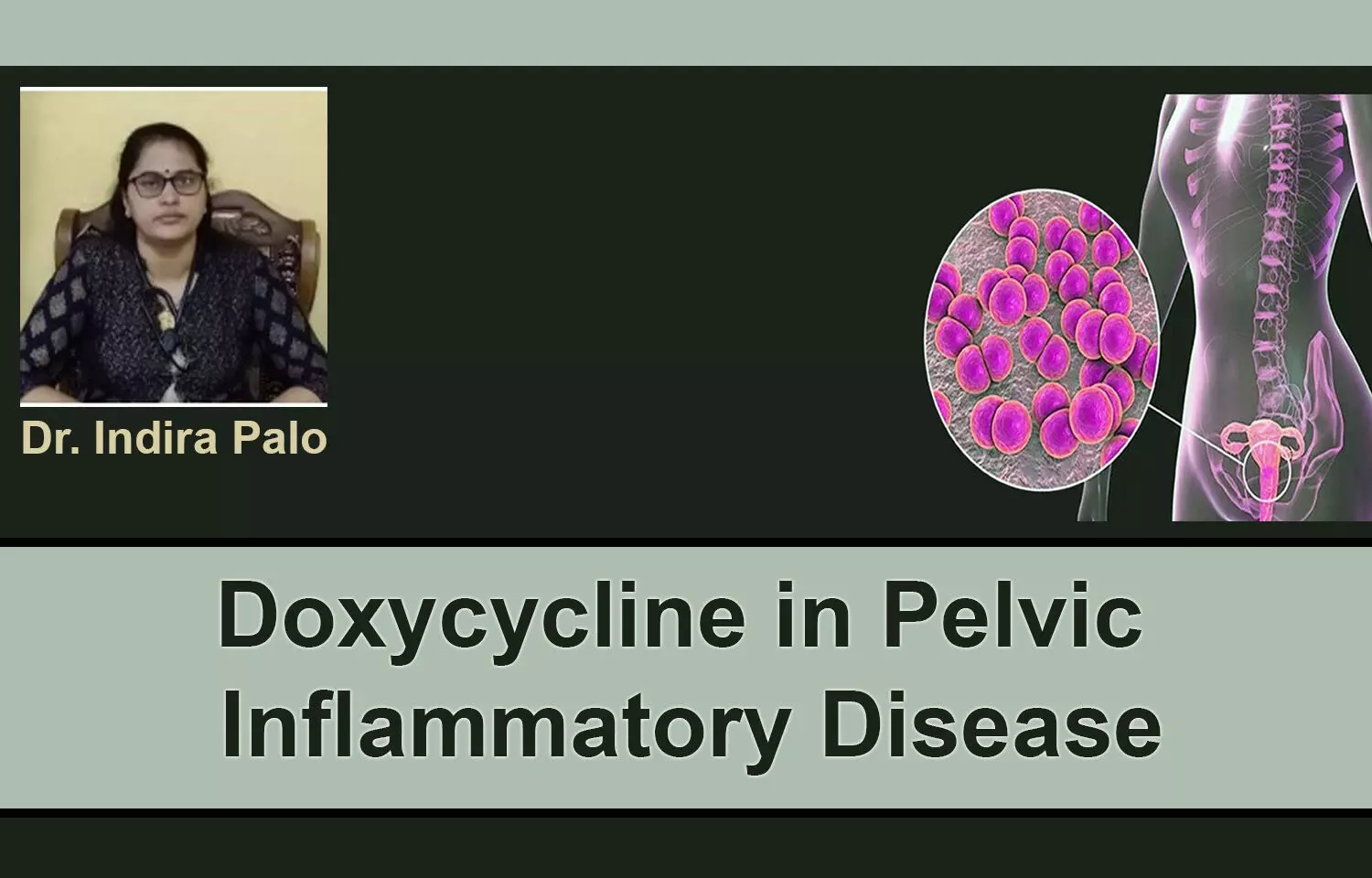 Pelvic inflammatory disease (PID) is a common infection that can result in severe long-term morbidity, leading to chronic pelvic pain and infertility.(1) Mild-to-moderate PID is defined as the absence of a tubo-ovarian abscess. Severe PID is referred to as severe systemic symptoms or the presence of tubo-ovarian abscess.(2) Such pelvic infections are one of the most common, serious infections in non-pregnant women of reproductive age ,(3) reportedly affecting up to 32% of women in India .(4) The morbidity may increase in correlation to the number of PID episodes.

Causes and Risk Factors of Pelvic Inflammatory Disease
Neisseria gonorrhea and Chlamydia trachomatis are identified as principal causative agents of PID. Gardnerella vaginalis, anaerobes and other organisms commonly found in the vagina may also be implicated in causing pelvic infections. Mycoplasma genitalium has been associated with upper genital tract infections in women, thus a likely cause of PID. Insertion of an Intrauterine device (IUD) increases the risk and is highest in women with pre-existing gonorrhoea or C. trachomatis.(3)
Other clinically relevant maintaining and precipitating risk factors include instrumentation of the uterus or interruption of the cervical barrier, termination of pregnancy, insertion of IUD within the past 4 months, hysteroscopic and assisted reproductive technique interventions, menstruating women, multiple sexual partners, or recent new partners, poor menstrual hygiene and bacterial vaginosis8. In Indian settings, pelvic inflammatory disease was associated among females in the age-group of 20-30 years, poor literacy, lack of hygiene and with use of intrauterine contraceptive devices.(4)
Choice of treatment regimen in Pelvic Inflammatory Disease – Clinical Pointers

It is recommended that mild and moderate cases of PID should be treated in outpatient care with oral therapy. Intravenous therapy, when given, should be continued until 24 hours after clinical improvement and then switched to oral therapy. Dosage recommendations may need to be adjusted depending on local licensing regulations and the availability of drug formulations. The optimal duration of treatment is not known but most clinical trials report clinical response within 10–14 days of therapy.
Doxycycline in Pelvic Inflammatory Disease – Achieves High Concentrations in Pelvic Tissues
The penetration of the antibacterial agent to the actual inflammation sites is of critical importance for its anti-infectious effect. This is of specific importance in deep-seated infections like pelvic inflammatory diseases (PID). For
doxycycline
, the plasma, tubal, and ovarian concentrations have demonstrated therapeutic levels within a few hours after the initial dose of 200 mg of oral doxycycline. The maximum concentrations were recorded within 10 hours after the first dose. The mean doxycycline level showed only a minor decrease throughout the observation period, demonstrating therapeutic levels more than 24 hours after the final doxycycline dose. In the same study, the clinical effect was cited as excellent, with 94% of the cases being cured with doxycycline, which included a total of 85 women with pelvic inflammatory disease (PID)(5)
Review of Evidence – An Indian experience with Doxycycline based regime in Syndromic Management of PID
M Malhotra et al published a study was to evaluate the efficacy of three treatment combinations for the syndromic management of pelvic inflammatory disease in outpatient care. One hundred and sixty-five women diagnosed with the pelvic inflammatory disease were randomized into three equal groups - ciprofloxacin (500 mg) and tinidazole (600 mg) combination twice daily for 7 days (Group 1), a kit containing fluconazole (150 mg), azithromycin (1 gm) and secnidazole (2 mg) as one-time dose (Group 2) and Doxycycline 100 mg twice daily and metronidazole 200 mg thrice daily for seven days (Group 3). Symptom severity scores were determined at baseline, after 1 week and 4 weeks follow up period. There was a significant reduction in severity score after 1 week of treatment, which was further reduced after 4 weeks across all treatment groups. Clinical cure rates were reported to be greater than 90% in the doxycycline and metronidazole based treatment regime(6)
Consideration for Doxycycline in PID - Testimonies from Scientific Authorities

Centre for Disease Control and Prevention (CDC) Recommendations: The recommendations for oral treatment regimens for the pelvic inflammatory disease include doxycycline 100 mg orally twice a day for 14 days in addition to parenteral third-generation cephalosporins, with or without the addition of metronidazole(7)
Federation of Obstetric & Gynaecological Societies of India (FOGSI) Infection Practice Pointers in Pelvic Inflammatory Disease(PID): FOGSI recommendations as first-line therapy for the management of PID in out-patient care include intramuscular ceftriaxone 500 mg single dose followed by oral doxycycline 100 mg twice daily plus metronidazole 500 mg twice daily for 14 days. For treatment of PID in in-patient care, intravenous or intramuscular ceftriaxone 1 g once daily plus intravenous doxycycline 100 mg twice daily (or oral doxycycline may be used) followed by oral doxycycline 100 mg twice daily plus oral metronidazole 500 mg twice daily to complete 14 days.(8)
Ministry of Health & Family Welfare(MoHFW) Govt. of India Guidelines for treatment of Pelvic Inflammatory Disease: For outpatient management of mild to moderate PID, Doxycycline, 100mg orally, twice a day for 2 weeks in addition to oral Cefixime (400 mg twice daily for 7 days) and Metronidazole (400 mg daily for 14 days)(9) may be considered.
Summary

Pelvic inflammatory disease is a huge burden among the young female population of India. The long-term implications of recurrent PID include chronic pelvic pain, chronic backaches, and infertility. Hence, it is prudent to effectively treat pelvic inflammatory disease infections. Antimicrobial agents with broad-spectrum anaerobic microbiological profiles and anti-inflammatory properties may be of specific clinical utility. Doxycycline has been demonstrated to achieve high concentrations in pelvic tissues and corroborates with high clinical success rates (5). The clinical application of doxycycline-based treatment regimens in the management of PID holds the testimony of various global(7) and Indian scientific communities,(8) thus making it a valuable consideration in clinical practice.
The above article has been published by Medical Dialogues under the MD Brand Connect Initiative. For more details on Doxycycline, click HERE
References
Adapted from
1. Safrai M, Rottenstreich A, Shushan A, Gilad R, Benshushan A, Levin G, Risk factors for recurrent Pelvic Inflammatory Disease, European Journal of Obstetrics and amp; Gynecology and Reproductive Biology (2019), doi: https://doi.org/10.1016/j.ejogrb.2019.11.004
2. Ross J. Pelvic inflammatory disease. BMJ Clin Evid. 2013; 2013: 1606
3. Ross J, Cole M, Evans C et al. United Kingdom National Guideline for the Management of Pelvic Inflammatory Disease (2019 Interim Update). PID Guideline
4. Vanamala VG et al. Pelvic inflammatory disease and the risk factors. Int J Reprod Contracept Obstet Gynecol. 2018; 7(9):3572–75
5. Gjønnaess H, Holten E. Doxycycline (Vibramycin) in pelvic inflammatory disease. Acta Obstet Gynecol Scand. 1978;57(2):137-9. doi: 10.3109/00016347809155893. PMID: 345730.
6. Malhotra M, Sharma JB, Batra S, Arora R, Sharma S. Ciprofloxacin-tinidazole combination, fluconazole- azithromicin-secnidazole-kit and doxycycline- metronidazole combination therapy in syndromic management of pelvic inflammatory disease: a prospective randomized controlled trial. Indian J Med Sci. 2003 Dec;57(12):549-55. PMID: 14701947.
7. Workowski KA, Berman S; Centers for Disease Control and Prevention (CDC).Sexually transmitted diseases treatment guidelines, 2010. MMWR Recomm Rep. 2010; 59(RR-12): 1-110
8. Palshtkar N et al, Infection Practice Points, Evaluation and Management Pelvic inflammatory disease 2020, Page 1- Page 24
9. Daga Mk Et Al, Standard Treatment Guidelines Medicine For Non Respiratory Infectious Medical Conditions, Ministry Of Health & Family Welfare Govt. Of India, Page 1-64 Dr Indira Pali MBBS, MD O&G, FICOG, FAIOG, is a gynaecologist currently associated with the MKCG Medical College, Behrampur as an Assistant Professor. Her key interest lies in high risk pregnancy, USG and Laproscopy. She is the secretary of Behrampur O&G society and a life member of FOGSI, IMA,ISAR,SFM,IAGE ROTARY sociaties