Recurrent urinary tract infection and beneficial role of probiotics: Review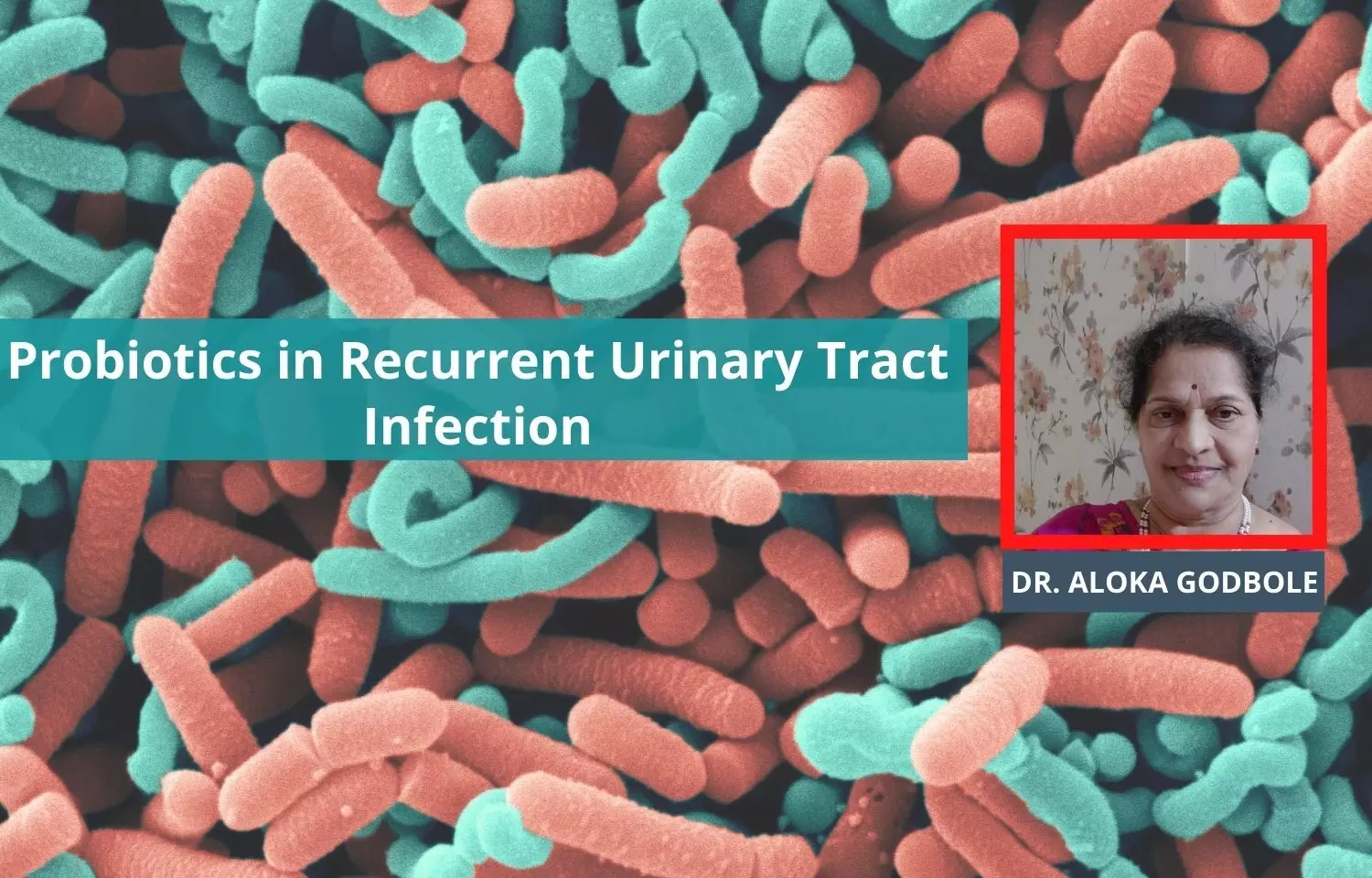 Recurrent urinary tract infection (rUTI) is defined as the occurrence of at least 3 episodes of UTI within the last 12 months or at least 2 episodes within the last 6 months (1). Statistics highlight that approximately one-third of all women have had at least one physician-diagnosed uncomplicated UTI by the age of 26 years (2) and it recurs among 25 -30 % of women after the initial episode (3). Recurrent UTIs are emerging to be a serious health hazard among women. Recurrent UTI has been documented to be a common cause of morbidity among sexually active premenopausal women as well as in post-menopausal women (3). It has also been observed that frequently recurring UTIs are common in children of women who suffer from clinically recurring episodes of UTI (4). The decrease in quality of life related to this disease coupled with the high cost of treatment has put the focus on developing new management strategies.
Despite the widespread use of conventional antimicrobials for managing UTIs and their recurrences, research has constantly highlighted that chronic long-term use of these drugs can lead to antimicrobial resistance and adversely affect the vaginal ecology (3). This has shifted the limelight on alternative therapies that are not only effective in treating recurrent UTIs, but also abstain from drug-related side effects.
Why does UTI recur?
Reports have found that nearly one‐half of the women whose uncomplicated UTIs resolved spontaneously developed a recurrent UTI within the 1st year (5). Disruption of the natural flora due to treatment with traditional antibiotics renders patients prone to even more severe infections that could involve several pathogenic microorganisms.
Probiotics and their role in Recurrent urinary tract infection
It has been scientifically proven that a clear and established relationship exists between vaginal flora and urogenital infections. Most of the microorganisms in the vagina stem from the gastrointestinal tract and studies exhibit Lactobacillus spp. to be the dominant species in a healthy vagina. Further, growing research now affirms that effective regulation of the gastrointestinal and vaginal microbial flora with probiotics may prevent genitourinary infections. (4)
Probiotics modulate the disrupted vaginal microflora among UTI patients, unlike antimicrobials which deplete the vaginal micro-ecology. They work by acidification of the mucosal surface, inhibition of adhesion of pathogens, production of substances such as vitamins and immune-modulators, and synergistic activity with the host's immune system. Certain species of Lactobacillus, one of the most studied probiotics, have demonstrated additional micro-biomimetic regulatory effects. (4)
Study testimonials-quoting notable studies-

Accumulating studies now show that probiotic capsules administered orally regulate the vaginal flora and are effective on recurrent UTIs (4). Probiotics have been proven effective in varied clinical trials for the long-term prevention of recurrent UTIs.
Abad and Safdar reviewed 25 clinical trials in a systematic review and concluded that Lactobacillus species (particularly L. rhamnosus GR-1 and L. reuteri) may be useful in the prevention and treatment of recurrent urogenital infections. (6)
Two double-blind, placebo-controlled, randomized clinical trials investigating the effects of probiotics in inhibiting recurrent UTIs have been published. A double-blind study by Beerepoot et al.(7) revealed that antimicrobial resistance is concomitantly higher in the antibiotic group (trimethoprim-sulfamethoxazole) than in the Oral lactobacillus group. lactobacilli may be an acceptable alternative for the prevention of UTIs. Another double-blind, placebo-controlled phase 2 study by Stapleton et al (8) investigated 100 premenopausal women with cystitis or a history of at least 1 prior symptomatic UTI treated within the past 12 months prior to the current UTI. These patients were randomized to receive either probiotics or a placebo daily for 5 days, then once weekly for 10 weeks. Participants were followed up at 1 week and 10 weeks after intervention and for UTIs. The results of this study showed that the incidence of recurrent UTIs in patients who received Lactobacillus treatment decreased significantly compared to the placebo group.
A trial comparing the risk of recurrence of UTI before and after receiving lactobacilli was carried out by Reid et al in women with recurrent UTI who received vaginal suppositories of either L. casei var rhamnosus GR-1 and L. fermentum B-54 or sterilized skimmed milk twice weekly for 2 weeks and at the end of each of the next 2 months. The recurrence of UTI over the next 6 months decreased to 21% in the probiotics group as compared to 47 % for the skimmed milk treated group. (3)
In a one-of-its-kind study, Montorsi et al. investigated the efficacy of combination therapy by administering 120 mg cranberry, 1 billion heat-killed L. rhamnosus SGL 06, and 750 mg vitamin C thrice daily for 20 consecutive days monthly for 3 months in female patients with recurrent UTI. In the 3rd and 6th months, the response rates to treatment were 72.2% and 61.1%, respectively. The paper concluded that the combination was well tolerated and effective. (9)
Because of their capacity to attach to uroepithelial cells and prevent pathogenic development, as well as biosurfactant production, Zucotti et al.[10] indicated in their study that probiotics might be a useful alternative to antibiotic therapy. Oral Lactobacillus treatment can colonize these bacteria in the urinary tract after intestinal colonization, according to the same researchers. (10)
A recent systematic review and meta-analysis by Meena et al.revealed that Probiotics were more effective than placebo in preventing UTI recurrence in children with no structural anomaly of the urinary tract (RR = 0.52; 95 percent CI: 0.29–0.94).more interestingly, the team highlighted that probiotics have similar efficacy as antibiotic prophylaxis in preventing UTI recurrence in children with vesicoureteral reflux (RR = 0.82; 95% CI: 0.56–1.21). In children with vesicoureteral reflux, the probiotic therapy significantly lowered the risk of antimicrobial resistance compared to antibiotic prophylaxis (RR = 0.38; 95% CI: 0.21–0.69), without any significant difference in risk of new kidney scarring. (12)
Highlights-

Recurrences are common and a frequently encountered phenomenon in UTI patients. Long-term treatment with antimicrobials disrupts the existent vaginal flora and leads to unwanted adverse effects. Drug resistance can cause inadequate treatment of UTIs, further amplifying the risk of recurrences.
Probiotics alter and modify the vaginal ecology, thus restoring it to normal health.
Current evidence highlights that probiotics are an effective and viable alternative in managing recurrent UTIs. With such promising results, physicians are placed to vouch for the rational use of probiotics, either as monotherapy or combination therapy, in not only treating recurrent cases but also preventing infection.
Take home message-Owing to the increased incidences of drug resistance and a growing urge among patients to resort to alternative substitutes, probiotics are gaining popularity as a feasible and effective therapy in managing recurrent UTIs. As research continues to unveil the pros and cons of this therapy, it can be said with certainty that the field of probiotics is open for exploration. With current evidence supporting the use of probiotics not only in treating UTIs but also in preventing and managing recurrences, this therapy has the potential to revolutionize the way UTIs have been continued to be treated to date.
The above article has been published by Medical Dialogues under the MD Brand Connect Initiative. For more details on Probiotics, click here
References
1. Glover M, Moreira CG, Sperandio V, Zimmern P. Recurrent urinary tract infections in healthy and nonpregnant women. Urol Sci. 2014.
2. Giesen LG, Cousins G, Dimitrov BD, van de Laar FA, Fahey T.Predicting acute uncomplicated urinary tract infection in women:A systematic review of the diagnostic accuracy of symptoms and signs.BMC Fam Pract 2010;11:78
3. Falagas, M. E., Betsi, G. I., Tokas, T., & Athanasiou, S. (2006). Probiotics for prevention of recurrent urinary tract infections in women. Drugs, 66(9), 1253-1261.
4. Akgül T, Karakan T. The role of probiotics in women with recurrent urinary tract infections. Turk J Urol 2018; 44(5): 377-83.
5. Gupta V, Nag D, Garg P. Recurrent urinary tract infections in women: How promising is the use of probiotics? Indian J Med Microbiol 2017;35:347-54.
6. Abad CL, Safdar N. The role of Lactobacillus probiotics in the treatment or prevention of urogenital infections: A systematic review.J Chemother 2009;21:243-52.
7. Beerepoot MA, ter Riet G, Nys S, van der Wal WM, de Borgie CA, de Reijke TM, et al. Lactobacilli versus antibiotics to prevent urinary tract infections: a randomized, double-blind, noninferiority trial in postmenopausal women. Arch Intern Med 2012;172:704-12.
8. Stapleton AE, Au-Yeung M, Hooton TM, Fredricks DN, Roberts PL, Czaja CA, et al. Randomized, placebo controlled Phase 2 trial of a Lactobacillus crispatus probiotic given intravaginally for the prevention of recurrent urinary tract infection. Clin Infect Dis 2011;52:1212-7
9. Montorsi F, Gandaglia G, Salonia A. Effectiveness of a combination of cranberries, Lactobacillus rhamnosus, and vitamin C for the management of recurrent urinary tract infections in women: results of a pilot study. Eur Urol 2016;70:912-5.
10. Zuccotti GV, Meneghin F, Raimondi C, Dilillo D, Agostoni C, Riva E, et al. Probiotics in clinical practise: an overview. J Int Med Res. 2008;36(Suppl 1):1A–53A. [PubMed] [Google Scholar]
11. Meena, J.; Thomas, C.C.; Kumar, J.; Raut, S.; Hari, P. Non-antibiotic interventions for prevention of urinary tract infections in children: A systematic review and meta-analysis of randomized controlled trials. Eur. J. Pediatr. 2021, 180, 3535–3545. [CrossRef] [PubMed]