Odisha: SCB Junior Doctors strike continues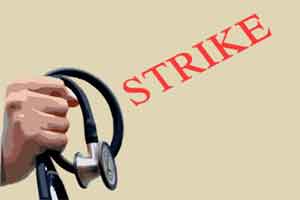 Cuttack: The junior doctors of the SCB Medical College and Hospital continued with their cease work for the second day today to protest the attack on a junior doctor by relatives of a patient.
Although, the Junior Doctor Association (JDA) claimed that the House Surgeons and Resident Doctors have also joined the cease work stir, hospital authorities refused to confirm this and maintained that health care facilities have not been affected yet due to the doctors strike.
Trouble started, when some attendants of a patient allegedly attacked junior doctor Samir Ranjan Behera after the patient died just hours after her admission in the Hospital.
Demanding safety measures and arrest of the culprits, the JDA launched an indefinite stir.
One of the person allegedly involved in the attack on Behera was arrested by police.