Continental Hospitals Doctors remove massive 9 kg ovarian cyst from patient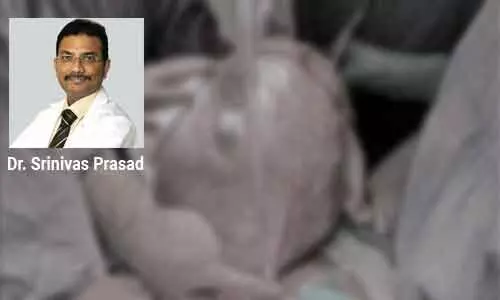 Hyderabad: A massive bulge in the abdomen of a 65-year-old woman, initially dismissed as excessive fat, turned out to be a giant tumor of 9 kgs which the doctors at Continental Hospitals, have successfully operated out the tumor from the patient to help her return to normal life.
A native of Visakhapatnam, 65-year-old woman, who is a regular Yoga practitioner, was referred to Dr Srinivas Prasad, Senior Consultant - Surgical Oncologist, Continental Hospitals for advanced diagnosis and treatment of her problem. The lady was suffering from the problem for long, but the situation turned grave after her movement got restricted since November last year.
The ultrasound scan revealed the existence of a large tumor in the patient's abdomen approximately 30 cms in size; which was way bigger than any regularly found ovarian cyst in aging women. She was operated upon by Dr Srinivas Prasad and identified the tumor to be a massive lump weighing 9 kgs, an abnormality and dangerous in nature.
Commenting on the complication and treatment, Dr Srinivas Prasad, said, "Though medium-sized cysts are commonly found in women over the age of 50 years, this is a unique and challenging case. Post-surgery, the biopsy revealed the tumor to be of non-cancerous nature; but the massive size could have turned fatal had it not been diagnosed and treated at the right time."
"Women who cross the age of 50 years are advised to keep a regular watch on their health and be aware of any immediate or gradual changes their bodies undergo to ensure future complications. A regular ultrasound scan of stomach and breasts is highly recommended to ratify the health condition of women," added Dr Prasad.
The patient was operated and she was immediately put back on her feet and was discharged from the hospital on the fifth day of the surgery. The patient is doing fine and has recovered fully now to return to her yoga routine.