Rare case of Fluorouracil -Induced Hyperpigmentation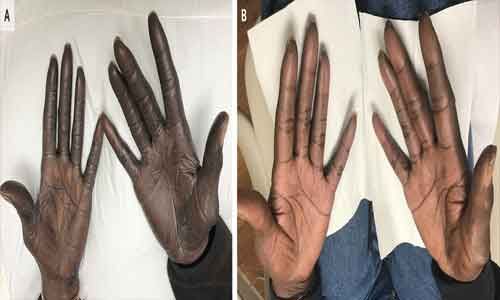 Dr Jordan K. Schaefer and Dr Nithya Ramnath at the University of Michigan, Ann Arbor, MI have reported a rare case of Fluorouracil-Induced Hyperpigmentation. The case has been published in the New England Journal of Medicine.
Adverse cutaneous reactions to medications are a common reason for consultations with dermatologists. Drug-induced skin disorders may manifest in a variety of ways. Drugs may cause exanthems, urticaria, hypersensitivity syndromes, pustular eruptions, erythema multiforme, toxic epidermal necrolysis, cutaneous necrosis, and abnormal pigmentation of the skin and mucosa. Although pigmentary changes caused by drugs usually result in a limited degree of morbidity, these changes may be very disturbing to the patient.
For several decades, 5-Fluorouracil (5-FU) has been the backbone of many chemotherapy regimens for various tumor types. Its most common side effects are gastrointestinal disorders, mucositis, myelosuppression, hand-foot syndrome, and rarely cardiac toxicity.
5-Fluorouracil (5-FU) is an antimetabolite frequently used in the treatment of cancer. The most common adverse reactions are acute gastrointestinal effects and bone marrow suppression hand-foot syndrome, and rarely cardiac toxicity.
In addition to this neurological, ocular and dermatological toxicities are unusual. Several cutaneous manifestations can be found. They are hyperpigmentation, maculopapular eruption and palmar-plantar erythrodysesthesia (PPES) promptly reversed with discontinuation of 5-FU.
According to history, a 57-year-old man with stage 3b colon cancer presented to the medical oncology clinic for adjuvant chemotherapy. Seven weeks earlier, he had undergone a right hemicolectomy, and the pathological examination had revealed moderately differentiated adenocarcinoma, with 2 of 19 pericolonic lymph nodes positive for metastasis. Chemotherapy with FOLFOX (leucovorin [folinic acid], fluorouracil, and oxaliplatin) was initiated. After two cycles, he noted progressive darkening of his palms that were not associated with redness, scaling, or pain. The plantar aspects of his feet were minimally affected, but the remainder of his skin was normal. These findings worsened after the third cycle of chemotherapy. In addition to worsening palmar hyperpigmentation, grade 4 neutropenia and grade 3 fatigue developed, and chemotherapy was discontinued. Skin hyperpigmentation is a side effect of various chemotherapy drugs, including fluorouracil; the condition variably improves after treatment is stopped. One month after the patient's chemotherapy was discontinued, the hyperpigmentation had faded considerably, and by 2 months, his palms had returned to near-baseline appearance,
For further reference log on to DOI: 10.1056/NEJMicm1909329
Source : New England Journal of Medicine