Beta blockers show promise in managing multiple myeloma: European Journal of Haematology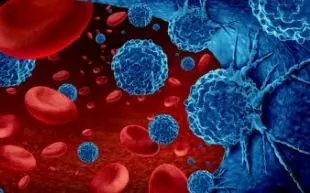 Beta blockers when used synergistically with an immunomodulatory drug, Pomalidomide, has been reported to improve survival rates in patients with refractory multiple myeloma. The findings have been put forth in European Journal of Haematology.

The mechanism of BB in myeloma treatment is not fully understood, but several studies suggested the roles of β-adrenergic regulation of tumor biology. β-adrenergic signaling pathways have been reported to regulate multiple cellular and molecular processes that contribute to initiation and progression of cancer, including overexpression of proinflammatory cytokines and vascular endothelial growth factor (VEGF) mediated increase in angiogenesis. In the absence of outcome data on progression free survival (PFS) related to BB use in myeloma therapy, the team of researchers reviewed the data of 208 patients who enrolled in our previous pomalidomide (POM) trial at Mayo Clinic, Rochester.
For the study design, all patients in the phase II POM trial enrolled between November 2007 and March 2012 at Mayo Clinic, Rochester were included. Patients were treated with pomalidomide and weekly dexamethasone for relapsed and refractory disease. Medical records were reviewed to extract the data of BB and non-BB medication history. BB usage on trial was defined as a minimum of 3 months of BB intake during enrollment in POM trial. BB usage at any time was defined as a minimum of 3 months of BB intake any time after diagnosis of MM. Progression free survival, calculated as the time from trial initiation until disease progression or death, was the primary endpoints. Researchers also examined overall survival both from the date of diagnosis and the date of trial initiation to time of death.
Results highlighted some interesting facts.
Median PFS of the 77 patients with BB intake anytime was also significantly better than no BB usage group (10.5 versus 5.8, p=.0025). BB-treated patients had prolonged PFS regardless BB intake during POM trial or at any time after MM diagnosis.
Researchers further analyzed the treatment response of very good partial response (VGPR) and partial response (PR) between groups of BB and no-BB intake during POM trial and intake at Accepted Article This article is protected by copyright. All rights reserved any time after diagnosis. The respective response rates for those who had BB during trial and those who did not were: ≥ VGPR, 28% (n=15) versus 20% (n=30); and ≥ PR 43% (n=23) versus 35% (n=54).
Similar results were seen between patients with BB and no-BB intake at any time after diagnosis: ≥ VGPR, 27% (n=21) versus 18% (n=24); and ≥ PR 43% (n=33) versus 34% (n=44). These differences were not statistically significantly different, perhaps due to small sample size.
"There is emerging evidences in recent years to suggest antitumor benefits of beta blockers
(BB). BB has been explored, both in vitro and in vivo, and found to have antineoplastic effect in a variety type of cancer1-11 We have previously reported our findings that BB improved overall survival (OS) and reduced myeloma specific death. We are the first group to identify the positive impact of beta blockers on survival outcome in multiple myeloma patients.
This study highlights the prognostic association of BB usage with improved PFS in patients with MM treated with pomalidomide / dexamethasone therapy. The result of improved OS in BB intake group is concordant with our previous published data that use of BB is associated with better OS outcome in patients with MM. Multivariate analysis confirmed that BB intake and the duration of BB use were two independent prognostic factors for PFS among patients being treated with pomalidomide and suggested that BB usage is even more prognostic than the presence of high-risk FISH and number of prior line treatment."the team concluded.
For full article follow the link: https://doi.org/10.1111/ejh.13559
Source: European Journal of Haematology
Source : European Journal of Haematology