Drinks with Artificial Sugar May Not Increase Breast Cancer Risk, Claims Study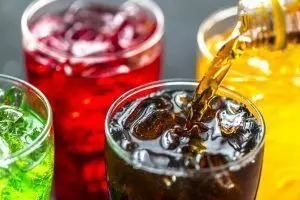 The consumption of sugary drinks has increased worldwide in the last decades; according to the Global Burden of Disease. A previous study suggests that sugary drinks increase the risk of overall cancer and breast cancer. However, a recent study found that artificial sugary drinks do not raise the risk of breast cancer. The study findings were published in The Journal of Nutrition on June 10, 2021.

Artificially sweetened beverages were initially envisioned as a healthier alternative. However, they are associated with a higher incidence of hypertension, obesity, and type 2 diabetes. Besides, some artificial sweeteners were suggested to increase glucose intolerance by altering the gut microbiota. Whether consumption of sugar-sweetened beverages (SSBs) or artificially sweetened beverages (ASBs) is associated with the risk of breast cancer is of public health interest. Therefore, Dr Andrea Romanos-Nanclares and her team conducted a study to evaluate associations between consumption of SSBs and ASBs and risks of total and subtype-specific breast cancer.
In this present study, researchers evaluated 82,713 women from the Nurses' Health Study (1980 to 2016) and 93,085 women from the Nurses' Health Study II (1991 to 2017). They identified a total of 11,379 breast cancer cases during 4,655,153 person-years of follow-up. They used Cox regression models to test the association between cumulatively averaged intakes of SSBs and ASBs from food frequency questionaries (FFQs) with incident breast cancer cases and subtypes. They further evaluated the associations stratified by menopausal status, physical activity, BMI, and alcohol intake.
Key findings of the study were:
Upon analysis, the researchers found that the consumption of SSBs or ASBs was not associated with total breast cancer risk: pooled HRs comparing extreme categories (≥1/day compared with <1/month) were 1.03 and 0.96.
However, they observed a suggestive interaction by BMI using pooled data, where a modestly higher risk of breast cancer with each serving per day increment of SSBs was found in lean women (HR, 1.06) but not among overweight or obese women (HR, 1.00).
Moreover, in the pooled, fully adjusted analysis, compared to infrequent consumers (<1/month), they found that those who consumed ≥1 serving of ASBs per day had a lower risk of luminal A breast tumours (HR, 0.90).
The authors concluded, "Although no significant associations were observed overall, consumption of SSBs was associated with a slightly higher risk of breast cancer among lean women. This finding could have occurred by chance and needs confirmation. Our findings also suggest no substantial increase in the risk of breast cancer with consumption of ASBs."
For further information:
Article Source :
 The Journal of Nutrition