Bilateral Macular Hemorrhage in patient of COVID-19 with Hereditary Spherocytosis: A Report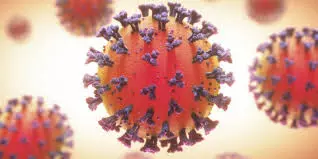 Posterior segment complications due to immune dysregulation may be seen in COVID-19
Dr Rossella D'Aloisio from University G. d'Annunzio Chieti-Pescara, Italy and colleagues have reported a case of bilateral macular hemorrhage in a known patient of Hereditary Spherocytosis in association with severe SARS CoV -2 infection.
The case report has been published in American Journal of Ophthalmology Case Reports
The 46-year-old male patient presented with complaints of fever and cough for the past 12 days with worsening dyspnoea. He had associated complaint of vision loss in the left eye. Medical history included well-controlled hypertension and hereditary spherocytosis with stable mild chronic hemolytic anemia.
SARS-CoV-2 infection was documented by reverse transcriptase-polymerase chain reaction on a nasopharyngeal swab. Chest X-ray showed bilateral lung infiltrates. Blood tests showed severe anemia, with normal platelet and leukocytes counts. Markers like Total Bilirubin, Serum Lactate Dehydrogenase and Haptoglobin were significantly elevated suggesting with a hemolytic exacerbation. The peripheral blood smear demonstrated the presence of erythrocyte agglutinates (confirmed with direct antiglobulin test), along with spherocytes, polychromasia and circulating erythroblasts. This suggested a mixed pathogenesis of the hemolytic process: cold-agglutinin-mediated and non-immune-mediated due to the pre-existing spherocytosis.
The patient was admitted to the hospital and appropriately managed for his systemic condition. After discharge, he was referred for Ophthalmic evaluation. The visual acuity was 20/20 in the right eye and 20/70 in the left eye. Fundus examination showed bilateral macular hemorrhages, right eye parafoveal and left eye foveal. Fluorescein and indocyanine green angiography showed bilateral blockage corresponding to the areas of hemorrhage. However, the retinal and choroidal circulation appeared normal, thereby excluding other causes of hemorrhage such as vascular occlusion, hypertensive retinopathy or vasculitis. Optical Coherence Tomography showed macular hemorrhages in both eyes, with obliteration of the foveal contour in the left eye. No treatment was required for the retinal condition. The hemorrhages resolved spontaneously over the next 1 month. Visual acuity was restored to 20/20 in both eyes.
Retinopathy associated with auto-immune hemolytic anemia is reported in literature. The mechanism of retinal damage in hemolytic anemia is incompletely understood but has been generally attributed to hypoxia. Increased blood viscosity associated with auto-immune hemolytic anemia may result in decreased retinal perfusion. This, in turn can lead to vascular enlargement, increased transmural pressure and microtraumas to the vessel walls, which can cause retinal cotton wool spots and hemorrhages.
In this patient, a non-immune mediated mild, chronic anemia was pre-existent due to Hereditary Spherocytosis. On this backdrop, a cold-agglutinin mediated acute and severe hemolytic anemia was probably triggered by SARS CoV-2 infection. Association of cold agglutinins with different infectious agents like Dengue virus, Ebola virus, Varicella virus and Herpes virus have been described. Since SARS CoV-2 is known to cause severe immune dysregulation, a similar cold agglutinin mediated hemolytic anemia in this condition is conceivable. Hypoxia resulting from this severe hemolytic process could have led to retinal capillary damage and hemorrhages in this patient.
Ophthalmic manifestations in COVID-19 are still not fully known. "Since SARS CoV-2 is a multifaceted systemic disease with immune mediated mechanism, Ophthalmologists need to remain aware and vigilant about uncommon ophthalmic consequences associated with COVID -19", conclude the authors.
For full article, click on the link
https://www.sciencedirect.com/science/article/pii/S2451993620302735?via=ihub
Article Source :
American Journal of Ophthalmology Case Reports