"Gundersen Flap Removal to Restore Eyesight Without Limbal Transplantation" - Cornea Case Report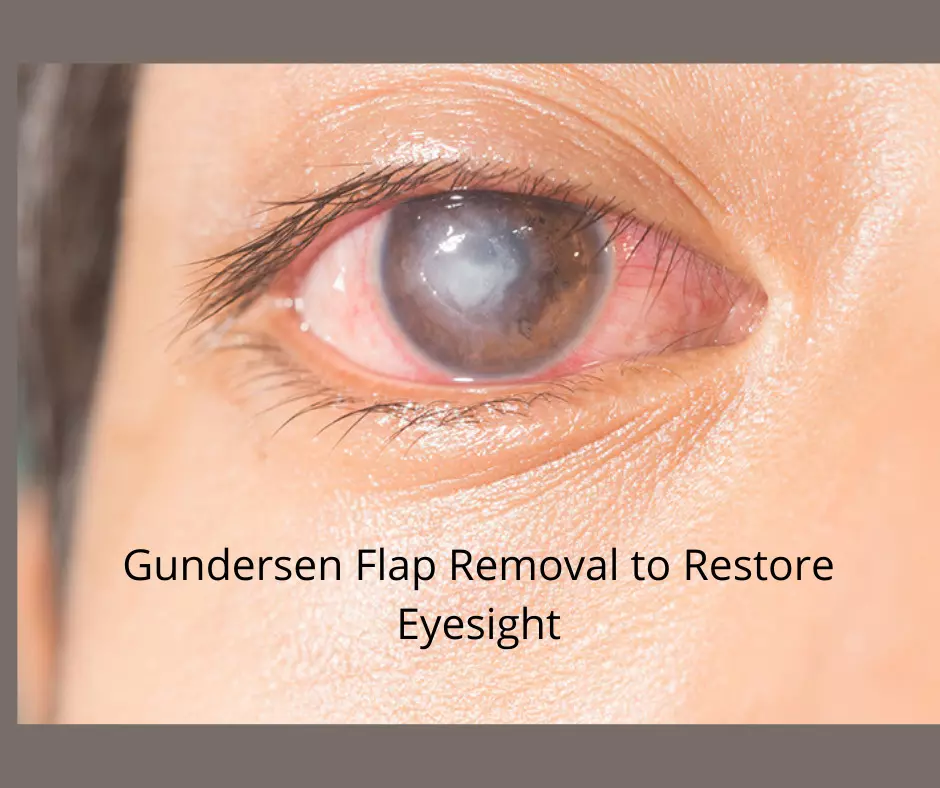 Gundersen flaps are now commonly used to manage painful blind eyes with bullous keratopathy to achieve rapid pain relief along with a stable ocular surface requiring minimal use of medications.

Initial techniques of Gundersen flap report a complete removal of corneal epithelium to avoid epithelial cyst formation, without any reference to the limbal epithelium. Later, it was reported that removal of limbal epithelium was also essential in addition to corneal epithelium.
In partial conjunctival flaps, where some part of the host limbal epithelium is still functional, corneal transplantation can be successfully performed after removal of Gundersen flap, without the need for additional limbal restoration procedures. However, with total conjunctival flaps, where the limbal epithelium is absent, a staged approach with limbal autografting from healthy fellow eye first, followed by penetrating keratoplasty penetrating keratoplasty at a later date had been reported to be successful.
Rajesh Fogla and Thazethaeveetil R. Indumathy reported a case of Gundersen flap removal 17 years after initial surgery, with a satisfactory visual outcome without the need for any additional limbal reconstruction procedure published in cornea journal.
Case Details:
A 57-year-old man presented with a history of undergoing a total conjunctival flap for nonhealing corneal ulcer in his right eye 17 years earlier. No clinical details of this procedure were available. His visual acuity in right eye was hand motions close to face, with accurate light projection.
He sustained blunt trauma to his left eye 6 months before, which resulted in loss of eyesight secondary to traumatic optic neuropathy.
On examination, the right eye had a total conjunctival flap covering the entire cornea, obscuring a clear view of the anterior segment.
Intraocular pressure was normal on finger tension measurement.
The left eye revealed a clear cornea, with healthy limbus, besides traumatic mydriasis.
Ultrasound B scan of right eye revealed clear vitreous cavity with attached retina.
Conjunctival flap removal combined with conjunctival limbal autografting was planned in the first stage, followed by corneal transplantation in second stage.
Surgery was performed under peribulbar anesthesia (50% mixture of lignocaine 2% and bupivacaine 0.5%).
Conjunctival peritomy was performed 3 mm from the limbus, followed by gentle dissection to separate the conjunctival tissue from underlying cornea.
Increased adherence was noted at the site of previous corneal ulceration. Gentle debridement was performed to smoothen the site of irregular cornea, followed by placement of oversized amniotic membrane (AM) graft to cover this area.
A large size AM graft was used to cover the entire cornea beyond the limbus and secured using 10-0 nylon suture.
Conjunctival limbal autografting was deferred because the underlying cornea appeared clear, without any vascularization, and the pigmented superior limbus seemed to be intact.
A large diameter bandage contact lens was inserted and topical moxifloxacin hydrochloride 0.5% applied at the end of surgery
Postoperative medications included topical prednisolone acetate 1% 4 times daily for a week, followed by a weekly tapering over the next 4 weeks, along with topical moxifloxacin hydrochloride 0.5% 4 times daily for a week, and carboxymethycellulose 0.5% 4 times daily for the next 3 months. Postoperative recovery was uneventful.
Complete reepithelialization was noted at 1-month follow-up visit. At 3-month review, visual acuity in right eye had improved to 20/60.
On examination, the right eye revealed healthy conjunctiva, normal tear film, and a faint nebular corneal scar at the site of original corneal ulceration. Pigmented limbal palisades were noted in the superior 180 degrees of limbus.
Rest of the eye examination was essentially normal. Corneal topography revealed a regular map, with mild flattening at the site of corneal pathology. Fluorescein staining was negative, with a tear film breakup time of .15 seconds. His clinical parameters remained stable, and visual acuity maintained at 20/60 till last follow-up of 12 months.
"In our case, it was likely that, during Gundersen flap surgery, the primary surgeon removed corneal epithelium alone, leaving behind intact limbal epithelium. The eye remained asymptomatic for 17 years with no occurrence of epithelial cysts. It is possible that once the bare area of corneal surface was covered with conjunctival flap, the stimulus for limbal stem cell proliferation was also suppressed, thereby preventing formation of epithelial cysts. This clinical hypothesis can be further evaluated in larger series."
Surgery in right eye was not considered earlier, due to the complex nature of limbal stem cell surgery necessary for surface reconstruction. However, with loss of eyesight in fellow eye, it was the only chance to recover some useful vision.
Intraoperatively, the underlying cornea was normal besides a scar at the site of previous ulceration, and the superior limbus appeared intact. AM transplantation was performed to assist postoperative epithelial healing. The surface recovered in few weeks of time and remained stable throughout the follow-up.
In conclusion, this case indicates that the ocular surface recovers rapidly if the limbal epithelium is intact after Gundersen flap removal. In eyes with visual potential requiring Gundersen flap surgery, it might not be necessary to remove the limbal epithelium along with the corneal epithelium. This needs further evaluation in a larger series with longterm follow-up.
Source: Rajesh Fogla and Thazethaeveetil R. Indumathy; Cornea 2021; Volume 40, Number 6, June 2021; 783–785
Source : Corneal Journal