Abicipar holds potential as long acting treatment in neovascular AMD: Study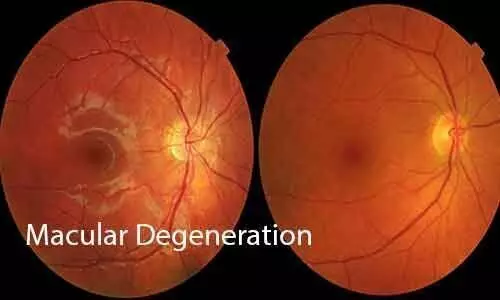 USA: Abicipar was shown to have a longer duration of effect in patients with treatment-naive neovascular age-related macular degeneration (nAMD), according to a recent study in the journal Ophthalmology. This effect of abicipar for longer duration allows for quarterly dosing and reduced treatment burden.

Age-related macular degeneration (AMD) is a common eye disease and a leading cause of irreversible central vision loss and blindness in adults over 50 years of age. Neovascular AMD (nAMD) is an advanced stages of AMD in which choroidal neovascularization (CNV) and fluid exudation from the immature vessels can result in tissue damage and severe vision loss. Most of the legal blindness caused by AMD occurs in nAMD patients.

The standard care for subfoveal neovascular lesions in nAMD is anti-vascular endothelial growth factor (anti-VEGF) therapy. However, the frequent visits that are required for intravitreal injections and monitoring are a burden for nAMD patients, physicians, and health care systems. There is a unmet need for longer-acting treatment that reduce the treatment burden associated with anti‐VEGF therapy in nAMD.
Rahul N.Khurana, Northern California Retina Vitreous Associates, Mountain View, California, USA, and colleagues report 2-year efficacy and safety outcomes of 2 dosing regimens of abicipar (every 8 weeks and quarterly, after initial doses) compared with monthly ranibizumab in patients with treatment-naïve nAMD.
Two multicenter, randomized, phase 3 clinical trials were conducted with identical protocol. Analyses used pooled trial data. The trials included 1888 patients (1 eye/patient) having active choroidal neovascularization secondary to AMD and best-corrected visual acuity (BCVA) of 24–73 Early Treatment Diabetic Retinopathy Study letters.
At enrollment, the patients were assigned to study eye treatment with abicipar 2 mg every 8 weeks after 3 initial doses at baseline and weeks 4 and 8 (abicipar Q8, n = 630), abicipar 2 mg every 12 weeks after 3 initial doses at baseline and weeks 4 and 12 (abicipar Q12, n = 628), or ranibizumab 0.5 mg every 4 weeks (ranibizumab Q4, n = 630).
Efficacy measures included stable vision (<15-letter loss in BCVA from baseline) and change from baseline in BCVA and central retinal thickness (CRT). Safety measures included adverse events (AEs).
Key findings of the study include:
For patients who completed the study, efficacy of abicipar after initial doses was maintained through week 104.
At week 104, the proportion of patients with stable vision was 93.0%, 89.8%, and 94.4%; mean change in BCVA from baseline was +7.8, +6.1, and +8.5 letters, and mean change in CRT from baseline was −147, −146, and −142 μm in the abicipar Q8 (14 injections), abicipar Q12 (10 injections), and ranibizumab Q4 (25 injections) groups, respectively.
The overall incidence of intraocular inflammation (IOI) AEs was 15.4%, 15.3%, and 0.3% from baseline through week 52 and 16.2%, 17.6%, and 1.3% from baseline through week 104 in the abicipar Q8, abicipar Q12, and ranibizumab Q4 groups, respectively.
"Two-year results show efficacy of abicipar Q8 and Q12 in nAMD. First onset of IOI events with abicipar was much reduced in the second year and comparable to that with ranibizumab (0.8% and 2.3% vs 1.0%). The extended duration of effect of abicipar allows for quarterly dosing and reduced treatment burden," wrote the authors.
"Two-Year Results of the Phase 3 Randomized Controlled Study of Abicipar in Neovascular Age‐Related Macular Degeneration," is published in the journal Ophthalmology.
DOI: https://www.sciencedirect.com/science/article/pii/S016164202031109X
Source : journal Ophthalmology