Anti-VEGF injections may lead to cognitive impairment in AMD Patients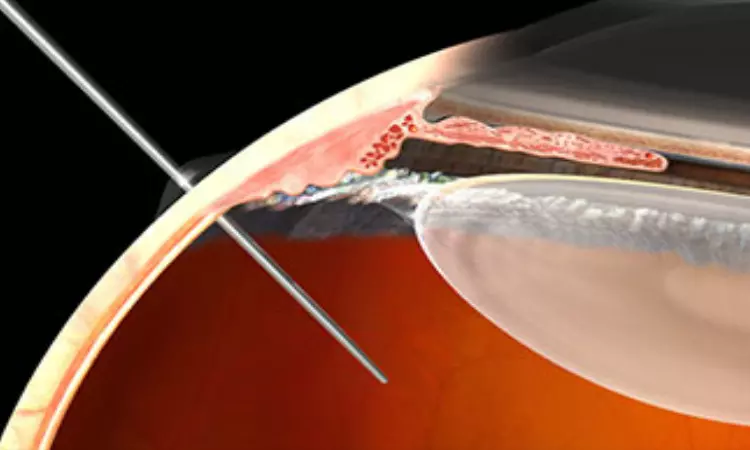 USA: The administration of intravitreal anti-VEGF increases the risk of cognitive impairment, according to a recent study. The findings of the study were presented at the American Society of Retina Specialists (ASRS) 2020 Virtual Meeting by Subhransu K. Ray, Sutter Health.

Intravitreal anti-VEGF is the most popular therapy for neovascular age-related macular degeneration (nAMD). The researchers found that the role between vascular endothelial growth factor (VEGF) and central nervous system (CNS) health may be pronounced in the use of intravitreal anti-VEGF
Findings from the study could be a matter for concern for the retina care community as millions of intravitreal anti-VEGF are administered annually to mostly older patient populations.
Despite millions of intravitreal injections being performed yearly in the US and that they can be found in the systemic circulation, no formal studies have assessed the cognitive impact of these repeated injections in these potentially cognitively vulnerable age group
The researchers sought to interpret the actual effect anti-VEGF injection therapy may have on the cognitive health of patients with nAMD, noting a direct communication between the CNS and vitreous across multiple pathological states.
This cross-sectional study compared the Brain Health Assessment (BHA) scores of patients with AMD aged 65-85 years old in relation to lifetime cumulative count of anti-VEGF injections. BHA scores were assessed via the University of California San Francisco's peer-validated metric, often used for the initial detection of mild neurocognitive disorders.
A group of 300 wet AMD (≥1 IV anti-VEGF injections) and 100 dry AMD (0 inections) patients underwent a 10-minute iPad test gauging their individual and composite age-corrected scores for executive function, as well as speed, language, visuospatial, and memory tests. Patients with a previously known history of CNS disorders were excluded from the trial. The ASRS-presented findings were an interim analysis of the first 116 enrolled patients.
Key findings of the study include:
There was a statistically significant difference in patient BHA scores (t[116] = 2.03), indicating a greater rate of cognitive impairment among those who received >20 anti-VEGF injections.
72 patients with <20 injections reported significantly healthier BHA scores than the 44 with ≥20 injections.
Investigators also noted a greater likelihood of cognitive impairment among patients with ≥20 injections than those with fewer.
"Our preliminary findings show a greater risk of cognitive impairment among frequent recipients of anti-VEGF injections for AMD, indicating the need for cognitive assessment tools in clinical retina settings," concluded the authors.

The study, "Cognitive Testing in Patients Receiving Intravitreal Anti-Vascular Endothelial Growth Factor Therapy for Wet Age-Related Macular Degeneration," was presented at ASRS 2020.
Source : ASRS 2020