Conjunctivitis may be the earliest presenting feature of COVID-19, says BMJ report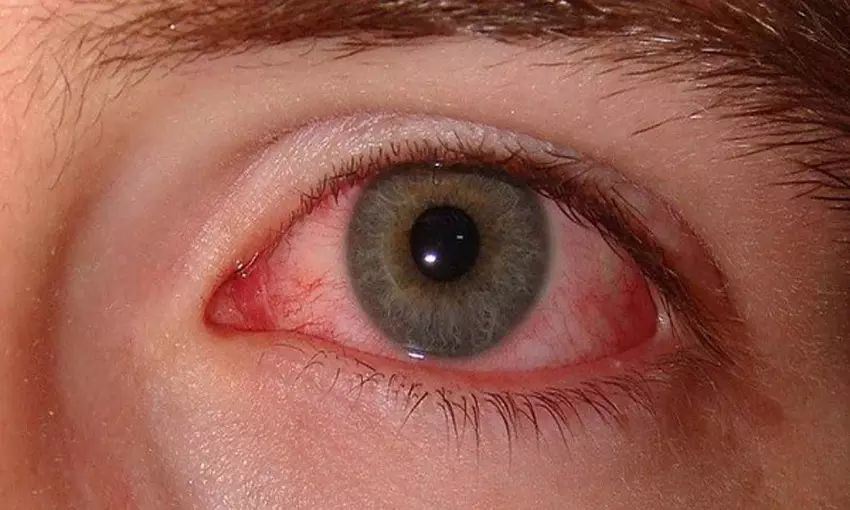 Conjunctivitis may the presenting feature of COVID-19, occurring days before the onset of systemic symptoms
Ocular Disease may be the First Manifestation of COVID-19, with patients presenting with conjunctivitis days before the onset of systemic symptoms according to a recent study published in BMJ Open Ophthalmology.
Medical experiences with the Middle Eastern Respiratory Syndrome coronavirus and SARS CoV in 2004 have established the presence of coronavirus in tears based on PCR positivity. Human to human aerosol transmission through respiratory droplets is the main established mode of infection in coronavirus. However, there may be a possibility of transmission through ocular route, though published literature regarding the same is limited. At the beginning of the COVID-19 pandemic, WHO included wearing goggles or protective eyewear in their recommendations for prevention of transmission.
Earliest reports of ocular manifestations of COVID-19 came from Wuhan, China where a member of the national expert panel who got infected reported redness in his eyes to have appeared many days prior to the onset of respiratory symptoms. Interesting observations have come across from different studies across the globe on ocular manifestations of COVID-19.
The ocular manifestations have been reported to be as low as 1% to as high as 30% in different studies.
The common ocular manifestations are epiphora, conjunctival injection and chemosis, similar to other types of follicular conjunctivitis.
The presence of ACE-2 receptor and TMPRSS2 protease on the ocular surface epithelium has been postulated to facilitate the entry of coronavirus into the body.
Viral replication of SARS CoV-2 in conjunctival tissue culture has been reported to be higher than lung and bronchial tissue culture at 48 hours.
PCR from tears has been found to be positive for SARS CoV-2 almost 3weeks after onset of disease even though nasopharyngeal swab was found negative.
To consolidate the information obtained from different studies, a group of researchers led by Rina La Distia Nora from the University of Indonesia and Ikhwaluniman Putera from the Erasmus Medical Centre, Netherlands performed a systematic review and meta-analysis of studies reporting ocular manifestations of COVID-19 from December 2019 to June 2020. A literature search was done from three electronic databases: PubMed, ScienceDirect and Google Scholar. The inclusion criteria were
Peer-reviewed observational case series or case reports of COVID-19 patients, both confirmed and suspected.
Studies reporting ocular manifestations of COVID-19.
Studies reporting PCR positivity in ocular or other samples, if available.
Thirty-one studies were qualitatively reviewed of which fourteen were included in the meta-analysis. The results of the meta-analysis were:
1. The pooled prevalence of ocular manifestations of COVID-19 was roughly estimated to 5%.
2. PCR positivity of tear samples from patients having ocular manifestations was found roughly in one-third of the samples. This was much higher than the PCR positivity of tear samples from all COVID-19 patients regardless of ocular manifestations, where it has been reported roughly as 4%.
3. Method of sample collection may influence PCR positivity in patients with ocular manifestations of COVID-19. A study which used a sterile synthetic fiber or cotton swab to obtain tear sample from the lower fornix had a significantly higher PCR positivity rate as compared to obtaining tear samples with Schirmer strips in another study.
4. In patients who had ocular manifestations, the ocular features appeared earlier than the systemic features in around a quarter of the patients. Frequent touching of the eyes with hands, age > 60 years, immunosuppression, lacrimal duct abnormalities, swimming and being healthcare workers were reported to be possible predisposing factors for ocular manifestation of COVID-19 in different studies. It has been suggested that since the virus replicates on the ocular surface, it may be transmitted to the nasopharynx through the nasolacrimal duct and result in subsequent systemic infection.
5. Ocular manifestations were not associated with a severe form of COVID-19. A study by Wu et al reported that patients with COVID-19 presenting with ocular involvement had higher white blood cells, procalcitonin, C reactive protein and lactate dehydrogenase. However, similar evidence was not found in other studies.
6. No significant sight-threatening posterior segment complications were reported in patients with ocular manifestations of COVID-19.
Based on these findings, the authors emphasize that though the prevalence of ocular manifestations in COVID-19 is low, ophthalmologists encountering red eyes in routine clinical practice should exercise adequate precautions and use protective eyewear.
For reading the full article, please click on the link
Article Source :
BMJ