Researchers discover new drugs for treatment of diabetic retinopathy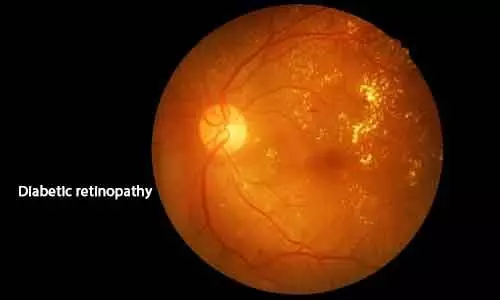 USA: BCL-xL inhibitors could be developed as a potential treatment for diabetic retinopathy, suggests a recent study in the journal Cell Metabolism.
Phase 1 human studies are now being conducted to test the potential of this new class of retinal drugs.
Diabetic retinopathy is caused by a degeneration of the small blood vessels that feed the back of the eye (retina) and that regrow abnormally. These new vessels can leave scars on the retinal thus obstructing vision.
One of the challenges for diabetic retinopathy treatment is determining which blood vessels are healthy and which are damaged. Studies have revealed that abnormal blood vessels triggers molecular programs associated with accelerated aging, commonly known as cellular senescence. The current study by Pamela R.Tsuruda, UNITY Biotechnology, South San Francisco, CA, USA, and colleagues builds on earlier work published by Mike Sapieha and Frederick Mallette, who in 2016 were the first to identify cellular senescence as a disease process in diabetic retinopathy.
In the study, the researchers, identified a molecular target, BCL-xL, present in defective retinal blood vessels. The drug developed by UNITY Biotechnology uses this molecular target to selectively eliminate the defective vessel and thus allow the retina to repair itself.
"We demonstrate that in contrast to healthy blood vessels, pathological vessels engage pathways of cellular senescence. Senescent (p16INK4A-expressing) cells accumulate in retinas of patients with diabetic retinopathy and during peak destructive neovascularization in a mouse model of retinopathy," wrote the authors.
"Using either genetic approaches that clear p16INK4A-expressing cells or small molecule inhibitors of the anti-apoptotic protein BCL-xL, we show that senolysis suppresses pathological angiogenesis."
According to the study, BCL-xL inhibitor UBX1967 eliminates senescent cells and suppresses neovascularization

"With a single injection," he added, "it would potentially be possible to eliminate groups of cells that contribute to diabetic eye disease, which affects some 750,000 Canadians and is the leading cause of blindness in working-age adults," said Sapieha, a professor in UdeM's Department of Ophthalmology and director of MRH-RC's Neurovascular Eye Disease Research Unit.
"These findings provide mechanistic evidence supporting the development of BCL-xL inhibitors as potential treatments for neovascular retinal disease," concluded the authors.
The study titled, "Pathological angiogenesis in retinopathy engages cellular senescence and is amenable to therapeutic elimination via BCL-xL inhibition," is published in the journal Cell Metabolism.
DOI: https://www.sciencedirect.com/science/article/abs/pii/S1550413121000115
Source : Cell Metabolism