Retinal Vasospasm Similar to Raynaud's Phenomenon in a Patient of SLE: Case Report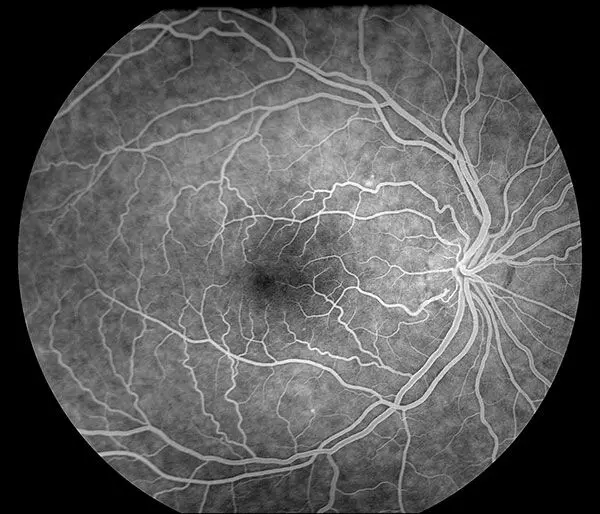 Vasospasm in retinal arteries in SLE may lead to acute and chronic retinal ischemia. It may also be indicative of widespread systemic vasculitis.
Dr Sumita Phatak and colleagues from Chaitanya Eye Hospital and Research Institute, Kerala, India have reported a retinal vasospastic phenomenon similar to Raynaud's phenomenon in a known patient of Systemic Lupus Erythematosus.
The case report has been published in the Indian Journal of Ophthalmology.
A 20-year-old female presented with complaints of painless progressive decrease in vision in her right eye for the past 5 months. She had been diagnosed with SLE 5 years back. She had also developed lupus nephritis and pulmonary artery thrombosis, for which she was on treatment. According to her rheumatologist, the systemic condition was well controlled medically. She had history of SLE retinopathy for which she had been treated with pan-retinal photocoagulation and intravitreal bevacizumab in both eyes about 1 year back. She had also undergone a carotid doppler test which was unremarkable.
Anterior segment examination was normal in both eyes. Fundus evaluation revealed a rhegmatogenous retinal detachment in the right eye. In the left eye, on fundus examination, disc and macula were normal with no active neovascularization seen at the disc or elsewhere. Trace old vitreous hemorrhage inferiorly with peripheral laser scars and regressed neovascularization were noted in the temporal periphery.
Fundus Fluorescein Angiography (FFA), Optical Coherence Tomography (SD-OCT), and SD-OCT Angiography (OCTA) were performed. Some interesting observations were noted.
The FFA was unremarkable till the peak phase. In the left eye, at 27 seconds an increase in arteriolar fluorescence in all the four major arterioles, with a simultaneous decrease in venular fluorescence without a change in vessel calibre was seen. Fluorescence increased in the venules at 29 seconds, with a reduction in arterioles. This cycle repeated at 43 seconds. SLE is known to be associated with Raynaud's phenomenon, which is a peripheral arteriolar and capillary vasospasm. The appearance noted on the dynamic angiogram was very suggestive of a spasm at the same level, indicating a Raynaud's like vasospasm in the eye.
SD-OCT image of the left eye revealed an area of retinal undulation and thinning predominantly involving the inner layers inferotemporal to the disc. SD-OCT Angiography image of the superficial and deep capillary plexus revealed capillary dropout in the corresponding area. These may be a sequelae of SLE retinopathy caused due to microvascular thrombosis and immune complex mediated vascular injury. The authors, however postulate that this may also indicate chronic decrease in blood flow as a result of chronic and highly localized vasospasm episodes.
The patient was re-evaluated by the rheumatologist but no additional treatment was advised. The right eye retinal detachment was managed surgically and the left eye was treated with additional laser photocoagulation.
"Ocular involvement in SLE can be a manifestation of widespread systemic disease and may help in prognosticating Lupus activity and to monitor efficacy of systemic medications. Therefore, this localized vasospasm or Raynaud's like phenomenon on angiography and findings on multimodal imaging especially OCT Angiography may be indicative of the extent of systemic disease and disease control in SLE vasculitis," conclude the authors.
For reading the full article with photographs, click on the link
https://www.ijo.in/article.asp?issn=0301-4738;year=2020;volume=68;issue=11;spage=2575;epage=2577;aulast=Phatak
Article Source :
Indian Journal of Ophthalmology