Doctors remove four inches piece of cement from heart: NEJM case report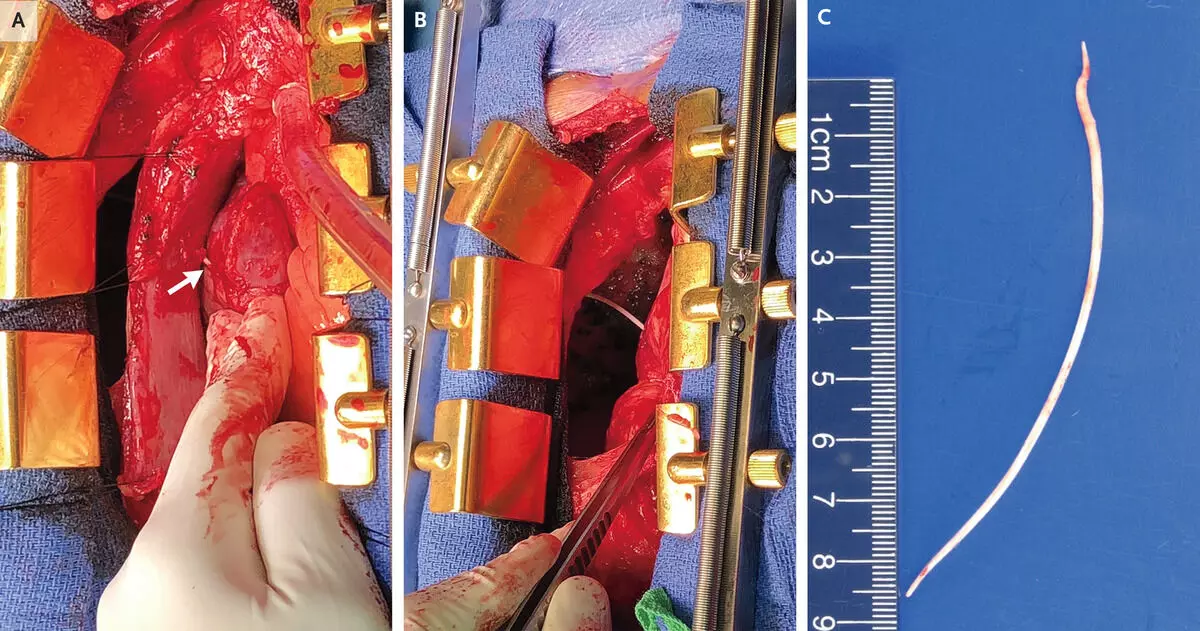 A 4-inch piece of cement was removed from heart of a man by doctors, which had leaked into his body from a spinal surgery. Dr Gabe Weininger, and Dr John A. Elefteriades, at Yale University School of Medicine, New Haven, CT have reported the instant case of Intracardiac Cement embolism.

The case has been published in the New England journal of Medicine.
According to the history, a 56-year-old man with a recent vertebral compression fracture presented to the emergency department with a 2-day history of breathless and chest pain.
One week earlier, the patient had undergone an L5 kyphoplasty with polymethylmethacrylate medical cement. Five days later, he had sudden onset of pleuritic chest pain on the right side with radiation to the jaw and shoulder. At the current presentation, radiography and computed tomography of the chest revealed an intracardiac foreign body. The patient underwent emergency cardiothoracic surgery. During the procedure, a foreign body was found to be perforating the right atrium (Panel A, arrow), crossing the pericardium into the pleural space, and puncturing the right lung (Panel B). A sharp cement embolism measuring 10.1 cm in length and 0.2 cm in diameter was removed. Cement embolism is a described complication of kyphoplasty; the cement can leak into the venous system, harden, and embolize. After the embolus was removed, the patient's right atrium was repaired. He had no postoperative complications, and at 1 month after the procedure he had nearly recovered.
Cement embolism is
a known complication of Vertebroplasty in which polymethylmethacrylate (PMMA) leaks into the venous system through the iliolumbar or epidural veins. The rate of complications due to cement leakage may vary from 1 to 10 %, with cement extravasation into the venous system in 24 % of patients.
Emboli may further migrate into the right heart chambers and pulmonary arteries. Patients may vary in presentation from asymptomatic or symptoms such as syncope to life-threatening complications.

Patients presenting with intracardiac bone cement embolism related to spinal procedures require thorough clinical assessment, cardiology input, and if required, surgical intervention.

Patients that are commonly asymptomatic can be treated conservatively in which management of choice is anticoagulation with low-molecular-weight heparin or warfarin until the foreign body epithelialises and ceases in becoming potentially thrombogenic. In symptomatic patients management with thrombi in the right atrium is usually via percutaneous retrieval, whilst those with RV involvement or perforation are commonly managed with surgical retrieval. Management of individual patients should be based on individual clinical circumstances.
For further reference log on:
N Engl J Med 2021; 385:e49
DOI: 10.1056/NEJMicm2032931
Source : New England journal of Medicine