Anakinra an effective option for gout flares, Study says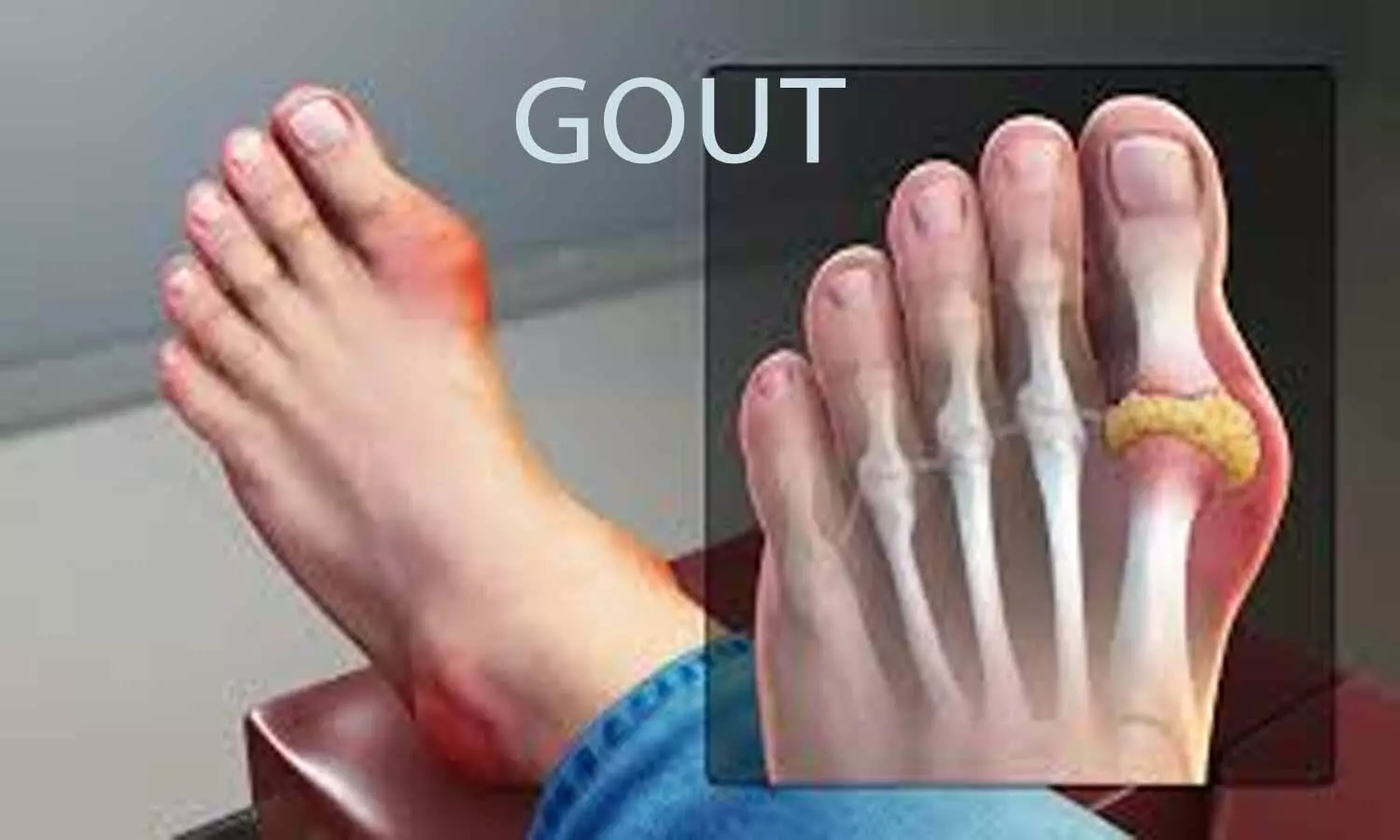 According to recent study, it has been found out by the researchers from the Division of Clinical Immunology and Rheumatology, University of Alabama, Birmingham, AL, USA that Anakinra is an effective option for gout flares when conventional therapy is unsuitable.
The study is published in the Arthritis and Rheumatology Journal.

Gout is strongly associated with comorbidities, including obesity, metabolic syndrome, type II diabetes, hyperlipidemia, hypertension, chronic kidney disease (CKD), and coronary artery disease. Comorbidities frequently restrict conventional treatment options (ie, nonsteroidal anti-inflammatory drugs [NSAIDs], colchicine, corticosteroids) for gout flares. Acute gout flares are mediated by NLRP3 inflammasome activation with consequent interleukin-1β (IL-1β) release.
Anakinra was non-inferior to conventional approved therapies for acute gouty arthritis in a recent controlled trial. However, the interleukin-1 (IL-1) receptor antagonist anakinra is an effective, off-label option in acute gout flares, when conventional therapy options are narrowed.
Hence, Kenneth G. Saag and colleagues conducted the present study to evaluate anakinra efficacy and safety compared to triamcinolone in the treatment of gout flares.
Patients unsuitable for NSAIDs and colchicine were enrolled in this multi‐center, randomized, double‐blind study lasting for up to 2 years (NCT03002974). The design was to show superiority of anakinra (100 or 200 mg/day for 5 days) over triamcinolone (40 mg single injection) for primary endpoint of changed patient‐assessed pain intensity from baseline to 24–72 hours in the most affected joint measured on visual analogue scale (0–100). Secondary outcomes included: safety, immunogenicity, and patient's and physician's global response assessments.
A total of 165 patients were randomized (110 to anakinra, 55 to triamcinolone) with a median age of 55 (range 25–83) years out of which 87% were men, mean disease duration was 8.7 years, and mean number of self‐reported flares during prior year was 4.5. In total, 301 flares were treated (214 anakinra; 87 triamcinolone).
The following results were observed-
a. Both anakinra doses and triamcinolone provided clinically meaningful reduction in patient‐assessed pain intensity in the 1st and subsequent flares.
b. For the 1st flare, the mean pain intensity decline from baseline to 24–72 hours for total anakinra and triamcinolone was ‐41.2 and ‐39.4, respectively (p=0.688).
c. Most secondary endpoints favored anakinra.
d. No unexpected safety findings were identified.
e. Presence of anti‐drug antibodies was not associated with adverse events or altered pain reduction.
Therefore, the authors concluded that "Anakinra was not superior to triamcinolone for the primary endpoint, but had comparable efficacy in pain reduction, and was favored for most secondary endpoints. Anakinra is an effective option for gout flares when conventional therapy is unsuitable."
Source : Arthritis and Rheumatology Journal