Percutaneous parallel K-wire, interlocking fixation effective in first metacarpal base fractures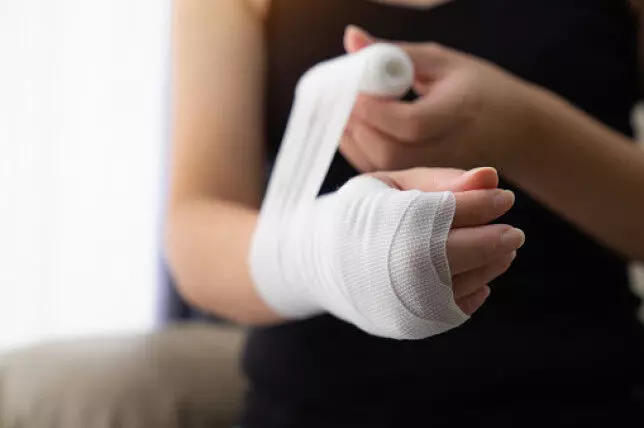 First metacarpal base fractures account for 80% of thumb fractures and 20% of fractures involving the articular surface of the first carpometacarpal joint.

Fractures at the base of the first metacarpal are often unstable and require surgical treatment. Open reduction and internal fixation often damage the ligaments around the joint and affect the blood circulation and joint stability, leading to delayed fracture healing and postoperative cicatrization that affects joint function; therefore, closed reduction is considered superior to open reduction.
The K-wire interlocking fixation technique resists axial rotation and maintains stability, which is beneficial for postoperative hand exercises and function recovery, finds a recent study.
Wu Wang and colleagues from the Department of Orthopedics, Xiangya Hospital, Central South University, Hunan, China aimed to explore the clinical efficacy of treating a first metacarpal base fracture by closed reduction and percutaneous parallel K-wire interlocking fixation between the first and second metacarpals.
The study is published in the Journal of Orthopaedic Surgery and Research.
Twenty patients treated by the above mentioned modified technique (modified technique group) and ten patients treated by the traditional percutaneous K-wire fixation technique (traditional technique group) were retrospectively reviewed. The patients' average age was 38 years.
The mean follow-up period was 13 months. At the final follow-up, the functional recovery of the injured hand was assessed and compared between the modified and traditional technique groups.
In addition, the functional recovery of the injured hand was compared with that of the uninjured hand within the modified technique group.
The authors reported that all patients recovered well, with no cases of infection or nonunion. Compared with the traditional technique group, the modified technique group had a shorter operative time, lower postoperative visual analogue scale pain score, better effective range of motion score of the first carpometacarpal joint, and had almost no need for auxiliary plaster fixation, enabling functional exercise to be started earlier.
Within the modified technique group, the mean hand grip strength, pinch strength, and Kapandji score on the injured side did not significantly differ to the values on the uninjured side in both the extra-articular and intra-articular fracture subgroups.
Furthermore, while the abduction and flexion–extension arcs of the thumb on the injured hand were significantly smaller than those on the uninjured hand in both the extra-articular and intra-articular fracture subgroups, the patients felt clinically well with respect to daily activities and strength.
Hence, this led the authors to conclude that the percutaneous parallel K-wire and interlocking fixation technique is simple, effective, and economical for first metacarpal base fractures.
Source : Journal of Orthopaedic Surgery and Research