Upadacitinib effective in patients with psoriatic arthritis and axial involvement: Study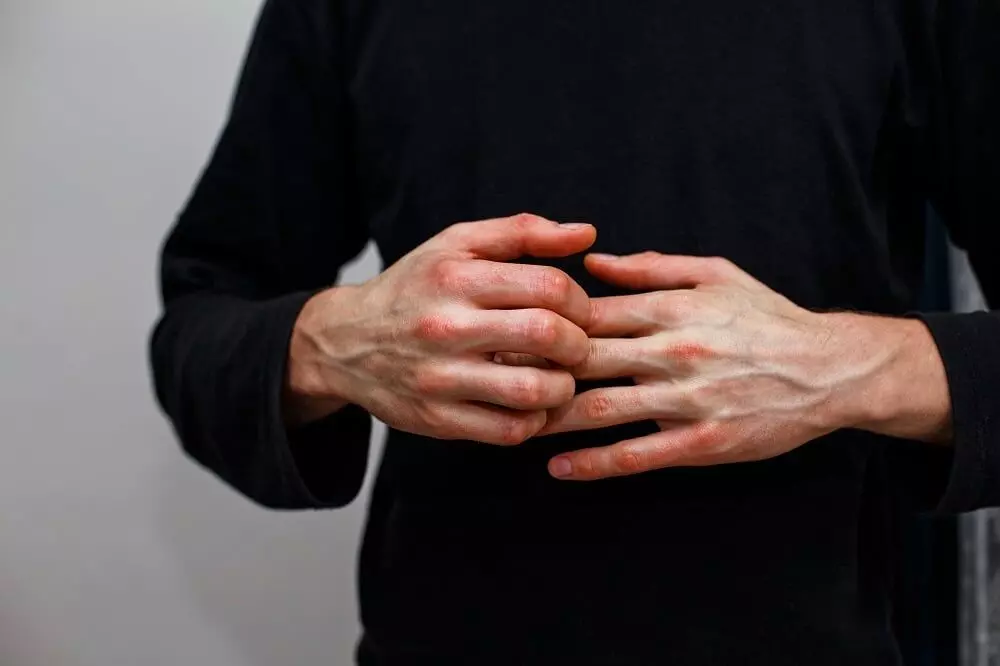 Delhi: Upadacitinib (UPA) is effective for the treatment of psoriatic arthritis (PsA) and axial involvement, finds a recent study. Patients with PsA and axial involvement are more likely to have a higher disease burden and poor quality of life compared to patients without axial involvement. Also, the researchers found that uveitis rates did not increase with this treatment and there was no incidence of inflammatory bowel disease (IBD).
The findings of the study were presented at the EULAR 2021 -- Annual European Congress of Rheumatology.
About 40-74% of patients with PsA have axial involvement. Atul Deodhar and colleagues conducted double-blind, randomized, controlled Phase 3 trials -- SELECT-PsA 1 (NCT03104400) and SELCT-PsA 2. In the trial patients received either once daily UPA 15 mg or UPA 30 mg, adalimumab 40 mg every other week, or a placebo. It included people having active PsA (≥3 swollen and ≥3 tender joints), active psoriasis or a history of psoriasis, and were on 2 or more non-biologic disease-modifying antirheumatic drugs (DMARDs).
The presence of psoriatic spondylitis was assessed based on the totality of the information, and characteristics were compared for patients with and without axial involvement. Factors included duration of back pain, previous imaging, and the age of onset. Efficacy was analyzed at weeks 12 and 24 in patients with axial involvement receiving UPA 15 mg, UPA 30 mg, or the placebo, using data from SELECT-PsA 1 and SELECT-PsA 2.
Comparisons in the UPA and placebo groups were performed using the Cochran-Mantel-Haenszel method for binary outcomes and a mixed-effect model for continuous outcomes. Adverse events identified new onset or worsening uveitis and IBD through the 24-week controlled period.
Efficacy endpoints were analyzed by any changes from baseline in overall Bath Ankylosing Spondylitis Disease Activity Index (BASDAI), neck, back, and hip pain, as well as joint swelling and pain. Changes in the Ankylosing Spondyloarthritis Disease Activity Score (ASDAS), and the percentage of patients with BASDAI 50 response, inactive disease, low disease activity, major improvement, and clinically important improvement were also addressed.
Key findings of the study include:
· Approximately 31% of patients in the SELECT-PsA 1 (534/1704) and 34% in SLECT-PsA 2 (219//640) had axial involvement. Baseline demographics were balanced for both cohorts.
· Patients treated with UPA 15 mg or 30 mg had significantly greater improvements versus the placebo group, including overall BASDAI, ASDAS-C-reactive protein (CRP), pain, and swelling.
· More patients receiving UPA 15 mg or 30 mg were able to achieve BASDAI 50, had either inactive or low disease activity, and experienced either major or clinical improvements.
· A modified BASDAI score indicated that overall BASDAI was not impacted by efficacy in peripheral arthritis.
· There was only 1 report of new onset of uveitis in a patient receiving the placebo and 1 new onset in a patient in the UPA 30 mg group.
· No IBD events were reported in the UPA cohort and all uveitis and IBD events were indicated in patients with existing psoriatic spondylitis.
"UPA was efficacious in improving axial symptoms in patients with psoriatic arthritis, consistent with the results observed in ankylosing spondyloarthritis patients," concluded Deodhar.
Source : Annual European Congress of Rheumatology