Padma Shri awardee, Doctor Dadi passes away in Indore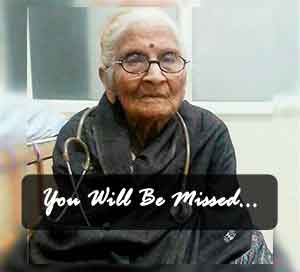 Indore:Padma Shri awardee nonagenarian gynaecologist Bhakti Yadav, fondly called 'Doctor Dadi', passed away here today.
She was 91 years old, family sources said.
She breathed her last at her home this morning, Dr Yadav's son Raman told PTI.
She was suffering from osteoporosis and other age related ailments. Over the past few months she was continously losing weight, he said.
Medical dialogues team had earlier reported that Nonogenarian Bhakti Yadav, popularly known as "Doctor Dadi" from Indore is  the first woman from Indore to hold an MBBS degree.  She was the only girl in the 1948-1953 batch of MBBS course in Indore's Government Mahatma Gandhi Memorial Medical College.
In April this year, the then district collector P Narhari had presented the citation and medal of the fourth highest civilian award in the country,
Padma Shri
 to Dr Yadav at her residence.. Home ministry officials shortlisted Dr Bhakti Yadav along with the number of unsung heroes of the country
Due to her poor health, she could not attend the function organised in New Delhi.

Read more at Medical Dialogues: SALUTE: Dr Bhakti Yadav, first woman doctor from Indore receives Padma Shri Award at her home 

Dr Bhakti has been treating patients free of cost for the past 68 years and has helped deliver thousands of babies. Pledging her services for the welfare of the society, she refused to work in government hospital and joined Nandlal Bhandari Maternity Home for wives of poor cloth mill workers. She headed the maternity home for several decades, before starting her nursing home, Vatsalya, in Pardeshipura area. Her free of cost treatment attracts patients from all not just far of areas in MP but also from Rajasthan and Gujrat.
Raman claimed that she treated over one-lakh women patients free of cost during the past six decades and also offered free medicines to poor patients.