Parallel Medical Council running in Bihar: HC pulls up CBI on Investigation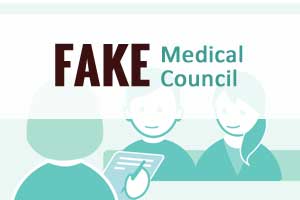 Patna: With the discovery of a fake medical council running around 60 km away from Patna, in the Bhojpur district of Bihar and granting fake degrees to students in various fields of medicine, a division bench of the Patna High Court recently pulled up the CBI with regards to the investigation.
It is reported that the CBI had been directed, by the single bench of Justice Ahsanuddin Amanullah to conduct an investigation into fake institution named Medical Council of Patent Medicine of Bhojpur that was awarding fake degrees to students. The CBI, however expressing inability to investigate the matter, filed an appeal with the higher bench consisting of two judges, Chief Justice Rajendra Menon and Justice Anil Kumar Upadhyay, only to get it dismissed
The twin bench upheld the earlier order that directed the probe on account of the
nationwide ramification of granting of fake affiliation to medical colleges and even granting of degrees for becoming a doctor. 
TOI
reports that around 821 students have been given various medical degrees by the said Medical Council of Patent Medicine of Bhojpur across the country to practice medicine and grant fitness certificate to the common man while none of these degrees has any legal sanctity.
The modus operundi of the council stood that, just like MCI,  the Council for Patent Medicine located at Jagdeo Nagar in Ara had "illegally" granted permission to several medical colleges to impart education in all three systems of medicine: Allopathic, homoeopathic and Unani/ayurvedic. The said system came to light when two of the recipients of such degree, Umesh Chand and Arun Kumar of Faridabad in Haryana moved the Patna high court asking for relief to practice without police interference, who were allegedly not allowing them to practice.
The two persons informed the court that they were recipients of a degree in Bachelor of Allopathic Patent Medical Specialties (BAMS) by a private college affiliated with the Medical Council of Patent Medicine in Ara.
Telegraph reports that the said college used to run medical courses such as Bachelor of Allopathic Patent Medical Specialties, Bachelor of Allopathic Patent Medicine and Surgery and Bachelor of Medicine in Biochemical System. Even MD (one-year course) degrees were issued to the students.
 In response to the petition, the single bench had observed that the Ara-based council was a parallel system running and flourishing with impunity in violation of the provisions of the Indian Medical Council Act, 1956, Indian Medicine Central Council Act, Homoeopathy Central Council Act, 1973 and Indian Medical Degree Act, 1916.
A high-level committee comprising of secretaries of Ministry of Health, Ayush and other state government officials had recommended a CBI probe, following which the single bench had ordered the CBI to conduct the inquiry while also directing that advisory be issued to all state governments to take action against such councils and institutes.
 A single bench is still hearing the case, adds TOI.