Paras HMRI Hospital Patna appoints Dr Jitendra Kumar as Director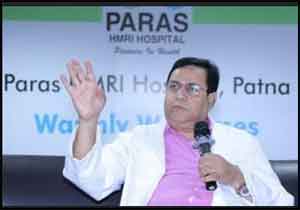 Patna: Renowned Oncologist Dr. Jitendra Kumar Singh has joined Paras HMRI Hospital Patna as Director - Oncology at Paras Cancer Centre - the first hospital in Bihar to provide comprehensive cancer care services. Dr. Jitendra Kumar Singh is a stalwart in oncology research and medical care.
He was the former Director of Mahavir Cancer Sansthan & Research Centre for 15 years and at present he is the National President of Cancer Care India, the apex body for cancer support organizations in India.
In 2012, he was honoured by the Government of India with one of the most prestigious Indian highest civilian awards of 'Padma Shri' for his outstanding contributions in the field of Cancer. He has been awarded with 'Pratibha Samman' in 2009 for being the best doctor with his excellent medical contribution in Bihar.
He got the RGCI's 'Gunilla Bental Oration Award' in 2010 for being the best Oncologist of the country. He was awarded with the Rajiv Gandhi Gold Medal Award in 2013 and Life Time Achievement Award for IMA Delhi. He is the National President and Secretary of five mega oncological associations of oncology in the country. He is the immediate past National President of Indian Medical Association, Delhi (HQ), Immediate National President of Association of Gynae Oncologist of India & Indian Brachy therapy society.
He has 158 publications in national and international journals. He is the member of task force, Government of India. Several major projects of government of India are under his chairmanship (ICMR, Department of Science and technology, Department of water toxicology, and Department of Animal experimentation) for the last several years.
According to Padma Shri Dr. Jitendra Kumar Singh, "Today, Bihar is facing an epidemic in cancer. It is the oral cancer capital of the country and with time to come, it may also lead in cervical and lung cancer. It is the duty of all medical professionals to work together to raise awareness about prevention, early detection and timely treatment to ensure the best patient outcomes. Paras HMRI Hospital and I have the same mission - to make Bihar cancer-free and to ensure that the best cancer care is accessible and affordable."
Dr. Jitendra Kumar Singh adds, "We shall be organizing mass screening campaigns for oral cancer, lung cancer and cervical cancer. We urge the public to reach us and help us connect with them so that we can make this endeavour of making a Cancer Mukt Bihar a reality. Paras HMRI Hospital has aided us with a Mobile Bus - Cancer Chikitsa Vahan - to reach till the hinterlands of the state and provide detection and diagnosis."
Padma Shri Dr. Jitendra Kumar Singh, with his team of other reputed Oncologists - Dr. C Khandelwal - GI Cancer Specialist; Dr. RN Tagore - Medical Oncologist; Dr. Mitali Dhandekar - Head & Neck Cancer Specialist; Dr. Shekhar Kesri - Radiation Oncologist; Dr. Sneha Jha - Radiation Oncologist; Dr. Kunal Kishor - Radiation Oncologist; and Dr. Avinash Kumar Singh - BMT & Haemato Oncology Specialist - aims at formulating extensive public awareness programs involving the sarpanchs and mukhiya's of the villages. Extensive planning has also been done to educate and sensitize the school and college children.
"It is essential to spread the spirit of prevention early. If one is sensitized about the harmful effects of alcohol and tobacco use (cigarettes, gutkha, khaini), one can make an informed choice. We can save numerous lives and families from the burden of this disease that has gripped India in its strong clutches," shares Dr. Jitendra Kumar Singh.
Paras Cancer Centre and Paras HMRI Hospital has the state-of-the-art Radiation Oncology technology - LINAC with VMAT technology and HDR Brachy therapy with CT Simulation, planning along with the latest equipment for Nuclear Medicine - PET CT and Gamma Camera, making it the first hospital to provide comprehensive cancer care services in the state. All the specialties of cancer Management run under one umbrella and this hospital is committed to provide the best onco care in this part of the country. "To provide the service of Paras Hospital to the poor patients also will be in his priority," Dr. Singh expressed.