PCPNDT violation: BAMS practitioner arrested for conducting Sex determination test via forged sign on USG slip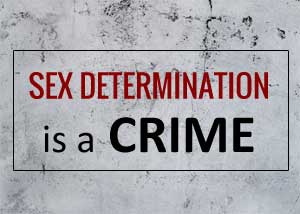 Chandigarh: On account of allegedly violating the Pre-Conception and Pre-Natal Diagnostic Techniques (PCPNDT) Act, a BAMS practitioner has been arrested by the police after it was found that he had been allegedly conducting a sex determination test by using a doctor's signature on ultrasound slip.
The arrest has been made based on the complaint filed by the Jhajjar PNDT head who approached the police alleging PCPNDT act violation and forgery by the Ayurveda doctor.
The matter came to light by a tip-off received by the district officers. Based on that, the officials sent a pregnant patient as decoy to the ultrasound centre where the accused allegedly conducted sex determination tests.
Read Also:
Authorities ordered to inform Medical Council about convicted doctors under PCPNDT Act
The decoy told the doctor about her willingness to know the sex of the foetus. The doctor demanded Rs 25,000 for the sex determination test.
After sealing the deal at Rs 15,000, the BAMS practitioner forged the referral slip by using the rubber stamp of his female colleague for the purpose of ultrasound.
Subsequently, he took the patient to the scanning centre and performed an Ultrasound. The decoy patient then contacted the doctor to know the results, upon which she was told that MTP could not be performed due to certain risks.
Pursuant to the conversation,
the health officials conducted a raid at the said scanning centre and nabbed the BAMS practitioner who later confessed to the crime.
Confirming the arrest and the practitioner's involvement in the sex determination case, a police official told TOI, "An amount of Rs 15,000 was recovered from the practitioner and the conversation confirmed his involvement in the violation of PNDT Act and referral slip proved that it was forged one. The doctor whose signed were forged was found to be on leave. We had recorded the statement of the owner of the hospital where the accused worked. He has been arrested"
The ultrasound centre has been sealed for now and further investigation is on into the case.