Childhood Systemic Lupus Erythematosus: IAP Guidelines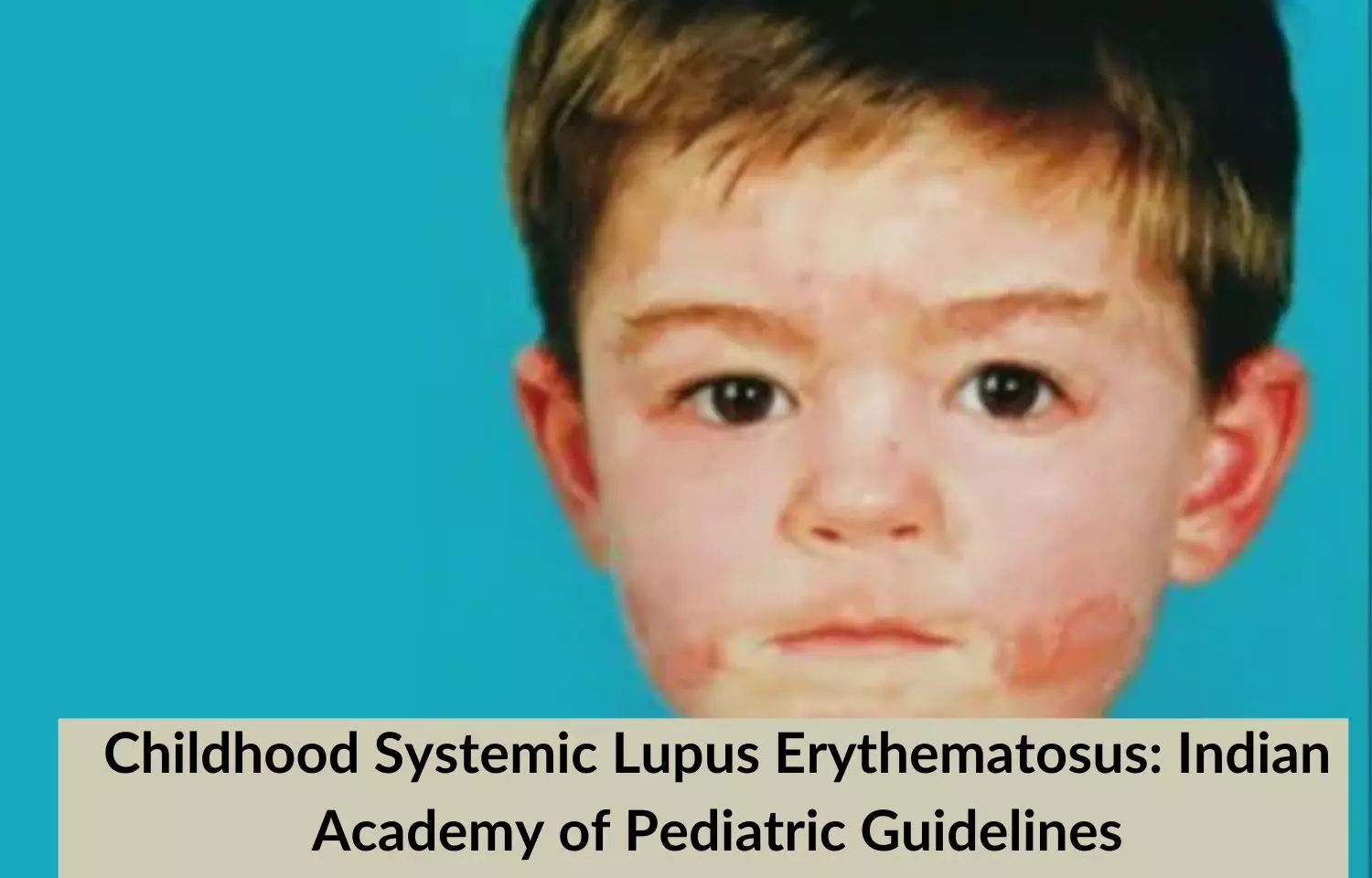 Childhood Systemic Lupus Erythematosus (cSLE) is a chronic heterogeneous autoimmune disease associated with considerable morbidity and significant mortality. It is characterized by multisystem sequential or simultaneous organ involvement (predominant musculoskeletal, cutaneous, renal, hematologic, and neuropsychiatric manifestations) and the presence of antinuclear and...
Childhood Systemic Lupus Erythematosus (cSLE) is a chronic heterogeneous autoimmune disease associated with considerable morbidity and significant mortality. It is characterized by multisystem sequential or simultaneous organ involvement (predominant musculoskeletal, cutaneous, renal, hematologic, and neuropsychiatric manifestations) and the presence of antinuclear and other antibodies.
The Indian Academy of Pediatrics (IAP) has released Standard Treatment Guidelines 2022 for Childhood Systemic Lupus Erythematosus. The lead author for these guidelines on Childhood Systemic Lupus Erythematosus is Dr. Nutan Kamath along with co-author Dr. Amit Rawat and Dr. Aaradhana Singh. The guidelines come Under the Auspices of the IAP Action Plan 2022, and the members of the IAP Standard Treatment Guidelines Committee include Chairperson Remesh Kumar R, IAP Coordinator Vineet Saxena, National Coordinators SS Kamath, Vinod H Ratageri, Member Secretaries Krishna Mohan R, Vishnu Mohan PT, and Members Santanu Deb, Surender Singh Bisht, Prashant Kariya, Narmada Ashok, Pawan Kalyan.
Following are the major recommendations of guidelines:
Clinical Manifestations and Classification Criteria for SLE:
Laboratory investigations form an integral part of the diagnosis and management of patients with SLE.
General laboratory investigations

Erythrocyte sedimentation rate (ESR)

An increase in ESR is in proportion to disease activity. Maybe falsely elevated in hypergammaglobulinemia

C­reactive protein

Usually normal even with active disease
Increased in patients with concomitant infection, serositis, or arthritis

Ferritin

Increased, albeit not as much as in macrophage activation syndrome

Specific immunological investigations

Method of detection

Comments

Antinuclear antibodies (ANA)

Indirect immunofluorescence on HEp2 cells remains the gold standard for detection

Present in more than 90% of children with lupus. Patterns of staining may reflect the antigenic specificity of the antibody

Anti­double stranded antibodies (anti­dsDNA)

Enzyme immunoassay or immunofluorescence

High specificity for SLE
Marker for the active disease especially lupus nephritis

Complement estimation

Nephelometry or enzyme immunoassay

Complement C3 and C4 are commonly measured. Low levels detected in active disease

Extractable nuclear antigens

Can be detected by immunoblotting or by counterimmunoelectrophoresis

Provide useful information on antigenic specificity of ANA

Antiphospholipid (aPL) antibodies

ELISA for anticardiolipin and anti­b2­glycoprotein I antibodies
Lupus anticoagulant assay by activated partial thromboplastin time (aPTT) and dilute Russell's viper venom time (dRVVT)

Positive in a significant proportion of pediatric SLE patients.

Anticoagulants (heparin and oral anticoagulants) may interfere with the detection of lupus anticoagulant
Treatment:
Childhood systemic lupus erythematosus ranges in severity from mild disease with arthritis and rash to devastating nephritis with renal failure or profound neurological disturbances. The approach to therapy is individualized for each patient and based on the clinical features. Nevertheless, treatment is unified based on a few guiding principles.
Ten Principles of Treatment:
1. Treatment by a multidisciplinary team with the pediatric rheumatologist as the Lead
2. Assess organ involvement
3. Assess disease activity and damage index
4. Direct therapy to specific disease manifestations that are active
5. Achieve remission with adequate immunosuppression
6. Therapy for the shortest period and at the lowest possible doses
7. Maintain remission with minimal toxicity of drugs
8. Prompt recognition and aggressive treatment of 'flares' and infection
9. Counsel and educate parents and children
10. Transition to adult care in late adolescence
General Treatment:
Organ-Specific Treatment:
Assess Disease Activity and Damage Index:
Assessment of disease activity and damage is best done by pediatric rheumatologist using the SLE Disease Activity Index (SLEDAI)/British Isles Lupus Assessment Group (BILAG) index and pediatric version of American College of Rheumatology/Systemic Lupus International Collaborating Clinics (ACR/SLICC) damage score index.
Counseling and Education:
About chronic nature of illness with flares and remissions
Monitoring for side effects of drugs
Need for prolonged therapy
Access to patient information material
Need for shared care with a multidisciplinary team
Transition to medical care in late adolescence
Coping strategies for parents and child
Drugs used in the Management of SLE:
Name

Dosage

Indications

Important side effects

Monitoring

Prednisolone

Initiation of therapy (4–6 weeks): 0.5–2 mg/kg/ day (max 60 mg/day)

in at least two divided doses based on type and severity of organ involved.

Tapering dose: Reduce by 2.5–5 mg/week till a daily dose of 20 mg Further reduction by 1–2.5 mg every

2–4 weeks till a daily dose of 10 mg

After a daily dose of 10 mg is reached, reduce it by 0.5–1 mg

every 2–4 weeks

A mainstay of treatment to induce and maintain remission

Obesity, glaucoma, cataract, hypertension, growth suppression, diabetes, osteoporosis, avascular necrosis of bone, infections

Regular blood pressure

and random blood sugar monitoring, calcium and vitamin D supplement, bone density monitoring

Intravenous pulse methylprednisolone

10–30 mg/kg to a maximum of 1 g/day for 1–5 consecutive days followed by oral prednisolone as above

Severe cytopenias, proliferative nephritis, major CNS disease, vasculitis, "lupus crisis"

Hypertension, hyperglycemia

Rest of the side­ effects similar to prednisolone

Monitoring of vitals especially blood pressure before starting and during infusion

Hydroxy­ chloroquine

4–6 mg/kg/day at bedtime (maximum dose 400 mg/day)

Cutaneous disease and adjunct

to steroids for systemic disease

Nausea, pruritis, rarely maculopathy

Eye check at starting the drug and biannually for visual acuity, color vision testing, visual field testing, and retinoscopy

Methotrexate

10–15 mg/m2 subcutaneously weekly once

Arthritis
Resistant skin disease

GI intolerance, mouth ulcers, alopecia, bone marrow suppression, hepatotoxicity

AST/ALT, serum albumin, CBC at baseline

and then at 8–12 weeks intervals
Name

Dosage

Indications

Important side effects

Monitoring

Nonsteroidal anti­ inflammatory drugs (NSAIDs)

GI intolerance/ bleed, renal impairment, hypersensitivity

AST/ALT, serum creatinine at baseline and 6-month intervals

Naproxen

15–20 mg/kg/day in two divided doses (maximum dose 1 g)

Myalgia, arthralgia, arthritis

Pseudoporphyria­ pruritis, urticarial, morbilliform rash, erythema multiforme

Ibuprofen

30–40 mg/kg/day in three divided doses (maximum dose 2.4 g)

Positive aPL antibodies

Aspirin

3–5 mg/kg/day

Cyclophos­phamide

1–2 mg/kg/day

(PO) or 500–1000

mg/m2/month (IV) in severe disease

Severe cytopenias, proliferative nephritis, major CNS disease, vasculitis

Nausea, vomiting, cytopenias, infections, hemorrhagic cystitis

Ensure adequate fluid intake

CBC on days 7 and 14 if on

pulse therapy

Azathioprine

0.5–2.5 mg/kg/day (PO)

(Maximum 150 mg/day)

Mild SLE unresponsive to glucocorticoids and HCQS or develop unacceptable drug toxicity

Cytopenias, pancreatitis

Opportunistic infections

CBC monthly and after dose increments, hepatic enzymes, BUN, creatinine amylase, and lipase at the onset of treatment and every

3 months

Mycophenolate Mofetil

1200–1800 mg/

m2/day twice daily (PO) (Maximum 3000 mg/day)

Induction and maintenance of severe cytopenias, vasculitis, proliferative and membranous nephritis,

steroid sparing in moderate to severe

illness

þ Pancytopenia

CBC every 8–12 weeks
Name

Dosage

Indications

Important side effects

Monitoring

Cyclosporine A

2.5–5 mg/kg/day

Membranous nephropathy

nephrotoxic

Blood urea nitrogen, creatinine, urine analysis, hepatic enzymes, CBC at start of therapy and monthly

IV Immuno­ globulin

Up to 2 g/kg

Severe thrombocytopenia, catastrophic anti­phospholipid syndrome

Anaphylaxis, Aseptic meningitis (Headache, vomiting 18–36 hours after the infusion)

Monitor blood pressure and pulse rate every 15 minutes for the first hour, every 30 minutes for the second hour, and every hour thereafter

Rituximab

375 mg/m2/week intravenously (four doses at intervals of 7 days) OR 750 mg/m2 ( two doses at intervals of 14 days)

Severe and refractory disease

Infection Hypogamma­ globulinemia Infusion reaction

Monitor CBC at the start of therapy

Belimumab (approved for children

> 5 years)

10 mg/kg every

4 weeks

Clinically active disease without severe nephritis or neuropsychiatric lupus

Infection

Monitor CBC at the start of therapy and monthly
(CBC: complete blood count; ALT: alanine transaminase; AST: aspartate aminotransferase)
Role of General Pediatrician (GP):
Early diagnosis and appropriate therapy ensure a good prognosis. Intercurrent infections, flares, renal and cardiovascular disease, neurologic manifestations, and poor adherence to treatment affect the outcome. The morbidity of the disease and adverse effects of the medications must be minimized to achieve a satisfactory long-term outcome.
Neonatal Lupus:
| | |
| --- | --- |
| Infections | |
| Viral | Epstein­Barr virus, Cytomegalovirus, Parvovirus B19, Human Herpes Virus 6 |
| Bacterial | Brucellosis, Leptospirosis, Q fever, Mycoplasma |
| Spirochetal | Lyme disease |
| Protozoal | Toxoplasmosis |
| Malignancy | Leukemia, Lymphoma |
| Other autoimmune diseases | Mixed connective tissue disease, systemic vasculitis, antiphospholipid syndrome, juvenile dermatomyositis |
Summary:
Diagnosis and management of cSLE is a challenge due to its myriad clinical presentations. Shared care pathways between specialists from different disciplines and different levels of care (primary, secondary, and tertiary) are of paramount importance in the management of cSLE.
Reference:
Aringer M, Costenbader K, Daikh D, et al. 2019 European League Against Rheumatism/American College of Rheumatology classification criteria for systemic lupus erythematosus. Arthritis Rheumatol. 2019;71(9):1400-12.
Gergianaki I, Bertsias G. Systemic lupus erythematosus in primary care: an update and practical messages for the general practitioner. Front Med (Lausanne). 2018;5:161.
Groot N, de Graeff N, Marks SD, Brogan P, Avcin T, Bader-Meunier B, et al. European evidence-based recommendations for the diagnosis and treatment of childhood-onset lupus nephritis: the SHARE initiative. Ann Rheum Dis. 2017;76(12):1965-73.
Massias JS, Smith EMD, Al-Abadi E, et al. Clinical and laboratory characteristics in juvenile-onset systemic lupus erythematosus across age groups. Lupus. 2020;29(5):474-81.
Trindade VC, Carneiro-Sampaio M, Bonfa E, Silva CA. An update on the management of childhood-onset systemic lupus erythematosus. Paediatr Drugs. 2021;23(4):331-47.
The guidelines can be accessed on the official site of IAP:https://iapindia.org/standard-treatment-guidelines/
Source : Indian Academy of Pediatric Guidelines, IAP