First-ever guidelines for pediatric opioid prescribing released by APSA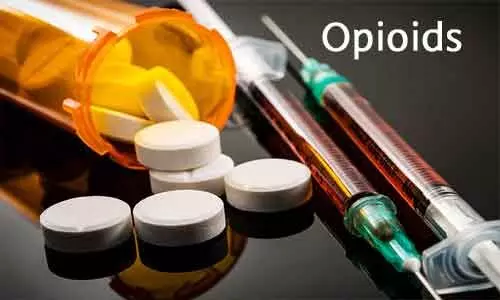 Los Angeles - Opioids are useful for pain management following surgery and other major procedures, but until now there had been no recommendations guiding safe use of opioids in children.
American Pediatric Surgical Association (APSA) has established first-ever guidelines for pediatric opioid prescribing.Dr. Kelley-Quon and her colleagues have outlined 20 guidelines for safer pain management in children and adolescents.
Non-opioid analgesics instead of opioids are recommended for certain procedures, including inguinal hernia repair, myringotomy, and meatotomy, for which there was strong evidence of a feasible opioid-free recovery, the team noted in JAMA Surgery.
According to the National Institutes of Health, opioid misuse and addiction in the United States is a national crisis, with an economic burden upwards of $78 billion.

"Many people are aware that there's an opioid epidemic," says Dr. Kelley-Quon, "but when I talk about my work, people are surprised to hear that it impacts children."
One of the primary concerns is the use of opioids among teens and adolescents. Dr. Kelley-Quon cites a CDC report revealing that approximately 9 percent of teens aged 15-19 report receiving an opioid prescription in 2018. This age group is of concern because prescription medications can be used recreationally and shared with friends. In addition, research shows that death due to opioid overdose is on the rise for all age groups.
"Opioids can be very effective in pain management following pediatric procedures," she says, "but we need to work with the medical community to ensure they are used safely and judiciously."
As a member of the American Pediatric Surgical Association's Outcomes and Evidence-Based Practice Committee, Dr. Kelley-Quon led an effort to develop evidence-based guidelines for best practice in opioid prescribing. Her team did an extensive review of scientific and medical publications, but the effort went far beyond a literature search. Dr. Kelley-Quon created a multidisciplinary group that included specialists in pediatric surgery, pediatric anesthesia, and addiction science, and included other key stakeholders representing nursing, physician assistants, surgery trainees, and family advocates. After pooling data from published studies, the entire group met and constructed the guidelines together.
"Opioid prescribing doesn't just impact what a pediatric surgeon does," says Dr. Kelley-Quon. "Nurses and other medical care providers are involved in pain management discussions with patients and their families, so we wanted their input as well."
The team came up with three basic tenets, into which all the guidelines fall. First is simply a recognition that misuse of prescription opioids is a problem to be taken seriously when caring for children and adolescents. Second is to acknowledge there are many non-opioid medications that have excellent data supporting their use for children who require surgery. The team reviewed and presented those options. Finally, health care providers must educate patients and families before and after surgery about what an opioid is, what the risks are, and how they should be safely stored and disposed of.
The publication, endorsed by the American Pediatric Surgical Association, sets the stage to begin shaping policies around prescribing opioids in pediatric medicine, but Dr. Kelley-Quon says we are not there yet.
"We are laying the groundwork," she says. "It is our hope that this work will change paradigms in pain management for children and teens by increasing surgeon awareness and facilitating family engagement.
Main recommendations are as follows-
Opioid Misuse, Heroin Use, Diversion, and Conversion to Long-term Use
We recommend all health care professionals caring for children recognize the following points.
1. A significant proportion of adolescents with access to opioids misuse them.
2. Of adolescents who misuse prescription opioids, a significant number will develop dependence or opioid use disorders.
3. Adolescent opioid misuse is associated with heroin use.
4. Prescriptions from a health care professional are the most common source of opioids for adolescents who misuse them.
5. A significant proportion of adolescents who are prescribed opioids divert them.
6. Adolescents who receive an opioid prescription after surgery may have a higher likelihood of future opioid prescriptions within the following year.
Perioperative Nonopioid Regimens
7. The optimal postoperative regimen should balance adequate pain relief for recovery while minimizing adverse effects.
8. Opioid-free postoperative analgesia is feasible for many pediatric operations.
9. Opioid-free postoperative analgesia may be possible for some patients after some procedures.
10. When discharge analgesics are deemed necessary, we recommend a nonopioid option or options as first-line treatment.
11. We recommend perioperative enteral nonopioid analgesic use when clinically appropriate.
12. We recommend perioperative intravenous nonopioid medications as part of an opioid-sparing regimen.
13. We recommend targeted use of perioperative regional or neuraxial anesthesia techniques as part of an opioid-sparing regimen.
14. We endorse the FDA guidelines regarding limited use of codeine and tramadol for children younger than 18 years.
Patient and Family Education
15. We recommend that caregivers and children be educated about expectations and methods of pain management both before the day of surgery and again perioperatively.
16. We recommend consistent pain management messaging from all members of the perioperative care team.
17. We recommend that pain management education be tailored to the caregiver's and child's needs to promote shared understanding and expectations.
18. If opioids are prescribed, we recommend perioperative education should include instruction regarding possible adverse drug events, seriousness of adverse drug events, and what to do if they occur.
19. We recommend educating caregivers and older children to store opioids in a secure location and properly dispose of unused medication.
20. Health care entities caring for pediatric patients should consider providing infrastructure and means for safe opioid disposal.
Source : JAMA Surgery