Aerosolised surfactant effective in preterms with respiratory distress syndrome, finds study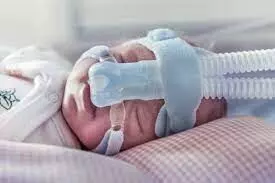 Respiratory distress syndrome is a serious disorder of pulmonary insufficiency in preterm infants that can be treated or prevented with surfactant administration. Treatment with exogenous surfactant, administered by endotracheal intubation or tracheal cannulation and bolus instillation, has been key in improving morbidity and mortality of infants with respiratory distress syndrome (RDS) for more than 30 years.
There is growing interest in non-invasive techniques, including aerosolisation, to deliver surfactant without the potential trauma of intubation. Jardine et al from Australia in their study have shown that the AeroFact system can safely deliver aerosolised surfactant to preterm infants with RDS who are on nCPAP.
The study was conducted in the newborn intensive care units (NICUs) at Mater Mothers' Hospital, Brisbane and Royal Hospital for Women, Sydney, Australia. Infants 26 weeks and 0days through 30 weeks and 6 days postmenstrual age, with weight appropriate for gestational age, were eligible for enrolment if they had RDS, received nCPAP within 15min of birth, required fraction of inspired oxygen (FiO2 ) <0.30 while on nCPAP 6-8cmH2O and could be placed on Aerofact at <2 hours of age. These cases were compared with historical controls who were born in same hospital in previous 2 years managed with nCPAP and matched for gender,gestational age and antenatal steroid status.
The AeroFact device/drug combination is an investigational prototype consisting of three basic components: (1) single patient single-use disposable nebuliser, drug delivery circuit and breath sensor; (2) reusable device controller; and (3) SF-RI 1 surfactant. This device generates a fine droplet aerosol of undiluted surfactant suspension which is delivered to short nCPAP prongs and is synchronised with inspiration.
In the study,part 1 consisted of 10 patients who received a single AeroFact treatment and 30 matched historical controls. Part 2 consisted of 21 patients who could receive multiple AeroFact treatments and 63 controls. Almost all AeroFact and historical control infants received antenatal steroids. All patients in part 1 received a single treatment with AeroFact. In part 2, patients could receive up to four doses of AeroFact, although none received more than three doses. No patients received AeroFact or instilled surfactant beyond 72 hours of life. Primary outcome measure was treatment failure was defined as Respiratory Severity Score (FiO2 ×cmH2 O nCPAP) >2.4, nCPAP >8 cmH2 O, arterial carbon dioxide >65mm Hg, pH<7.2 or three severe apneas within six hours during first 72 hours of life.
In part 1 ,four out of 10 Aerofact treated neonates met the treatment failure criteria against 10 of 30 controls. In part 2, 6 of 21 (29%) AeroFact-treated infants compared with 30 of 63 (48%) control infants met failure criteria. Kaplan-Meier analysis of patients in part 2 showed a trend towards decreased rate of study failure in the AeroFact-treated infants compared with historical controls (p=0.10). There were no significant differences in any of the common complications of prematurity between the AeroFact-treated patients and their historical controls.
Researchers say that the AeroFact device/drug combination of small particles, nebuliser placement and breath synchronisation may provide more efficient aerosol delivery to preterm infants than has been achieved with other surfactant aerosol device/drug combinations. If so, it may be an attractive alternative to other surfactant installation techniques that require intubation or installation of liquid surfactant via catheter.
Authors conclude-"Treatment with AeroFact may reduce the need for rescue therapy, including the need for intubation and treatment with instilled liquid surfactant."
Source: Jardine L, Lui K, Liley HG, et al Trial of aerosolised surfactant for preterm infants with respiratory distress syndrome Archives of Disease in Childhood - Fetal and Neonatal Edition Published Online First: 10 June 2021. doi: 10.1136/archdischild-2021-321645
Source : BMJ pediatrics