Children with autism at higher risk of several mental conditions, Finds study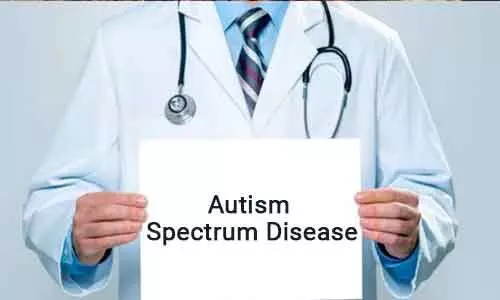 According to recent research, it has been noted that mental health conditions are prevalent in children with autism spectrum disorder from a young age and characterize greater than 85% by adolescence.
The study is published in the Journal of Clinical Psychiatry.

Mental health conditions (MHCs) have substantial personal and economic costs for children with autism spectrum disorder (ASD); yet, a current population-based prevalence estimate is lacking.

Therefore, Connor M. Kerns and associates carried out the study to assess the prevalence and Correlates of Caregiver-Reported Mental Health Conditions in Youth With Autism Spectrum Disorder in the United States.
The authors studied a total of 42,283 caregivers of children (ages 3–17 years) from the 2016 population-based National Survey of Children's Health. Prevalence and correlates of caregiver-reported MHCs were estimated in children with ASD and compared with those in children with intellectual disability (ID), children with special health care needs (SHCN), and all others.
The following results were highlighted-
a. 77.7% of children with ASD had ≥ 1 MHC; 49.1% had ≥ 2.
b. The most common MHCs were behavior/conduct problem (60.8%), anxiety problem (39.5%), attention deficit disorder (ADD)/attention-deficit/hyperactivity disorder (ADHD) (48.4%), and depression (15.7%). c. Substance abuse was the only MHC less common in ASD.
d. MHCs were more common in youth with ASD versus SHCN, "all other" youth, and those with ID. MHCs were common in ASD by ages 3–5 years (44.8% ≥ 1 condition) and increased with age (85.9% ≥ 1 condition, ages 12–17 years).

e. Among children with ASD, girls had twice the odds of an anxiety problem, those with ID had 4 times the odds of behavior/conduct problem, and those with childhood adversity had greater odds of an anxiety problem (odds ratio [OR] = 2.66) and ADD/ADHD (OR = 1.99).
Hence, the researchers concluded that "Caregiver-reported MHCs are prevalent in children with ASD in the US from a young age and characterize > 85% by adolescence. There is an outsized need for effective MHC assessment and treatment of these youth that demands expedient innovation in both MHC and developmental disability policy and practice."
Source : Journal of Clinical Psychiatry