Current evidence does not support ibuprofen use for PDA prevention: Cochrane Review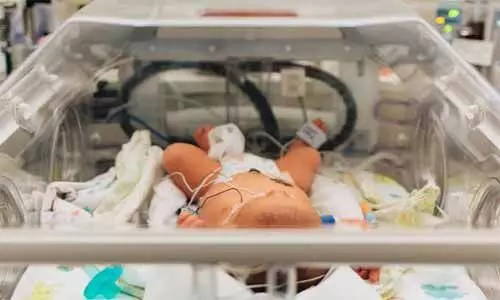 Delhi: Ibuprofen can prevent patent ductus arteriosus (PDA) in preterm infants but does not confer any other short-term or long-term benefits, a recent Cochrane Review has suggested.
According to the study, this preventative treatment exposes a large proportion of infants unnecessarily to a drug that has important side effects an does not confer any important short-term benefit for outcomes.
"Current evidence does not support the use of ibuprofen for prevention of PDA. A new approach for management of PDA is an early targeted treatment based on echocardiographic (ECG), or image of the heart, criteria within the first 72 hours of life; this has high sensitivity for diagnosing a PDA that is unlikely to close spontaneously," wrote the authors.
Patent ductus arteriosus is a common complication for premature infants. PDA is a open vessel that channels blood from lung to the body. Normally, it should close after birth but in some cases it remains open because of the baby's immature stage of development. This can lead to life-threatening complications. Indomethacin can successfully cause PDA closure but is associated with serious adverse effects. Another option is the drug ibuprofen, which can be given to prevent PDA.
The study by Arne Ohlsson, University of Toronto, Toronto, Canada, aimed to determine if prophylactic ibuprofen compared to placebo/no intervention or indomethacin effective and safe for prevention of PDA in preterm infants.
The researchers searched the online databases to select randomised and quasi-randomised controlled trials comparing ibuprofenwith placebo/no intervention or other cyclo-oxygenase inhibitor drugs to prevent PDA in preterm or low birth weight infants. A total of nine trials consisting of 1070 infants were included.
Key findings of the study include:

Ibuprofen (IV or oral) probably decreases the risk of PDA on day 3 or 4 (typical RR 0.39, typical RD -0.26; 9 trials; N = 1029).
In the control group, the spontaneous closure rate was 58% by day 3 to 4 of age.
In addition, ibuprofen probably decreases the need for rescue treatment with cyclo-oxygenase inhibitors (typical RR 0.17, typical RD -0.27),and the need for surgical ductal ligation (typical RR, typical RD -0.03; 7 trials; N = 925).
There was a possible decrease in the risk of grade 3 or 4 intraventricular haemorrhage (IVH) in infants receiving prophylactic ibuprofen (typical RR 0.67, typical RD -0.04, 7 trials; N = 925).
High quality evidence showed increased risk for oliguria (typical RR 1.45, typical RD 0.06; 4 trials; N = 747).
Low quality results from four studies (N = 202) showed that administering oral ibuprofen may decrease the risk of PDA (typical RR 0.47) and may increase risk of gastrointestinal bleeding.
No evidence of a difference was identified for mortality, any intraventricular haemorrhage (IVH), or chronic lung disease.
"Current evidence does not support the use of ibuprofen for prevention of patent ductus arteriosus. Until long-term follow-up results of the trials included in this review have been published, no further trials of prophylactic ibuprofen are recommended," concluded the authors.
The study, "Ibuprofen for prevention of patent ductus arteriosus in preterm and/or low birth weight infants," is published in the Cochrane Database of Systematic Reviews.
Source : Cochrane Database of Systematic Reviews