Infants Born To COVID-19 Infected Mothers don't lag In Growth And Neurodevelopment: Study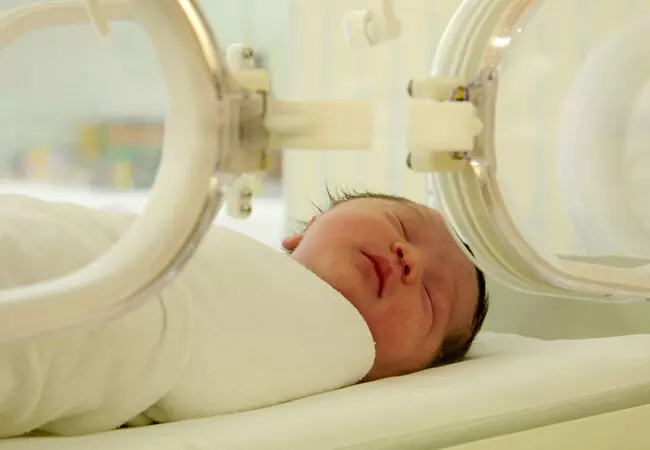 Severe acute respiratory syndrome coronavirus 2 (SARSCoV-2) -positive neonates who were symptomatic had predominant respiratory symptoms attributed to coronavirus disease (COVID) and the morbidities may correlate to prematurity and perinatal events. Till date literature on long-term effects following COVID-19 is sparse. Munian et al conducted a study to assess clinical and neurodevelopmental outcome in early infancy for neonates born to SARSCoV-2 positive mothers.
A multicenter cohort study from 11 hospitals in Massachusetts described short term follow up of 151 newborns born to SARSCoV-2 positive mothers, till 30 days of hospital discharge although growth, neurodevelopment were not incorporated.This is the first study with a long term followup emphasizing on growth and neurodevelopment.
A total of 131 neonates born to SARS-CoV2 positive mothers were enrolled in the study ,of which 4 were lost for followup, hence 127 babies were analysed. Nasopharyngeal and oropharyngeal swabs for COVID-19 real time-polymerase chain reaction (RT-PCR) were sent at 24-48 hours of life and for SARS-CoV-2 positive neonates, repeat test was done after 10 days and they were discharged, if negative. These children were assessed in the neonatal follow-up clinic at 14 days following discharge, then at 6 weeks, 3 months and 6 months of corrected age.
Key findings of the study are:
-All mothers were RT-PCR positive at median (IQR) of 5 (2,8)days before delivery. Twenty neonates were SARS-CoV2 positive and remaining were negative.
-SARS-CoV-2 positive neonates (group I) were more symptomatic (P=0.012), more commonly had sepsis (P=0.014) or pneumonia (P=0.029), and had longer duration of hospital stay (p<0.001) as compared to negative neonates.
-Researchers noted that both the groups-SARS-CoV2 positive and negative neonates were similar in growth and neurodevelopment at 6 months of follow-up.
-Readmission was similar in both the groups- four babies were rehospitalised, due to laryngomalacia, hyperbilirubinemia, ventricular arrhythmia and blood culture positive sepsis, respectively, none directly associated with SARS-CoV-2 infection.
Authors conclude that-"There are no differences in growth, neurodevelopment, and hospital readmission in early infancy between SARS-CoV-2 positive and negative neonates born to SARS-CoV-2 positive mothers."
Source: Munian D, Das R, Hazra A, Ray S. Outcome of Neonates Born to COVID-Positive Women at 6 Months of Age. Indian Pediatr. 2021 Sep 15;58(9):853-856.
Source : Indian pediatrics