LDH may help predict hospitalization in neonates with Transient tachypnea of newborn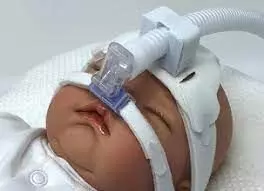 Transient tachypnea of the newborn (TTNB) is a common neonatal cause of respiratory distress which occurs due to delayed reabsorption of the pulmonary alveolar fluid seen in term neonates. Although TTNB is a self-limiting condition requiring supportive management, there have been reported complications requiring intensive care. Prediction of these complications is difficult , for this purpose researchers conducted a study to correlate LDH levels with complications and duration of hospitalisation in TTNB neonates.
It is a well known fact that lactate and LDH are good predictors of asphyxia. When cells are damaged, LDH is released out of cells into the bloodstream which elevates its level in plasma. In the literature, association between LDH and oxygen requirement, other neonatal comorbities have been reported, but this is the first ever study, to explore association of raised LDH with course of TTNB.
In this cross-sectional reterospective study a total of 120 neonates referred to tertiary care center with TTNB were included after excluding cases with neonatal sepsis,pneumonia, MAS, asphyxia and cardiopulmonary abnormalities.
Mean birth weight of the study group was 2855g with caesarean section being mode of delivery reported in 117 neonates(97.5%). 48 neonates(40%) required prolonged hospitalization(more than 3 days) and complications predominantly pneumothorax as reported in 12(10%) neonates.
Serum LDH levels were elevated in 46.6% of study group .Duration of hospitalization and pneumothorax were compared among high and low LDH groups.Upon analysis by Pearson's Chi-square test researchers found a statistically significant relationship between the high LDH levels and the duration of hospitalization and the complications(pneumothorax).
"LDH may be used as a predictive measure through which prevention can be achieved by referring the TTNB patient to the NICU before the clinical situation is worsened"-authors conclude.
Source:International Journal of Pediatric Research
Source : International journal of pediatric research