Nasal spray flu vaccine does not worsen asthma in children older than 4 years: study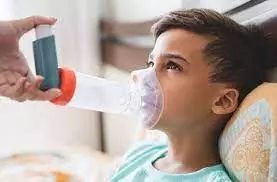 The nasal spray flu vaccine does not exacerbate asthma in children older than 4 years, according to a recent study published in Pediatrics.

Asthma is considered a precaution for use of quadrivalent live attenuated influenza vaccine (LAIV4) in persons aged ≥5 years because of concerns for wheezing events. They evaluated the safety of LAIV4 in children with asthma, comparing the proportion of children with asthma exacerbations after LAIV4 or quadrivalent inactivated influenza vaccine (IIV4).
They enrolled 151 children with asthma, aged 5 to 17 years, during 2 influenza seasons. Participants were randomly assigned 1:1 to receive IIV4 or LAIV4 and monitored for asthma symptoms, exacerbations, changes in peak expiratory flow rate (PEFR), and changes in the asthma control test for 42 days after vaccination.
The results:
They included 142 participants in the per-protocol analysis. Within 42 days postvaccination, 18 of 142 (13%) experienced an asthma exacerbation: 8 of 74 (11%) in the LAIV4 group versus 10 of 68 (15%) in the IIV4 group (LAIV4-IIV4 = −0.0390 [90% confidence interval −0.1453 to 0.0674]), meeting the bounds for noninferiority. When adjusted for asthma severity, LAIV4 remained non-inferior to IIV4. There were no significant differences in the frequency of asthma symptoms, change in PEFR, or childhood asthma control test/asthma control test scores in the 14 days postvaccination between LAIV4 and IIV4 recipients. Vaccine reactogenicity was similar between groups, although sore throat (P = .051) and myalgia (P <.001) were more common in the IIV4 group.
Thus, LAIV4 was not associated with increased frequency of asthma exacerbations, an increase in asthma-related symptoms, or a decrease in PEFR compared with IIV4 among children aged 5 to 17 years with asthma. Live Attenuated Influenza Vaccine was found to be safe in Children with Asthma.
Reference:
Safety of Live Attenuated Influenza Vaccine in Children with Asthma by Andrew G. Sokolow, et al. published in the Pediatrics.
https://publications.aap.org/pediatrics/article-abstract/doi/10.1542/peds.2021-055432/185673/Safety-of-Live-Attenuated-Influenza-Vaccine-in?redirected From=fulltext
Source : Pediatrics BDS
Dr. Shravani Dali has completed her BDS from Pravara institute of medical sciences, loni. Following which she extensively worked in the healthcare sector for 2+ years. She has been actively involved in writing blogs in field of health and wellness. Currently she is pursuing her Masters of public health-health administration from Tata institute of social sciences. She can be contacted at editorial@medicaldialogues.in.