Amoxicillin in Paediatric Respiratory Infections - Review of Evidences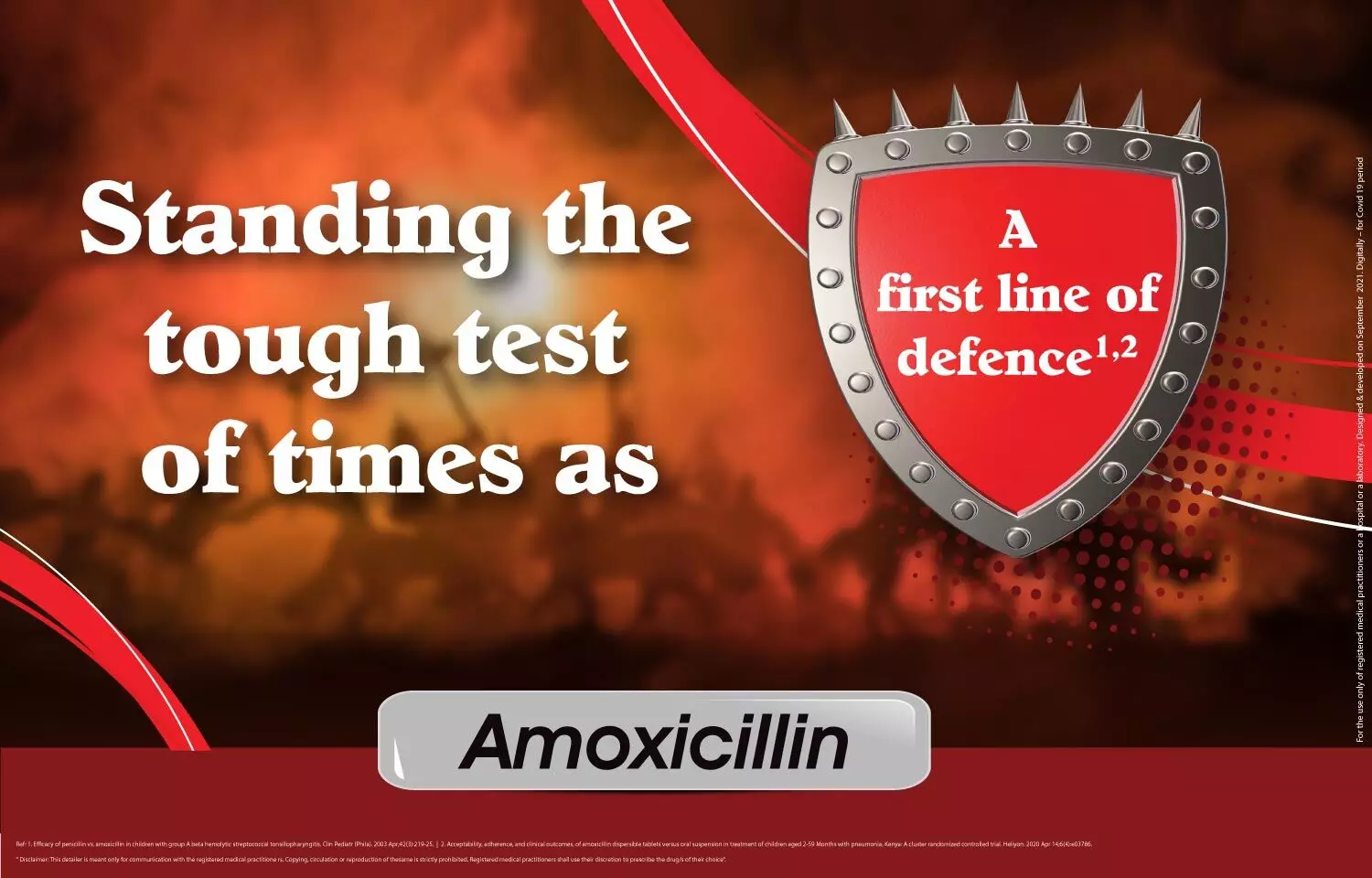 Respiratory Infections among Indian Children- Overview & Challenges

Acute respiratory infections (ARIs) are the leading cause of morbidity and mortality among children under the age of 5 years in India. The emergence of newer
pathogenic organisms, widespread
antibiotic resistance, and suboptimal immunization coverage are some of the major factors responsible for the high incidence of ARIs among Indian children .(1) The recent emerging evidence on interventions to improve clinical outcomes in paediatric respiratory infections, appropriate selection of antibiotics, and persistent clinical utility of amoxicillin is briefly reviewed to facilitate clinicians make evidence-based decisions.
Considering Interventions to Improve Outcomes: Review of Observational Evidence
Breastfeeding: In developing countries, children exclusively breastfed for 6 months had up to 42% lower incidence of ARIs compared to children who did not receive same duration of breastfeeding(2)
Hand Washing: Quantitative systematic review of studies estimate that a simple cost-effective intervention like hand washing could reduce the incidence of respiratory infections by 24% .(3)
Indoor Air Pollution Exposure Control: Exposure to indoor air pollution is associated with up to 2.3 times increased risk of respiratory infections, especially lower respiratory tract infections.(2)
Higher Association of ARIs with C-Section delivery - Recent Indian Study: R Kishore Kumar et al retrospectively assessed the incidence of ARIs in infants up to 1 year of age which included 51,850 infants. The study reported a higher incidence of ARTIs among children borne through caesarean mode of delivery, compared to vaginal delivery (5,648 vs 2,420 infants)(4)
Drastic reduction in the burden of ARI could be achieved by low-cost interventions such as hand washing, breastfeeding, and indoor pollution exposure control measures(1) through sensitisation of parents whose children could be at increased risk.(4)
Potential of Amoxicillin in Paediatric Respiratory Infections
Rationale for Use of Short Course of Amoxicillin: Amoxicillin is US-FDA approved for the treatment of ear, nose, and throat infections, lower respiratory tract infections, pharyngitis and tonsillitis.(5) Amoxicillin is a bactericidal drug and is effective against S pneumoniae and H influenzae. Short courses of amoxicillin have been used to treat infections caused by these and other organisms causing tonsillopharyngitis(6) ; and also, other common childhood infections.(7) Hence, it is rational to expect that amoxicillin would work in a shorter duration. In addition, the equivalence of three and five-day treatment with amoxicillin for non-severe pneumonia have also been reported in a large South Asian study(8)
Indian Experience with Amoxicillin in Pneumonia - 3-day treatment is effective: A landmark ISCAP study was conducted on Indian children in out-patient care settings, the results of which were published in the eminent British Medical Journal. The study aimed to assess the efficacy of three days versus five days of treatment with oral amoxicillin for the treatment of non-severe pneumonia in children. It was a randomised, double-blind, placebo-controlled multicentre trial.
The trial included 2188 children aged 2-59 months, 1095 were given three days of treatment and 1093 given five days with amoxicillin. Oral amoxicillin was administered 31-54 mg/kg/day in three divided doses. The study demonstrated clinical cure rates with three days and five days of treatment were 89.5% and 89.9%, respectively. Adherence to treatment regimen was 94% and 85% for three days and five-day treatments, respectively. There were no deaths and 41 hospitalisations reported in the study. The study concluded that treatment with oral amoxicillin for three days was as effective as for five days in children with non-severe pneumonia(9)
MASCOT Trial: Effective 3 day treatment with Amoxicillin – An Asian Experience: This study was published in The Lancet and aimed to compare the clinical efficacy of 3-day and 5-day courses of amoxicillin in children with non-severe pneumonia. Two thousand children were recruited, aged 2-59 months, with non-severe pneumonia diagnosed as per WHO criteria, in the outpatient care of seven hospitals. Patients were randomly assigned to 3 days (n=1000) or 5 days (n=1000) of treatment with oral amoxicillin. Treatment success was reported in 79% and 80% of patients in the 3-day & 5-day groups, respectively. Relapse of infection was reported in 1% of children in both the treatment groups. Non-adherence was associated with failure of treatment in the 5-day group (p<0.0001).
It was interpreted that treatment with oral amoxicillin for 3-days was as effective as a treatment for 5 days in children with non-severe pneumonia. The most important risk factor for treatment failure was non-compliance, which was also associated with a longer duration of therapy.(10)
Amoxicillin in Upper Respiratory Tract Infections – Global & Indian Experience
Tonsillopharyngitis: A prospective observational study was conducted to evaluate the bacteriological and clinical efficacy of amoxicillin, as first-line therapy for the management of tonsillopharyngitis. Children enrolled had acute onset of symptoms and signs and laboratory documented beta-haemolytic streptococcal (GABHS) tonsillopharyngitis. One hundred and thirty-seven children were included in the amoxicillin group. The bacteriological and clinical cure rates among amoxicillin-treated children were 76% and 84%, respectively, thus demonstrating a valuable clinical efficacy(11)
Sinusitis: A comparative study examining the efficacy of amoxicillin versus cefixime; included 114 patients with sinusitis with a mean duration of about 3 weeks before enrolment. Antral punctures and subsequent microbiological cultures confirmed 40%, 48% and 12% gram-negative, gram-positive and anaerobes, respectively. Patients were divided into two treatment groups - amoxicillin and cefixime. The results indicated that cure was achieved in 96% of patients in the amoxicillin group compared to 94% in the cefixime group.(12) It was thus inferred that Amoxicillin possessed efficacy at par with third-generation cephalosporin, cefixime in mixed bacteriological infections.
Amoxicillin in Indian Population – Higher Susceptibility to Specific Strains Amongst Commonly Used Antibiotics: In a paper published by Mehta S et al in 2020, the susceptibility patterns of Azithromycin, Cefuroxime, Doxycycline and Amoxicillin against common bacteriological isolates through a diagnostic laboratory-based retrospective study conducted in India were examined. The results of this study confirmed that only amoxicillin was more active (95.8 %) than doxycycline, azithromycin and cefuroxime against Streptococcus spp. This potent susceptibility pattern was found to be consistent across all tested clinical specimens – sputum, pus blood and urine.(13)
Place of Amoxicillin - Overview of Indian Guidelines
Ministry of Health & Family Welfare- Government of India Guidelines: The management of common respiratory infections in children in India guidelines released by the Ministry of Health & Family Welfare Government of India(14) cites the following recommendations for consideration regarding the use of amoxicillin:
• For the management of non-severe pneumonia in children (aged 2 months- 5 years), the antibiotic of choice is amoxicillin (25mg/kg twice daily or 15 mg/kg per dose thrice daily for 5 days)
• Children with chest indrawing pneumonia without danger signs of hypoxia, having oxygen saturation >92% in room air and can feed, can be classified as non-severe pneumonia and be managed on an ambulatory basis with oral amoxicillin for 5 days
• A streptococcal sore throat can be treated with 10 days course of oral amoxicillin (50mg/kg/day)
• For the treatment of Acute Otitis Media(AOM) in children, the use of oral amoxicillin could be considered for 5 days
• The dosage form of Amoxicillin for treatment of paediatric infections can be in the form of tablet or syrup
Indian Council of Medical Research (ICMR) Guidelines: The Indian Council of Medical Research (ICMR) in 2019 has released a practical guide for rational use of antimicrobial agents. .(15) The treatment guidelines have cited the following recommendations regarding the clinical utility of Amoxicillin:
• Amoxicillin can be considered one of the preferred first-line agents for the treatment of mild bacterial sinusitis and acute otitis media.
• Amoxicillin could one of the preferred choices of agents for paediatric community-acquired pneumonia in children in outpatient settings.
Summary
Acute respiratory infections remain a significant burden for clinicians in outpatient care settings. The incidence of such infections will likely increase with seasonal transitions and monsoons in most parts of the country. Clinicians may like to be empowered with interventions that may be helpful to prevent or reduce the burden of respiratory infections in the vulnerable paediatric age group. The consideration for amoxicillin may be rational and evidence-based in the clinical management of paediatric respiratory infections, especially in the light of its inclusion in the World Health Organisation's (WHO's) recent essential medicines' list (EML) and in the access* category group of antibiotics.
* group of antibiotics that have activity against a "wide range of commonly encountered susceptible pathogens while also showing lower resistance potential" than antibiotics in the other groups
References:
(1) Selvaraj K, Chinnakali P, Majumdar A, Krishnan IS. Acute respiratory infections among under-5 children in India: A situational analysis. J Nat Sci Biol Med. 2014;5(1):15-20. doi:10.4103/0976-9668.127275
(2) Ladomenou F, Moschandreas J, Kafatos A, Tselentis Y, Galanakis E. Protective effect of exclusive breastfeeding against infections during infancy: A prospective study. Arch Dis Child. 2010;95:1004–8.
(3) Rabie T et al, Handwashing and risk of respiratory infections: A quantitative systematic review-Rabie-2006-Tropical Medicine and International Health. Available from: http://onlinelibrary.wiley.com/doi/10.1111/j. 1365-3156.2006.01568.x/pdf
(4) R Kishore Kumar et al, Acute Upper Respiratory Tract Infections in Children and Mode of Delivery, Pediatric Infectious Disease 2020;2(4):131-134
(5) Akhavan BJ, Khanna NR, Vijhani P. Amoxicillin. 2020 Aug 27. In: StatPearls [Internet]. Treasure Island (FL): StatPearls Publishing; 2021 Jan–. PMID: 29489203
(6) Pichichero ME, Cohen R. Shortened course of antibiotic therapy for acute otitis media, sinusitis and tonsillopharyngitis. Pediatr Infect Dis J 1997;16:680-95
(7) Peltola H, Vuori-Holopainen E, Kallio MJ, SE-TU Study Group. Successful shortening from seven to four days of parenteral beta-lactam treatment for common childhood infections: a prospective and randomized study. Int J Infect Dis 2001;5:3-8.
(8) MASCOT group. Clinical efficacy of three days versus five days of oral amoxicillin for the treatment of childhood pneumonia: a multicentre double-blind trial. Lancet 2002;360:835-41.
(9) ISCAP Study Group, Three day versus five day treatment with amoxicillin for non-severe pneumonia in young children: a multicentre randomised controlled trial, BMJ, doi:10.1136/bmj.38049.490255.DE
(10) Pakistan Multicentre Amoxycillin Short Course Therapy (MASCOT) pneumonia study group. Clinical efficacy of 3 days versus 5 days of oral amoxicillin for treatment of childhood pneumonia: a multicentre double-blind trial. Lancet. 2002 Sep 14;360(9336):835-41. doi: 10.1016/S0140-6736(02)09994-4. Erratum in: Lancet. 2003 Mar 1;361(9359):788. PMID: 12243918.
(11) Curtin-Wirt C, Casey JR, Murray PC, Cleary CT, Hoeger WJ, Marsocci SM, Murphy ML, Francis AB, Pichichero ME. Efficacy of penicillin vs. amoxicillin in children with group A beta hemolytic streptococcal tonsillopharyngitis. Clin Pediatr (Phila). 2003 Apr;42(3):219-25. doi: 10.1177/000992280304200305. PMID: 12739920.
(12) Edelstein DR, Avner SE, Chow JM, Duerksen RL, Johnson J, Ronis M, Rybak LP, Bierman WC, Matthews BL, Kohlbrenner VM. Once-a-day therapy for sinusitis: a comparison study of cefixime and amoxicillin. Laryngoscope. 1993 Jan;103(1 Pt 1):33-41. doi: 10.1288/00005537-199301000-00008. PMID: 8421417.
(13) Suyog C Mehta et al, Susceptibility Pattern of Doxycycline in Comparison to Azithromycin, Cefuroxime and Amoxicillin against Common Isolates: A Retrospective Study Based on Diagnostic Laboratory Data, Journal of The Association of Physicians of India 2020;68:59-63
(14) Ministry of Health and Family Welfare, Government of India. Management of Management of common Respiratory Infections in Children in India. July 2016: Pg 1-45
(15) Treatment Guidelines for Antimicrobial Use in Common Syndromes, Indian Council of Medical Research 2019, 2nd edition, Pages 1-206
(16) WHO releases the 2019 AWaRe Classification Antibiotics https://www.who.int/medicines/news/2019/WHO_releases2019AWaRe_classification_antibiotics/en/ Dr Kamal Kant Kohli-MBBS, DTCD- a chest specialist with more than 30 years of practice and a flair for writing clinical articles, Dr Kamal Kant Kohli joined Medical Dialogues as a Chief Editor of Medical News. Besides writing articles, as an editor, he proofreads and verifies all the medical content published on Medical Dialogues including those coming from journals, studies,medical conferences,guidelines etc. Before Joining Medical Dialogues, he has served at important positions in the medical industry in India including as the Hony. Secretary of the Delhi Medical Association as well as the chairman of Anti-Quackery Committee in Delhi and worked with other Medical Councils in India. Email: editorial@medicaldialogues.in. Contact no. 011-43720751