PG degrees to be awarded only after doctors complete a bond service of 3-5 years: HP proposes new plan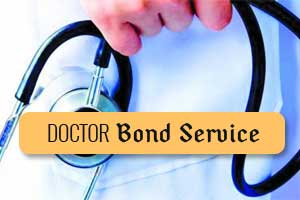 Shimla: The government of Himachal Pradesh is at the onset of framing policies for doctors wherein a compulsory bond service of three to five years will have to be observed by the doctors, without which they won't be handed over their degrees
The bond service will have to be observed after the completion of their post-graduate degree from any of the government medical colleges in Himachal. The state currently has 6 government medical colleges including Indira Gandhi medical college, Simla, Dr Rajendra Prasad Government Medical College, Tanda; Dr Yashwant Singh Parmar Government Medical College, Nahan, Shri Lal Bahadur Shastri Government Medical College, Mandi; Pt Jawahar Lal Nehru Government Medical College and Hospital, Chamba.
As per recent media reports, the state government reeling under the shortage of qualified medical practitioners especially specialists is planning to impose a compulsory service for those who have passed their PG medical from the government medical colleges in the state. Not just this, the government is also mulling to relate it to the grant of degree, which will be only handed over after completion of the service
Confirmation to this effect was given by the Health minister Vipin Singh Parmar to the TOI, while interacting with the media at Shimla Press Club. Parmar drew attention towards the proposal of granting the PG degree to the doctors only after three or five years. Till then their degrees will be held back, adds Tribune
The proposal is currently with the law department who are scrutnising the nitty gritties of the proposal.
The state is struggling to retain doctors who would serve the rural and remote areas after completing their PG. So far nearly 50 doctors have already migrated out of state in search of better opportunities despite laying condition like furnishing Rs 10 lakh in case of violation of the bond.
"There are about 50 cases where the doctors have violated the bond and left before completing the mandatory period of service after doing PG," said Parmar. The state govenrment hence came up with the idea of holding back the degrees only.
"After serving for five years, they would be free to serve anywhere in country," he said, adding that some states already have such provisions.
Parmar further added that at present the government is taking bond money of Rs 10 lakh from doctors for five years but this would be reduced to three years.
The Tribune further adds, despite admissions to 750 MBBS seats and 232 post graduation (PG) seats every year, the government struggles to post specialists in its vast network of 2729 health institutions. There is a shortage of over 200 specialists, especially anaesthetists and orthopaedic surgeons. There is a proposal to add 19 new PG seats at Indira Gandhi Medical College, Shimla.
In the approach to resolving the crisis of doctors, the government would also be making an increment in the remuneration of doctors appointed on a contract basis to Rs 36,500 per month.
Also Read: Doctors to Pay Upto Rs 2 crore if breaking Compulsory Bond Service in Army