PGI Chandigarh: Religare Health Insurance told to pay Rs 2 lakh to Cardiology Dept for denying mediclaim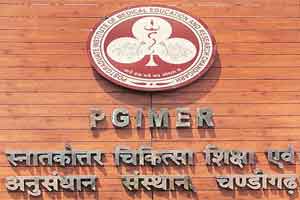 Chandigarh: The Cardiology Department of Post-Graduate Institute of Medical Sciences, Chandigarh (PGI Chandigarh) will get Rs 2 lakh from Religare Health Insurance Company as a punishment for denying a mediclaim.
According to a recent media report, the District Consumer Disputes Redressal Forum directed Religare to deposit the amount in PGI hospital which will reportedly be utilized for the treatment of needy patients.
The order comes after a complaint filed by a patient identified as Ram Sarup. In October 2018, the patient underwent knee surgery at Max Super Speciality Hospital, Mohali and had reportedly stayed at the hospital for a week.
The complainant had taken health insurance policy from Religare Health Insurance Company, thereby asking a pre-authorization request of cashless hospitalization.
However, the company denied the mediclaim citing an insubstantial reason of non-disclosure of material facts or pre-existing ailment. This led the complainant to pay a bill of Rs 2,91,354 after his surgery.
After making several requests for the mediclaim, which was allegedly paid no attention to, the patient moved the consumer forum.
Also Read: FAKE Insurance Claims at PGI Rohtak: 16 cancer patients shown as accident victims
Responding to the same, Religare contended that the complainant had concealed pre-existing disease while taking the policy.
During the pre-anaesthesia health check, the complainant disclosed that he was on medication for the past five years for Hypertension.
It was further stated that the complainant was suffering from Type 2 Diabetes for almost a decade and was regularly under check-ups.
However, the company was never intimated about the ailments while the policy was proposed or thereafter.
After hearing the contentions, the forum quashed the allegation against the patient of being a chronic hypertension patient.
It stated that nothing on record exists to prove that the complainant was under treatment for hypertension before being admitted to Max Hospital for knee surgery.
Moreover, there is no connection between hypertension and knee surgery, added the forum.
Subsequently, the forum in its order directed Religare Health Insurance Company to pay Rs 2.91 lakh as medical reimbursement, along with interest and Rs 10,000 litigation fee to the complainant.
Besides, it also ordered Religare to deposit Rs 2 lakh in the cardiology department of the PGI, reports The Tribune.